This section provides a quick reference list of the key materials developed and published by EENET, including videos, training manuals, and guidance documents.
---
Supporting learning at home in the early years: a booklet of ideas and activities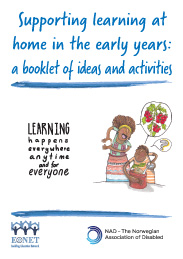 2022
This booklet provides home learning activities adapted to the needs of very young learners. It joins the EENET/NAD package of materials that includes the original home learning poster and activity booklet.
Download the early years home learning activities booklet.
---
A continuum for Inclusion: Home learning, education transition, and inclusive school-based learning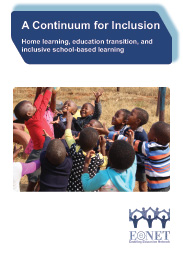 2022
These short case studies from Zambia, Zanzibar, Ukraine, Uganda, eSwatini and Armenia were collected during the COVID-19 pandemic. They show the challenges of – and connections between – home learning, education transitions and making education more inclusive for all.
Download the Continuum for Inclusion case studies.
---
Inclusive education posters and leaflets – Zambia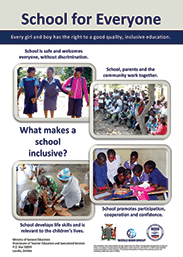 2021
EENET has worked with World Bank Zambia to produce a set of inclusive education posters and leaflets. There are different designs and messages aimed at 3 different audiences: community members, school leaders, and education managers/decision-makers. They can all be downloaded here in PDF format.
Leaflets – A4 folded to A5
Posters – A4 and A3 sizes
---
Inclusive Beginnings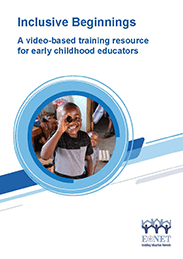 2020
This package contains 2 training videos and manuals focusing on inclusive early childhood development and education. One video/manual looks at inclusive practice, the other looks at inclusive transition. There is also a short introductory booklet and a guide on using the videos for advocacy purposes.
---
Inclusive Home Learning poster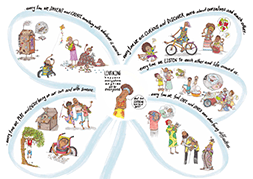 2020
This poster contains fun, colourful illustrations and short messages about the many different and valuable ways that children and young people learn at home and in the community.
---
Home Learning Activities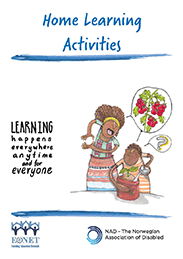 2020
This is a selection of fun learning activities that children with and without disabilities and their families can do at home, any time.
---
Time to stop polishing the brass on the Titanic:
Moving beyond 'quick-and-dirty' teacher education for inclusion, towards sustainable theories of change
2019
This article was published in the International Journal of Inclusive Education. It discusses common problems with inclusive education teacher training and presents alternative approaches, including the Zambia and Zanzibar project case study.
---
Innovation in Inclusive Education Teacher Training. Sharing our Experiences.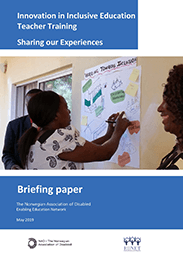 2019
This briefing paper answers frequently asked questions about the inclusive education teacher training approach that EENET has developed in collaboration with Norwegian Association of Disabled.
---
Learning review of the NAD-supported inclusive education teacher training pilot programme in Zambia.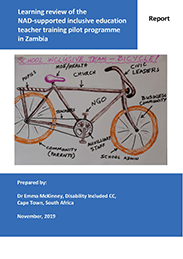 2019
This report focuses on the NAD/EENET teacher training project. It records project activities and results, and analyses alignment with the project's original theory of change.
---
Young Voices in Inclusive Education
A guide to help young researchers conduct action research with peers and younger children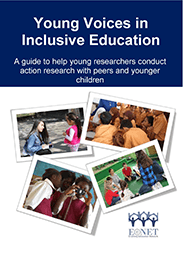 2018
This guide is for use with teenagers and young people. It helps them learn about participatory action research approaches they can use with their peers and with younger children to enable them to share their experiences of education and ideas for improving their schools.
---
Enabling Education Activity Booklet
Activities to use with children and young people, based on Enabling Education Review Youth Takeover Edition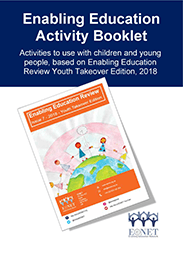 2018
The guide suggests how to use the articles and pictures in the 'youth takeover' edition of EER to stimulate discussions about education and inclusion with children and young people. It is aimed at teachers, those who facilitate and supervise learning and recreational activities within and outside school, parents, and young people who support other young people in education.
---
An Inclusive Day: Building foundations for learner-centred, inclusive education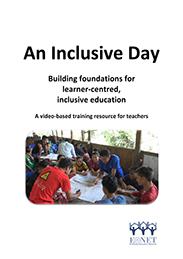 2017
This package contains 10 short videos and manuals. The videos show some of ways in which learners can be included or excluded during the course of a typical school day. The training package can be used by trainers as part of a training course for teachers and other educators, or it can be used by individual teachers as a self-study video.
---
Inclusive Transition poster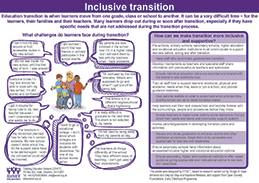 2015
This poster used findings from action research in Armenia and Moldova to provide guidance on making education transitions more inclusive. The guidance is relevant for many more countries.
---
Young Voices: Young people's views on inclusive education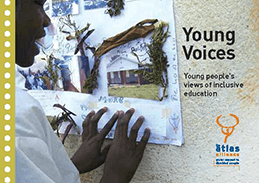 2008
During this project, children and young people took photos, drew pictures and maps, and participated in video interviews. They explained what inclusive education meant to them and what made their schools inclusive or exclusive.
---
Learning from Difference. An action research guide for capturing the experience of developing inclusive education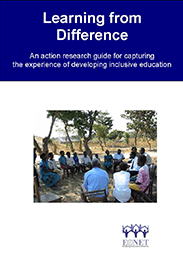 2005
Guidance on using action research to support inclusive school improvements.
---
Researching our Experience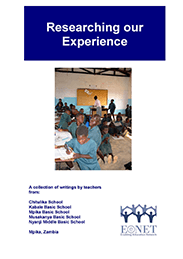 2003
This is a collection of writings from teachers in Zambia. Their articles reflect on action research they carried out to identify and address inclusion challenges in their schools.
---
Family Action for Inclusion in Education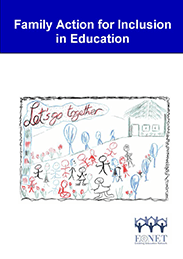 2002
This guide draws on case studies to provide advice for parents and parents groups who want to advocate for their children's educational inclusion.