Through EENET's partnership with Norwegian Association of Disabled, and working with partners in Zambia and Zanzibar, we have just published a set of 34 fun learning activities that children with and without disabilities and their families can do at home, any time.
The home learning activities can be downloaded as a complete package in PDF format, in English Kiswahili, Nyanja and Tonga.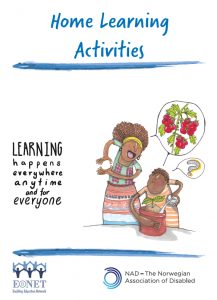 There is also an online activity search to help you and your children choose activities. You can select indoor or outdoor activities. You can choose whether or not you want activities that use pens and paper or other local material. And you can choose which age group the activity is suitable for and whether the child will need a lot or a little help from an adult or older sibling.
Each activity contains instructions, an indication of which age group it is suitable for and how much assistance the child may need, a summary of what the child will learn and practice during the activity, and suggestions for different ways to do the activity to suit different needs and abilities.
Printed copies are being distributed to families and schools by the partners in Zambia and Zanzibar. We will soon have a few printed copies available for you to order through EENET's shop too, so keep an eye on the news page.
If you are thinking that home learning will soon be unnecessary as schools start to re-open following Covid-19 related closures, we invite you to read our brief reflections on inclusive home learning – during and after Covid-19 and a longer blog on this topic.
The latest collection of home learning activities complements the home learning poster that was published recently. Don't forget to download it or order your free printed copy.