UNESCO Nairobi has recently published a set of tools on Health Literacy and Behavior Change Practices among Adolescent Girls.
The kit includes a teacher's guide, fact booklets, stories and drama scripts for students, and a sample radio drama script.
There is also a booklet of artwork from students involved in piloting the materials. Here is one student's drawing, illustrating various forms of gender-based violence that an affect girls' education.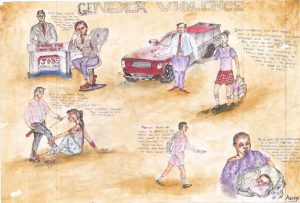 The health literacy materials were developed by two of EENET's consultants, Dr Anise Waljee and Dilu Kassam. The kit was created initially for use in informal settlements in Kenya, but is much more widely applicable.
Girls around the world often face significant risks to their education because of school-based violence, early pregnancy, sexual and reproductive health concerns, and harmful practices like female genital mutilation. This toolkit provides teachers with valuable advice and activities to help them support girls to stay healthy, safe and in school. The materials are designed for use with both boys and girls.