Our exciting and unique Youth Takeover edition of Enabling Education Review is intended for a young audience as well as our usual adult readers. We want to encourage teachers, parents and others who work with children and young people to use this edition of EER in their lessons, clubs or other activities, so we have published an activity guide.
Enabling Education Activity Booklet. Activities to use with children and young people, based on Enabling Education Review Youth Takeover Edition, 2018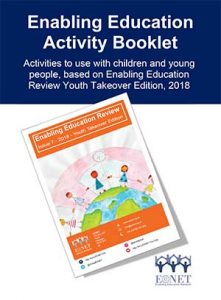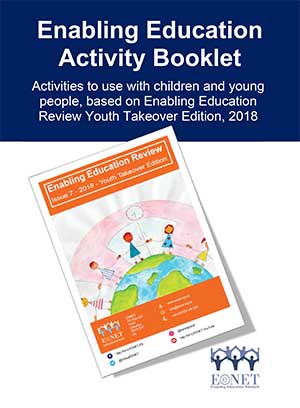 It's packed with fun and reflective activities to help learners – from pre-school age upwards – think about and discuss the education and inclusion-related topics covered by the Youth Takeover EER. The activities include drawing, games, performance, group discussions, individual reading and thinking tasks, and extended projects. The activities can also be used with adults too of course.
If you use any of the activities to help children, young people or any other stakeholders engage with our youth edition of EER, please share your case studies with us.