For several years EENET has encouraged discussions around making education transitions more inclusive. With Open Society Foundation's support, EENET has released a publication entitled 'A Continuum for Inclusion – home learning, education transition, and inclusive school-based learning' which highlights stories about the transition experiences of young learners and stakeholders.
All the stories were collected during the COVID-19 pandemic. They document where transitions to new schools were, or were not, facilitated. And they illustrate how home learning materials created by EENET and Norwegian Association of Disabled supported learners with the transition from school to home-based learning and back again. Most of the stories highlight the scale of disruption, changes, and challenges – and the creativity and resilience of learners, families, and teachers.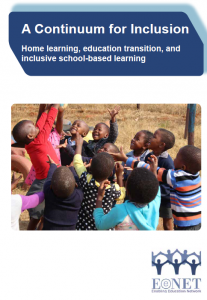 IMPORTANT NOTE: These materials feature the stories and voices of education stakeholders from Ukraine. The materials were created before the current invasion of Ukraine. EENET has decided to continue using and sharing these materials because we believe the voices of Ukrainian children, families and teachers need to be heard, even though their experiences will now be very different from those shared in our materials. EENET stands in solidarity with the people of Ukraine.