EENET's 2018 edition of Enabling Education Review is here… and it's huge! 68 pages – double the usual size – packed from front to back with contributions from children and young people aged 7-25.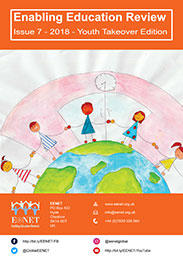 Our young authors and artists cover a wide range of inclusive education topics, from discussing what education and inclusion means to them, to issues like advocacy, disability, good teachers, bullying, and education for girls, street-connected children and children from minority ethnic and asylum-seeking backgrounds. It also features 12 pages about the activities of young researchers in Armenia and Ukraine.  
We hope you enjoy reading this edition and that these young writers, artists and advocates provide insights and inspirations for your own work on inclusive education.
The edition is currently available in PDF format, but the HTML pages will be online soon and printed copies will be available in a few weeks.