The latest edition of Enabling Education Review is now available in pdf and html formats.
EER6 is a special issue on street-connected young people and inclusive education. This edition showcases some of the many different ways that organisations support young people living and working on the streets to access education. A number of the programmes included can be adapted to learners in other contexts.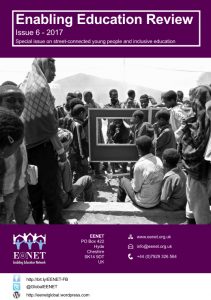 EER 6 features articles from the following countries:
Ethiopia
Haiti
India
Kenya
Panama
Peru
Philippines
Uganda
This edition of EER has not been printed in hard copy yet. If you or your organisation could help to fund the printing costs, please visit our Donations page, or contact us to discuss.