Blog by: I-Jung (Gracie) Lu, EENET volunteer and PhD student at University of Manchester
"Is it possible to include all students in school? I don't know anything about disability (especially some types of disability). Won't they receive better educational support in special schools?" Over the years, every time I have talked to mainstream teachers about the idea of inclusion, these sorts of questions have always been asked.
So then, is it possible? How do we develop education systems within a wide concept of 'education for all' and also consider and take good care of all needs of the individual? In other words, how do we take forward a twin-track approach? From EENET's latest edition of 'Enabling Education Review' (Issue 2, December 2013), which focuses on Inclusive Education and Disability, I have selected five articles that might help answer this question.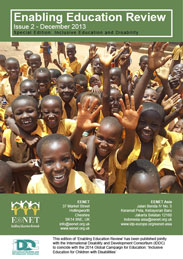 Knowing Why and What's Important
Teachers for All: Inclusive teaching for children with disabilities
To create quality education for all, you need to understand what inclusion means. It all starts with basic and fundamental changes within the education system. Five key strategies for developing teachers for inclusive education are outlined within this article. I found it really beneficial to ponder these strategies within my own context – education in Taiwan. Such reflection can give a fresh new perspective on your own practice of inclusion.
(See pp.16-17, Enabling Education Review, Issue 2, December 2013)
Create Your Own Inclusive Way
Researching my own solutions: interview with an inclusive teacher, Malaysia
This is one of my favourite articles. It looks at how one teacher started to reflect on her own approaches for developing effective inclusive practice within her context. Inclusive education is a process through which we keep improving and making adjustments according to students' needs in order to provide the best quality learning support for all. This means teachers are also expected to improve and adjust their teaching bit by bit and develop their role as an educator. This article is a great example of how a teacher develops her own strategy throughout the process of supporting the student.
(See p.11, Enabling Education Review, Issue 2, December 2013)
Involve Different Voices
The role of people with disabilities in teacher training in Iraq
The author of this article says "The development of inclusive education should always be built on a foundation of participation by all key stakeholders – children, parents, teachers, decision-makers, donors, and of course representatives of marginalised groups."
I found it amazing to see how adults with disability have partnered with teachers to build better skills in teaching. They have done this through sharing their own experiences of being disabled within education, and also by educating teachers about specific issues relevant to their lives, such as deaf adults teaching sign language to teachers.
(See p. 19, Enabling Education Review, Issue 2, December 2013)
Keep Connected
Developing resource centres for inclusive education in China
From this article I gained a new understanding about the role of the resource centre for the community. It is not only a place with resources and a place that provides support for children with special needs. A resource centre is more a place that keeps passing on the value of inclusion and developing sustainable systems that built up inclusive schools for all students. It can help move the fundamental structure of the education system forward toward inclusion.
(See pp. 20-21, Enabling Education Review, Issue 2, December 2013)
Look Back and Think
Assessing the inclusiveness of mainstream schools in Ghana
With all programmes and processes that aim to promote inclusive practice within educational or community settings, it is critical to look back on how well they have functioned in order to make sure the efforts are really helping children. This article explains about a monitoring tool that contains check lists to help schools self-assess their current practice of inclusive education, so they can reflect and improve.
(See pp. 26-27, Enabling Education Review, Issue 2, December 2013)
All five articles are available at https://www.eenet.org.uk/resources/eenet_newsletter/eer2/index.php
Why not visit the site and read them now! 🙂
I-Jung Lu