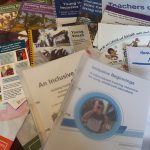 Would you like to win a free EENET 'library in a box' for your teacher training college, university, school, resource centre, or project office?
We've got 10 boxes packed with inclusive education materials to give away absolutely free! Each box contains a set of Enabling Education Review back issues, plus a selection of posters, leaflets, training manuals and guidance booklets. The materials provide huge amounts of practical advice on how to make teaching and learning more inclusive in low- and middle-income contexts.
How to enter the competition: Tell us in 100 words why your university, college, school, centre or project needs a box of inclusive education materials from EENET. The first 10 entries will receive a box, so you need to be quick!
Bonus prize: The 5 best answers will also win a free copy of the fantastic new book "Hanging On – A Special Educator's Journey into Inclusive Education" by Kanwal Singh.
Send your competition entries to us via Facebook private message or email info@eenet.org.uk.
We will contact the winners to arrange delivery. Boxes will be delivered using a secure courier service wherever possible.
[Image shows a selection of publications and posters. Note, the contents of each 'library in a box' may vary slightly from that shown in the photo.]