Author: Kanwal Singh.
Date: 2020.
Usually we recommend and share reading materials that are available free of charge. We're making an exception for this book, because it's too good not to share, and it's available at a low price.
It can be purchased online from Amazon India, price 299 INR (approximately £3 GBP) . If you are not able to order via this method, contact EENET and we'll link you up with the author to find out about alternative purchase options.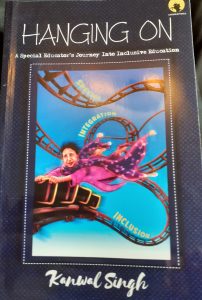 What EENET team members have said about the book:
"I read the book in one go immediately on the day I received it. I enjoyed reading it. It depicts the dilemma that teachers face in implementing inclusive education. It should be distributed to the many inclusive education project managers in UN agencies, bilateral contractors and international NGOs. It helps project managers that do not have a background as a teacher to understand the challenges that teachers face in implementing inclusion.
The non-technical language and fresh language makes the book a very welcome change to reading reports or manuals. I encourage project managers to get their hands on "Hanging On".
Alexander Hauschild
Disability, Inclusion and Human Rights Consultant (and EENET website manager), Jakarta, Indonesia
---
"It's been a totally crazy year, which why it took me so long to finally get round to reading Kanwal Singh's book. But once I started, I read it cover to cover in about 2 hours. I couldn't put it down.
It was fun, easy, and exciting to read. Why exciting? Because it's very rare to find a piece of writing that is so honest, so reflective, so self-critical – and which really demands that the reader behaves in the same way.
Inclusive education is a wonderful concept, but one which for many years has been at risk of getting lost in a sea of mediocre, donor-pleasing, one-off projects that seem oblivious to the education revolution that's really required. Kanwal's book gives us a light-hearted yet powerful reminder of the changes needed. Read it! And if it makes you feel uncomfortable because it challenges the way you have been working, don't feel offended. Stop, reflect, and change!"
Ingrid Lewis
Managing Director, EENET