This month's featured project is Gaza Children's Cinema. If you have a project you would like us to feature in a news update, please contact us.
Experience around the world shows that education happens in lots of different settings, not just in a formal school. Children learn valuable lessons in the community, in the family and through doing practical activities outside school. They learn through observing and discussing. In many communities around the world, television and film are also important parts of education. Children watch educational and entertaining programmes and films, and often without even realising it, they analyse and debate what they have seen, ask questions, and make connections between what they have seen on the screen and what they have learned in school.
This learning and fun opportunity is denied to the vast majority of children in Gaza, many of whom live as refugees. As a result of a decade of blockades, freedom of movement, commerce and cultural exchange is restricted. Children in Gaza also face unacceptable levels of violence, conflict, fear and abuses of their basic rights.
Gaza Children's Cinema is a small organisation that brings cinema viewing and film-inspired learning opportunities to Gaza's children. During 2017 it facilitated about 160 film screenings and workshops for children across Gaza, helping to break their imposed isolation from the rest of the world. The children get involved in 'buying and selling' tickets and popcorn, writing and designing film posters, and discussing the films after they have watched them. It's a safe and fun environment, as well as providing valuable learning and socialisation opportunities.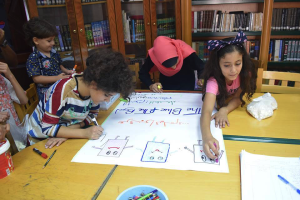 You can watch a short introductory film about the project and read their latest project update. You can also contact EENET's Arabic Language Community Facilitator, Ayman Qwaider, for more information about the project: arabic@eenet.org.uk.