Using itinerant teachers to support inclusion in Togo
Virginie Hallet
Over the last 10 years Togo has placed increasing emphasis on education, in response to the Education for All mandate. The country's Plan for Education (2010- 2020) made education compulsory for all children aged 6-15 years, and since 2008/9 primary education has been free. Consequently enrolment increased, from 71% in 2006/7 to 87% in 2009/10. However, there are increasing numbers of school drop-outs too, an issue that cannot be ignored. In this article, Virginie looks at the use of itinerant teachers as a way of addressing the needs of disabled learners, as part of the drive to improve retention and participation and reduce drop-outs in Togo.
Improving quality generally
The general quality of teaching in Togo is poor, and rectifying this will be a key step in improving learners' access to education and their participation in school. In 2012, the Teacher Training Institute reopened after 10 years of closure due to political crisis. School teachers can now access an in-depth six-month training course before beginning their careers, rather than starting to teach with virtually no training at all. This course includes a five-day module on inclusive education. It is hoped that the training will significantly enhance the quality of education in Togo.
Developing an itinerant teacher system
More specifically, an innovative plan for itinerant teachers was introduced in 2010, initially in Dapaong, North Togo. The aim was to respond better to the individual and specific needs of disabled pupils and their teachers. Initially three mainstream teachers were recruited, only one of whom had previous experience in teaching children with visual impairments. Their preparation to become itinerant teachers involved a week of intensive training including Braille, sign language and more general approaches to use when teaching children with a range of disabilities, followed by weekly follow-up training, and intensive blocks during school holidays. There were also weekly visits to special schools to work alongside trained specialist teachers.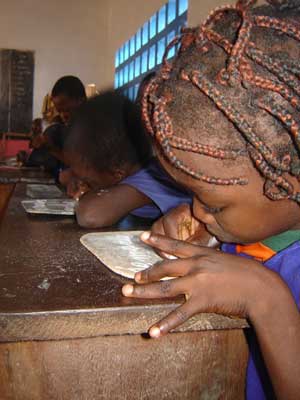 Each itinerant teacher visits their allocated schools, and supports a number of children with disabilities within regular classes. Their main role is to directly support the children during lessons, and to discuss any difficulties that the child may be having with their teacher. Feedback has been positive, both from the children with disabilities who enjoy the extra attention, and also from their non-disabled peers who enjoy, for instance, learning to use sign language when the itinerant teachers work in small groups and include them.
Relations between mainstream and itinerant teachers
Mainstream teachers in Togo are generally willing to accept children with disabilities into their large classes, and they usually have a welcoming attitude. However, they were initially cautious; concerned that the itinerant teachers may be like inspectors. Over the past three years, however, the teachers have grown to understand and respect the itinerant teachers, and they now appreciate their support and skills.
In Dapaong, where the initiative started, it remains a challenge for the itinerant teachers to input into overall curriculum planning and structural change regarding the move towards inclusion within the schools. However, in the second geographical area where this system is being implemented, Kara, there has been much more success with overall structural change and with implementing joint planning and collaboration between the mainstream and itinerant teachers. The Handicap International team reviewed key lessons from the initial project, and began the Kara project with more emphasis on joint working from the outset.
Leopold is an itinerant teacher for children with hearing impairments. He supports children to sign during lessons and suggests the use of adapted teaching materials. He also shows teachers how to use pictures to help children communicate and understand more easily. He works with young deaf children and also with their peers, helping all the children to learn sign language, using a variety of fun activities.
Impact
Currently 54 of the 438 disabled children enrolled in the mainstream schools within the intervention areas are supported by itinerant teachers. These are the most vulnerable children, considered most in need of support. Overall, the itinerant teacher system has had a positive impact. It is difficult to identify the level of progress as the project specifically targeted children who were just starting school, so there is no baseline information about the children's level of education prior to the project.
However, after three years of piloting it is clear that children supported by itinerant teachers are experiencing more success in class than disabled children who aren't supported, particularly those with visual or hearing impairments. Mainstream teachers and families have also noticed improved social skills, interaction with other children and behaviour and daily living skills, even for children who have not made significant strides academically. The approach of using itinerant teachers has had a significant positive impact on the lives of children with disabilities in Togo and their families.
A video (in French) about the Togo itinerant teachers programme is available online:
www.youtube.com/watch?v=RLlTmUsDBlg
Contact:
Virginie Hallet
Project Co-ordinator – Inclusion and Right Handicap International Togo-Bénin Programme
BP 8621 Lomé, Togo.
Email: coordoinclusion@handicap-international-togo.org
Photos © Sandra Boisseau, 2010, HI