Developing an itinerant teacher system that supports a twin-track approach to inclusive education, Cambodia
Sandrine Bouille
The use of itinerant teachers is a relatively new concept in Cambodia. Battambang province and the district of Thmor Kol are leading its implementation. The Ministry of Education Youth and Sport (MOEYS) asked Handicap International to develop and support, technically and financially, the implementation of a pilot itinerant teacher system in 15 mainstream primary schools from the Otaki and Chrey school clusters. Here Sandrine explains the twin-track approach taken.
Developing an itinerant teacher system
The system started in 2010 with the recruitment of four itinerant teachers who travel between mainstream schools and communities to offer advice, resources and support to children with disabilities, their teachers, and their parents. They support the concept of inclusive education and promote it to school directors and mainstream teachers.
Their main tasks are:
directly supporting children with disabilities in classrooms and at home
providing consultations and support to teachers
identifying, assessing and referring children with disabilities
providing teacher and community training and awareness-raising events
working with children of different ages with various impairments.
Broadening the scope of itinerant teachers
The definition of the itinerant teachers' tasks emphasised support for the individual needs of children with disabilities. However, few of these tasks addressed the barriers faced by children with disabilities within the school or promoted the inclusive education concept.
It quickly became obvious that the itinerant teacher system could not focus only on children with disabilities but should also focus on the quality of education in order to improve the learning environment of all children. There was a real need for mainstream teachers to understand the concept of inclusive education and develop inclusive teaching practice.
The twin-track approach and its importance
Handicap International explains its twin-track approach in inclusive education as follows: "The inclusion of children with disabilities in mainstream education requires cultivating and applying inclusive practices at all levels, rather than concentrating solely on a child's impairment… [this is] a twin-track approach, whereby the individual needs of children with disabilities are addressed at the same time as addressing societal, environmental, economic and political barriers to education".1
Concentrating solely on a child's impairment gives the impression the child is the problem because he or she needs special services, materials or support. It reduces the intervention to an individual level without any reflection on the necessary improvements required in the education system. Conversely, working only at the level of the education system may contribute towards ignoring the individual needs of each child. Working at both levels of intervention is necessary to create the best possible conditions for children with and without disabilities to learn and succeed in school and to ensure that children are afforded equal rights and opportunities in education.2
The twin-track approach within the itinerant teacher system
In order not to overload the itinerant teachers, as the improvements in the education system were reinforced, the project delegated the work with the community and the parents to community members (village health workers and representatives of self- help groups of people with disabilities). Here are some concrete examples of the twin-track approach:
Addressing individual needs of children with disabilities
For three school years, the system has worked with Ratanak – a young boy (now 15 years old) in grade 4,3 who is blind – to provide adapted material such as a Braille writer and abacus. During class hours, an itinerant teacher has supported Ratanak on a one- to-one basis to help him follow mainstream lessons and support him in acquiring specific skills. No individualised lessons or exercises are prepared for Ratanak, but teaching methods are adapted to his impairment. The frequency of the support has varied according to Ratanak's progress. First, the support was on a daily basis, today it is on a weekly basis.
The itinerant teacher supported Ratanak's mainstream teacher by providing advice and techniques, such as reading aloud what is being written on the blackboard, repeating frequently, and allowing Ratanak extra time to write in Braille or use an abacus. Peer-to-peer support was also set up, so that another student can support Ratanak during lessons when he needs some additional explanations or instructions and when the itinerant teacher is absent.
Itinerant teachers also have the role of identifying the specific needs of children with disabilities regarding health care and/or rehabilitation intervention.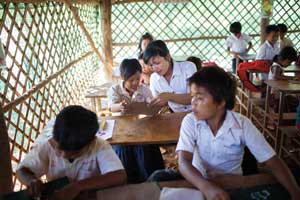 Addressing barriers within the school
Sopheap is a 16-year-old boy with Down's syndrome who was expelled from school due to behaviour issues; he would fight back when children teased and mocked him. Awareness-raising sessions with students using comic books, an animation movie and posters promoted messages about tolerance and valuing differences and diversity. This developed solidarity among the students. Sopheap is now back in school. He has improved his life skills and his behaviour has changed a great deal since his school friends are more friendly and positive.
Itinerant teachers are organising monthly sessions on improving communication with children, behaviour management, classroom management, and building children's self-confidence. These sessions aim to improve the quality of education. Some teachers are keen to implement the new methods and gradually they are influencing other teachers. Sopheap's teacher particularly appreciated a training session on classroom rules, since clear rules – defined and adopted with the participation of the students – enables the teacher to concentrate more on teaching and supporting students than on discipline.
Each year, several sessions on developing teaching and learning material are organised in each school. The materials created are useful for supporting various learning styles and learning through play, which improves the quality of teaching. The materials developed during these sessions benefit all students, and adaptations fulfil specific needs of children with disabilities. For example, Ratanak's mainstream teacher developed cards with words written in Khmer and in Braille. In this way, Ratanak can participate in the game with his classmates.
The impact of a twin-track approach
At the beginning of the project, the itinerant teachers were often considered special teachers in charge of teaching children with disabilities, so mainstream teachers relied on them to support the children with disabilities. Using the twin-track approach enabled school staff to better appreciate the itinerant teachers as promoters and supporters of inclusive education, which is not limited to the provision of special education in a mainstream setting. Mainstream teachers now consider the itinerant teachers to be trained educators who can provide advice on general teaching as well as being experts in disability-related issues.
Eventually, the twin-track approach has provided a better understanding about what inclusive education is; not solely targeting children with disabilities and focusing on their specific imçpairments and disabilities, but an education that aims to provide appropriate and quality education with all children learning together.
The current project will finish in December 2013.
Handicap International
Cambodia & Thailand Regional Program
P.O. Box 586, Khan Chamkar Mon, Phnom Penh, Kingdom of Cambodia,
www.handicap-international.org
For more information about HI's approach to inclusive education, contact: Gilles Ceralli, Inclusive Education Technical Advisor,
GCERALLI@handicap-international.lu
1 Handicap international, Policy brief, Inclusive Education, September 2012, p.4
2 As stated in the United Nations Convention on the Rights of Persons with Disabilities, article 24.
3 In Cambodia, primary education consists of 6 grades. Children start school at 6 years old.