Assessing the inclusiveness of mainstream schools in Ghana
Patrick Thomas Otaah, Agnes Arthur and Sandrine Bohan-Jacquot
A key question for any inclusive education initiative is: how do we know if our efforts are helping more children to gain access to school, and participate in the learning and social aspects within school. In an attempt to answer this, the Special Education Needs Division (SPED) of the Ghana Education Service (GES) has developed a checklist to enable more systematic monitoring of the inclusion of children with disabilities at school level.
Inclusive education in Ghana
The Government of Ghana is committed to providing free, compulsory and good quality basic education for all children. The inclusive education programme aims to increase the enrolment and learning opportunities of children with disabilities in regular schools by creating child-friendly school environments and support systems. The work is currently focusing on inclusion for children with less severe disabilities.
Since 2012, SPED, with UNICEF's support, has successfully implemented inclusive education activities – raising government and community awareness; screening children; training teachers; and restructuring facilities – in 12 districts. Positive attitude changes have been observed and there are plans to expand nationally.
"Inclusive education helped to solve the mocking of children with disabilities with the teachers." Parent in Savelugu Nanton District, June 2013
However, it was essential to learn more about the impact of these interventions at school and classroom level. As there was no monitoring mechanism for assessing school inclusiveness, SPED developed a checklist to enable more systematic monitoring – the Inclusive Education Monitoring Tool (IEMT).
The IEMT considers the specific needs of children with disabilities that are not met through general school improvements alone, since some broad approaches to inclusion can overlook specific disability issues (see UNICEF State of the World's Children, 2013 and the Editorial on pages 2-3). IEMT collects statistics on children with disabilities in mainstream schools, to fill a significant data gap in Ghana, and assesses their access, participation and academic success.
The Inclusive Education Monitoring Tool
The IEMT is based on international standards, adapted to the local context, and gathers qualitative and quantitative information. The information is gathered by head teachers, with contributions from teachers during school meetings, and then counter- checked by circuit supervisors, who are already regularly visiting and supporting schools and head teachers. Supervisors visit school facilities, observe classrooms, and informally interview teachers and children with and without disabilities, and then give feedback to the head and teachers. A space for comments within the checklist allows head teachers and supervisors to add information on issues specific to the school.
The tool intends to help schools self-assess and reflect on their inclusiveness. The monitoring will happen twice a year (June and November) to capture improvements and support decision- making for the new academic year. It will serve as a baseline for ongoing assessment of school inclusiveness in Ghana. At school level, it will help heads to identify barriers to inclusion within their school, and encourage a flexible approach to questioning inclusive practices. A progressive scoring system (not just 'yes/no') allows the school to recognise its current status and needs for improvement.
Creation and testing of the IEMT
A draft was developed by SPED, based on the Index for Inclusion (published by the Centre for Studies on Inclusive Education, 2007) and in line with Ghana's Inclusive Education Policy Framework (2012). The draft considered the local context; existing monitoring tools, and any gaps left by other GES data collection systemsandtheMICSsurvey; theneedfor quantitative data on children with disabilities; and the importance of having an easy-to-use monitoring tool. National and district level consultations were held, with a final workshop in June 2013.
The IEMT was then tested. Five teams of SPED/UNICEF staff and circuit supervisors led assessments in 22 randomly selected rural and urban mainstream schools and found that the IEMT was easily understood by users. Minor changes were made after testing to reduce misunderstandings and to include data on teachers' presence and status (trained/volunteer), and on local contextual issues (e.g. nomadic children).
The testing highlighted how general educational challenges (such as shortages of trained teachers, teacher absenteeism and poor teaching methodologies) impact on schools' capacity to welcome all children, including those with disabilities and other special needs. As expected at the pilot stage, half the schools had not started to address inclusive education specifically, and half were in the early stages, but had limited access to referral or support services; although positive attitudes and recognition of educational rights were found within the schools and community. The testing also helped identify stakeholders already active in inclusive education and disability.
Content of the IEMT
Checklist of 25 indicators plus comment box
List of 15 statistical items on children with disabilities; data disaggregated by impairment/needs
Guide for the monitoring process (scoring, weighting, frequency, school visits, etc).
Additional tools were created to help District Directorates better understand the situation and manage existing resources within their districts:
database of children with disabilities and other special needs, detailing support needs and the status of service provision for each child
database of inclusive education and disability stakeholders (e.g. organisations for persons with disabilities, NGOs, resource centres, special schools, individual benefactors)
database of competent teachers (as recognised by their peers) who can be resource persons for best practice sharing.
The IEMT will start to be used in 12 focus districts at the beginning of the 2013/14 academic year. Results will enable SPED to improve their planning of future inclusive education activities to fulfil the educational needs of all Ghanaian children.
For more information please contact Mr Patrick Thomas Otaah, SPED Assistant Director otaahtp@yahoo.com, Mrs Agnes Arthur, UNICEF Education Officer www.unicef.org, Mrs Sandrine Bohan-Jacquot, Education and Inclusion Specialist bohan.jacquot@gmail.com
UNICEF Ghana Country Office
PO Box AN 5051
Accra-North
Ghana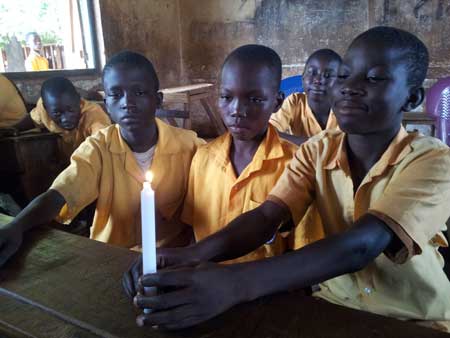 A practical science class in Choggu Primary A