Supporting learners identified as having special educational needs in Moldova
Ludmila Malcoci and Cornelia Cincilei
In this article, Ludmila and Cornelia share Sergiu's story of leaving an institution and being included in a regular school, with support from a multi-disciplinary team and a resource centre, as an example of the wider work being carried out by the Equal Access to Education project in Moldova.
Sergiu's story
Four years ago, aged 11, Sergiu went to school for the first time. This was made possible when he moved from an institution for boys with intellectual disabilities in Orhei, Moldova, to live with a foster family. At that point he could not read or write, and had difficulty communicating with others. In September 2010, Sergiu joined the second grade in his regular school, and his social, emotional, and academic learning skills continued to improve. Today he is in the sixth grade; learning, participating in activities, and socially interacting with classmates. He is doing very well in school, and needs some support for mathematics, Romanian and French classes. His ongoing progress is due to the continuous support provided by the inclusive school staff and his foster family.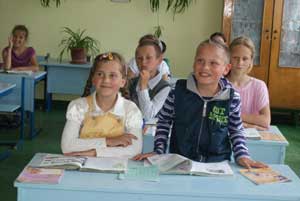 The school Sergiu attends is one of 22 schools in Moldova that are developing an inclusive approach to education with the help of Keystone Moldova as part of the Equal Access to Education (EAE) project. The Educational Department of Orhei District started the process in September 2011. Sergiu's school was assessed and then a school multidisciplinary team – comprising the school principal, deputy principal, teachers, psychologist and community social worker – was established and trained.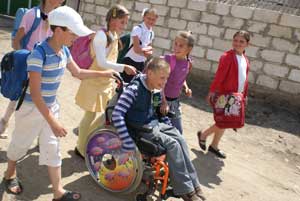 The team works with families of children identified as having special educational needs, including Sergiu's foster parents, in order to understand and respond to the children's educational needs.
Since January 2012, Sergiu's educational support has been guided by an individual educational plan. The plan was developed by the school's multidisciplinary team, with Keystone Moldova providing support through trainings, follow-up, monitoring visits and ongoing technical support. The plan outlines Sergiu's support needs in the classroom and his attendance at extracurricular sessions at a Resource Centre for Inclusive Education created by Keystone Moldova, in partnership with the school administration and Local Public Authorities at district and community levels. At the centre Sergiu accesses further learning support, occupational therapy, speech therapy and socialisation skills development.
To raise community awareness of inclusive education, two dramas addressing disability issues – one for adults and one for pupils – have been performed in Sergiu's community. These have helped change attitudes towards people with disabilities from "pity and compassion" to "persons with rights and abilities".
The Equal Access to Education (EAE) project is a four-year project (started in 2010) implemented by Keystone Moldova, in partnership with the Ministry of Education, the Step by Step Moldova NGO, and Local Public Authorities (LPAs). Financial support is provided by Open Society Foundations Early Childhood Programme.
The project primarily supports the educational inclusion of children identified as having special educational needs by addressing both social and pedagogical issues. It acknowledges the uniqueness of every child and the fact that each child develops at his/her own pace, has unique educational needs, and builds his/her own understanding of the world.
The project recognises that attitudinal and behavioural changes are needed on multiple levels. It therefore engages all stakeholders in the process of developing a more inclusive approach to education, starting at the ministry level and continuing through district and community levels to school administration, school teachers, social workers, local partners, community members, parents and pupils. Training and follow-up support for school staff (provided by the Step by Step programme) has led to changes in teachers' attitudes towards inclusion of children with special educational needs; has contributed to improved child/teacher relationships; and has generally increased the quality of teaching, learning and assessment methods.
"The school inclusion of children with special educational needs is impossible without continuous training for teachers." Deputy Director of Vasile Lupu Lyceum, Susleni Village, Orhei District
So far over 230 children have been included in regular classes; 3,500 people (school staff, parents, LPA personnel, pupils, community members etc.) have received training; and 15 resource centres have been developed in schools, providing additional support to more than 350 children.
A Beneficiary Impact Assessment conducted by Keystone Moldova in 2013 revealed that school attendance among children identified as having special education needs has increased, and their parents' level of satisfaction with the education provided has also improved.
"We have a very good connection with the school and have jointly solved every problem that arises. We focus on teamwork, and together can do great things." Social Worker, Susleni Village, Orhei District
The impact assessment also found:
all children receiving the targeted support were doing better in school
children identified as having special educational needs had made more friends in school, and classmates were more accepting
parents of children with disabilities were better about their children's rights and needs and more involved in supporting social inclusion
the 22 pilot schools are providing inclusive education training and support to other community schools in their districts.
Lessons learned
The project has already revealed several useful lessons, including:
The implementation of inclusive education is a complex and continuous process that requires the development of sustainable cross-sectoral partnerships at multiple levels.
The development of inclusive education is a step by step process that requires regular self-assessment from the perspective of the pupils, parents, support teachers and community members.
The capacity building of parents, people with disabilities and school teachers in advocacy can increase the access to quality education of all people. Non-formal educational methods (social drama, debates, round tables, workgroups, etc.) have a significant impact on reducing stigma and discrimination.
Contact:
Ludmila Malcoci, PhD
Keystone Moldova Executive Director
Tel.: +373 69501709
e-mail: lmalcoci@keystonehumanservices.org<
Cornelia Cincilei, PhD
Director, Step by Step Moldova
Tel.: +373 69122791
e-mail: ccincilei@gmail.com