Water, sanitation, hygiene (WASH) and inclusive education: Competition results
In last year's newsletter we made a deliberate effort to engage younger readers by announcing
a writing and drawing competition on the theme of water, sanitation and education:
"How do water, food and toilet facilities – at home or in school – affect your education, in a good way or in a bad way?"
Entries were divided into two age groups: under-10 years and 11 to 21 years. We received some wonderful entries. Here is a selection – sorry we don't have space to print everything that was sent.
The Winners
Betsy Echessa – winner of the under-10s age group. Here is an extract from her writing: "I'm eight years old and I live in London. Lots of children in London have great education, unlike the ones in Africa and other countries with war and poverty problems … Children work hard but they are forced to go to war and they end up dead, it is so unfair. Education is very important because you will have money to buy a house, food and clothing. Children in Africa go round their villages to look for water. They drink it every day and the water is bad, it is polluted so children die…like in Haiti."
Phoebe Achieng – aged 15, won the 11 to 21 age group (writing). See her article on page 22.
Special certificates are awarded to:
Ha'Mantilatilane Child Rescue Centre in Maseru, Lesotho, which submitted 12 entries. Here are some extracts:
"All students and teachers must make sure that water is safe and that other children do not waste it. We as students should take care of water."
(Relebohile Letseka, age 12)

"If water is not available…we would not be able to study well and freely, even if we tried to understand, because we are thirsty, dirty and also because we would smell terribly."
(Mirrah Marrengula, age 20)
Abraham Ebisa Kebede – 20 years, Ethiopia: winner of the 11 to 21 age group. Here is his drawing showing the links between poor water quality, inadequate sanitation, health and education.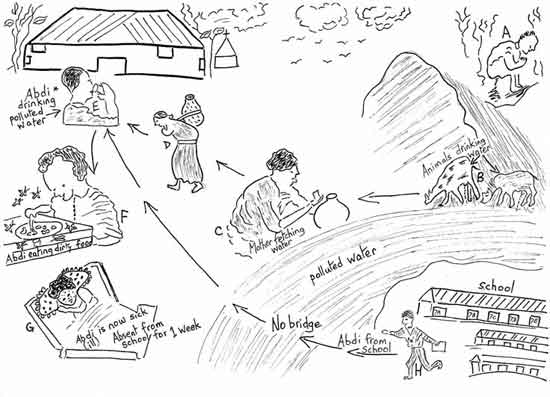 The Centre's other entries came from: Rethabile Phatela (13), Mahlohonolo Matolo (6), Lipuo Moloko (6), Lebitso Thabang Matlhole (12), Masenono Ranohe (13), Thabo Alina Matlhole (13), Tatolo Ncheke (13), Seabata Marai (13), Refiloe Moletsane (9) and Tsebiso Moleko (13).
Fr. Ouderaa Secondary School for the Deaf, Nyangoma, Kenya – four members of the school health club submitted entries: Raguel Benard (20), Ongolla Alex Otieno (20), Collins Ogendi (19) and Walter Oduwo Asewe (20).
Thanks to everyone who entered!