Community involvement in school water projects: Experience from post-conflict Sierra Leone
Osman Mohamed Bah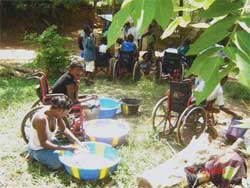 Children help each other
with washing clothes
Leonard Cheshire Disability (LCD) has recently been working in Kabala, northern Sierra Leone, with disabled children, disabled young people and their families, raising awareness of WASH issues and the benefits of developing child-to-child clubs to build greater knowledge of the benefits of good sanitation and supportive friendship groups. Here Osman describes the project.
Introduction
More than a decade of civil conflict in Sierra Leone has left thousands of adults and children disabled. This is due to amputations and an increase in polio cases because vaccination was disrupted. Schools have been destroyed or looted. Access to care and services for disabled people is limited, many families are female-headed and poverty is endemic. Children and adults with disabilities are a particularly vulnerable group, whose opportunities for education, self-development and achieving self-reliance are extremely limited.
Kabala is the district capital of Koinadugu district which is in the far north of the country, about 200 miles north-east of the capital, Freetown. Kabala has a population of approximately 4,000-5,000 people.
LCD and the Omega Initiative
A two-year community project by LCD (2005-2007), funded by Omega Initiative, aimed to facilitate access for disabled children, disabled young adults and their families to basic education and sustainable livelihood in Kabala. It involved:
facilitating disabled children's access to education
economically empowering the parents of disabled children through training in small business development and piloting a revolving loan scheme
providing orthopaedic and prosthetic services
providing vocational skills training for disabled young men and women
building the capacity of the Volunteer Management Committee.
The project combined direct assistance and economic empowerment to ensure its sustainability and community ownership.
A recent survey by LCD revealed 267 people with disabilities (almost 7% of the local population); 27% of these are children aged 0 to 15 years. More than 70% of these children have no access to basic education, due to poverty and stigma.
Since the civil war ended, international and local NGOs have initiated community development programmes focusing on inclusive education, water and sanitation, and improving livelihoods.
The importance of sanitation and clean water in schools
An outbreak of cholera in one of the primary schools in Kabala claimed the lives of three children. This raised the issue of sanitation and access to safe drinking water for school children, especially during the six-month dry season. The only water source was a spring – an exposed surface pit dug out of a swamp – about 30 metres from the school.
In collaboration with the Ministry of Health and Sanitation, LCD initiated a project to construct two wells with hand pumps to provide safe drinking water. In total these two school wells benefit 1,500 pupils (including five with physical impairment) and 800 community members.
Community involvement in developing and managing the wells
The school and community management committees were involved in the project from the planning stages, and contributed to the construction work. This has helped ensure school and community ownership of the wells, safeguarding them for the future. Teachers, pupils and community members attended project meetings and learned about the link between good quality water and improved health, the difficulties faced by disabled people in fetching water, and about wider health and disability issues.
"I am especially grateful to LCD for making me feel part of the community and for relieving me of the burden of water collection from the swamp pit."
(Kadiatu, female disabled pupil)"My friends in the child-to-child club have made me very happy, since we play and collect water as a team. They are always prepared to help me out in other tasks that I am engaged in."
(Michael, disabled pupil
LCD funded the water project, and employed community workers who supervised the technical and awareness-raising work in the community. Because LCD had good local contacts, community members willingly organised themselves as follows:
School authorities: These were responsible for communication matters, especially with LCD. Six teachers, three from each school, received health education training in Freetown, organised by the Ministry of Heath. They then educated community members about improved health and the proposed water project.
Sustainability: The water project was organised within the local council structure, tied to the health division of Kabala council. Health officials trained selected community members to maintain the hand pump and ensure that spare parts are available. This is done in collaboration with UNICEF's water and sanitation team. The project networks with the Red Cross, Ministries of Health and Education, Headteachers' Council, Regional Council, District Council, National Council and the Mercy Ships NGO.
Impact of school water project on inclusion in education
Child-to-child clubs
This water project established child-to-child clubs which brought children together in a friendly atmosphere. Members meet at least once a week to chat, discuss water and hygiene issues and play football, volleyball and tennis. This has promoted friendship which extends to water use activities (operation of hand pumps, water collection and washing of clothes).
Disabled pupils find it difficult to collect water, even from improved water points. The child-to-child clubs support disabled pupils with water collection, by creating a friendly and enabling relationship between disabled and non-disabled peers. Non-disabled youths offer assistance to disabled youths in carrying water and washing clothes. As a knock-on-effect disabled pupils are also included in sports and other social activities in the schools.
Improved attendance
School attendance has improved, especially for disabled pupils. Following discussions with headteachers, we also discovered that disabled youths performed well in their examinations. Time saved from water collection was used for learning. Disabled children also now feel part of the community.
Improved attitudes
The inclusion of disabled children and their acceptance resulted from a number of initiatives:
community members, teachers and pupils discussed the importance of good quality water and improved health status
a community awareness-raising and sensitisation campaign on disability and the need for integrating disabled people in community developments programmes
discussions between teachers and pupils regarding school children's punctuality and the burden of carrying water, which rests primarily on women and children in rural households
discussions with pupils focusing on the fact that disabled pupils often arrive late because they collect water from distant locations, affecting their performance in school.
Shared responsibility for well construction and maintenance:
Women in the village prepared meals for the labourers.
Teenagers from the schools' child-to-child clubs moved sand, gravel and stones.
The Assistant Chief provided accommodation for the well-digging team.
Each household provided two labourers at a time to assist with well digging.
Two head women are responsible for keeping the wells clean.
Osman Mohamed Bah is Regional Programme Manager, Leonard Cheshire Disability.
Contact:
LCD West Africa Regional Office
15ABC Old Railway Line, Brookfields
Freetown, Sierra Leone
E-mail: leonardcheshire_waro@yahoo.com
Tel: +232 76 612 562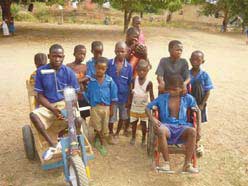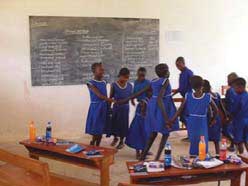 Children involved in LCD's school water project