Improving drinking water in schools in South Ethiopia
Medhin Marcho
Most settlements are located around 'wet points' so that people can access water. When water is no longer available, people may have to move to another place. It is not surprising, therefore, that a learning environment that offers limited access to water will struggle to keep children on the premises or in lessons. In this article, Medhin explains about a project that aims to improve children's access to drinking water at school, to help them participate more in learning.
Water can keep children in school
Schools for children whose families live in absolute poverty may have a particularly strong need to provide water. Many children from very poor families may consume nothing except water during the day, as their parents cannot afford to send them to school with food. Children may rush to a water point in the school compound during break times, and before leaving school and heading home, especially if the water supply at home is limited or of poor quality.
Water quality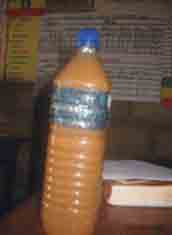 'Drinking water'
in Woshe ABEC Area
The water that some families use for drinking looks too dirty even for washing hands. Concern Worldwide and its Ethiopian partner – Wonta Rural Development Association (WRDA) – therefore took samples for testing in selected villages. The analysis showed that the water has more than 200 times the safe level – set by the World Health Organisation (WHO) – of solid materials in it. This, combined with high levels of iron and magnesium, makes the water unsafe to drink.
Supplying water through Alternative Basic Education
Concern and WRDA believe that a supply of water is an absolute necessity in the school environment. We consider that it is crucial both to keep children coming to school and to keep them learning.
In order to increase access to education for out-ofschool children, the organisations have established Alternative Basic Education (ABE) centres for children in rural districts of Wolayta, South Ethiopia. Some of these learning centres are built in villages where water is scarce and of poor quality, so water supplies are part of the centres' facilities.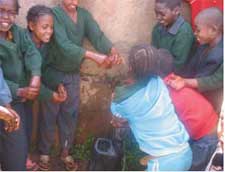 Children using an
ABE water-point
A water tank constructed from cement, with a capacity of 10,000 litres, is built in ABE compounds to harvest rainwater from the roof of the learning centre. Concern and WRDA have also worked on raising children's and parents' awareness to encourage similar rainwater harvesting at home.
Facilitators in ABE centres act as change agents to promote safer water and sanitation in the school environment and the wider community. They also regularly check that the water tanks function properly and monitor for physical damage and cracks. ABE facilitators ensure that water is treated before children drink it, and they show students and their parents how to do the same at home, to protect their health.
The impact on learners
Endrias Torra is a facilitator (teacher) in an ABE centre in Duguna Bolosso rural district. He says there are many positive effects in terms of students' attendance and increased concentration following the improved water situation in the ABE centre. Formal primary schools in the area have no water supply, and the ABE centre also previously lacked water:
"Before construction of the water point, sometimes there were quarrels among students over a bottle of water one had brought from home, but now things are okay. In the absence of water points, many students often stopped attending the last one or two lessons of each day. Students were frequently saying 'I feel sick' when they were desperately thirsty and wanted to go home."
(Endrias Torra)
Students often wasted time looking for water to clean classrooms. Every day in formal schools and ABE centres in rural districts, a group of three to five students clean their classrooms. Previously, they missed the final class of the day while they searched for water. The water points in ABE centres have helped to save students' time and solved this problem.
Endrias highlights that the water points significantly help to refresh learners' concentration. When he observes that a learner appears sleepy and dizzy in the middle of a lesson, he advises them to go to the water point, have a drink and wash their face to refresh and cool themselves. They come back to class with far better concentration.
Sustainability
The water point is also now generating an unintended positive impact that can contribute to sustainability of the ABE centres. In consultation with the community, the ABE centre management committee sells water at low cost to community members who need extra water for social occasions. This income-generating opportunity contributes towards the ABE centre's expenses. The community welcomes this as it reduces their own contributions to ABE costs, for instance to cover payment to the facilitators and a support fund for the educational inclusion of out-of-school children from destitute families.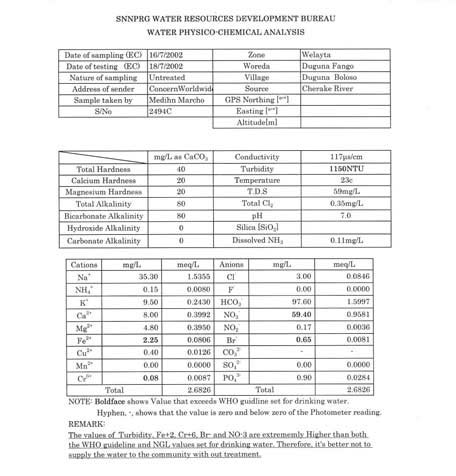 Example of a water quality analysis report indicating that the community's
water is not safe to drink without treatment
Medhin Marcho is South Ethiopia Education Programme Manager for Concern Worldwide
Contact:
P.O. Box 1558, Awssa, Ethiopia
Email: medhincom@yahoo.com
Website: www.concern.net
Contact WRDA:
Kebede Nana, WRDA Manager
P.O. Box 275, Wolayta Soddo, Ethiopia
Email: kebedewrda@yahoo.com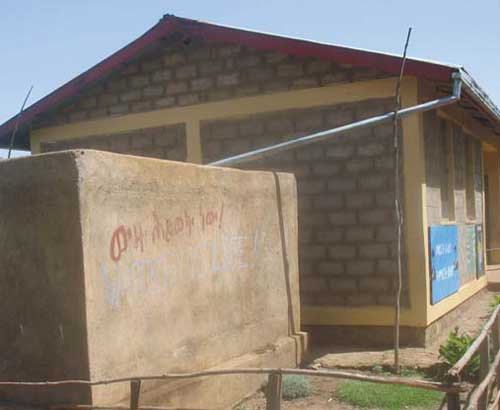 Alternative Basic Education (ABE) water point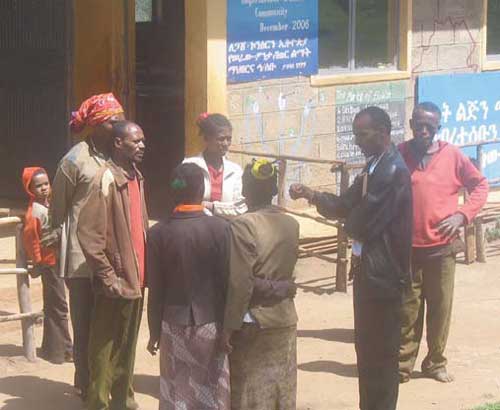 A discussion with ABE facilitators