The EENET interview
Ingrid Lewis joined EENET in 2002. She worked as an assistant to the then Co-ordinator, Susie Miles, before taking over as Co-ordinator in 2005. Ingrid is now changing roles, to manage EENET's consultancy branch (EENET CIC). In this interview, Ingrid uses a visual representation of EENET's work to explain why the Co-ordinator role has been so enjoyable.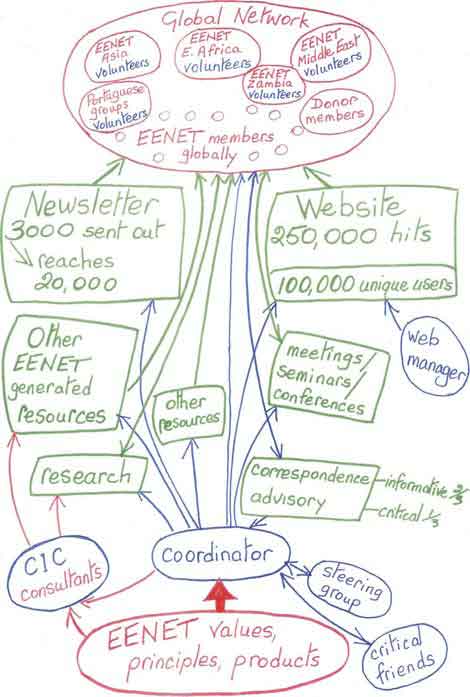 Who have you most enjoyed working with?
Too many people to mention! It has been a privilege to meet and correspond with thousands of people around the world. Every year I learn so much from the experiences of our newsletter contributors; often I share these examples through my own freelance work. Last year's website redesign was done by a volunteer, and all of the regional networking activities so far have been led by volunteers: an amazing contribution!
Why did you choose to work for EENET?
After eight years working for large international NGOs, I wanted an opportunity to work more closely with stakeholders who were facing discrimination and seeking inclusion. EENET does just that!
Has EENET changed in the last eight years?
The basic values and principles haven't changed, but the number of people joining our informationsharing activities has increased hugely. Also, more people in the South can now access resources and find answers to their questions via the Internet (we had 100,000 website visitors in six months). Thousands still can't do this, however, so EENET remains committed to providing non-web-based advice, information and feedback.
What makes EENET so different?
EENET is unique! There are many education and development information services. But our principles of supporting stakeholders in the South to document, share and discuss their ideas and experiences, and of helping them access free information, is very rare. I'm proud to be part of a growing movement to empower people whose voices are too often not heard.
What will you do next?
I'll be running EENET CIC, raising funds to help EENET achieve its objectives (such as being able to publish this newsletter). Our consultants will also keep promoting and using EENET's favourite participatory methods, like action research, participatory photography and children's voices. And of course every year I'll be volunteering to help mail out this newsletter to thousands of readers!
Contact Ingrid in EENET CIC at: consultancy@eenet.org.uk
Contact EENET's new Co-ordinator at: info@eenet.org.uk