Phoebe's story
Phoebe Achieng
My name is Phoebe Achieng. I am 15 years old and I was born with spina bifida and hydrocephalus. I'm in class 8 at Our Lady of Mercy Girls Primary School, Nairobi, Kenya.
When I joined class 1 my mum used to come to help me with my catheterisation1 and my bowels. She always carried a bag containing some water, soap and a towel just in case I messed myself. The toilet my mum used, which was closer to my class, did not have running water. She came daily at 9.30 a.m., 12.30 p.m. and then at 4 p.m. to take me home. At home we have running water and we fill big plastic containers with water. But the water is rationed, so we must use it sparingly. My mum pours water from washing clothes and utensils into our toilet to save water.
My friends who don't have piped water in their homes have to buy their water. They walk very long distances and carry the water on their heads or backs. People say water is life but I want to add that water is health because life with no water means diseases like cholera will spread very fast and kill very young children.
I use a wheelchair for moving long distances, but use crutches and braces for short distances. When I reached class 5 my mum taught me how to insert my own catheter1. She was patient and it took me months to get it right. I was so happy, and my mum was too, as she could stop coming to school to check on me. She spoke to the school and I was allocated my own toilet at the resource centre.
I find it hard to access water within the school because there are so many students all trying to get the water – this makes it difficult when I need to clean my catheter. Sometimes I use my clean drinking water to rinse the catheter.
I also find it hard to study and concentrate when I have my monthly menses because I need a lot of water to clean my hands and the catheter. The distance from my present class to the resource centre toilet is far and I have to ask my friends to wheel me. My mum always brings water in a plastic container when I am having my menses so I can clean myself well.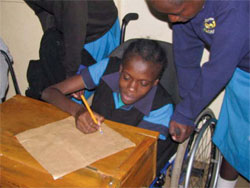 Phoebe writing at her desk
One Saturday the resource centre toilet was closed so I had to use the ladies toilet which was very unfriendly. I was not able to sit properly on the toilet seat so I soiled myself. I stayed outside the class for the whole of the lesson until I could ask a teacher to call my mum to take me home. I couldn't clean myself because we did not have enough water in the school.
Our Lady of Mercy school is a good inclusive school but they have to consider some disabilities like spina bifida, where we need water not for drinking, but for cleaning our hands and cleaning our catheters.
I would want to see this school admit many students with spina bifida and hydrocephalus because for the eight years I have been here the teachers have been very co-operative. They have learned a lot from me as a student and also from my mum, Juliana, who runs a parent support group in Nairobi for parents of children with spina bifida and hydrocephalus. For the past four years my friends have brought me home in my wheelchair. This gives me some independence because my mum is not always around to help me. I have also taught my friends about my condition and they know how to help. I love my friends at school.
Contact Phoebe via her mum:
Juliana Auma
Spina Bifida and Hydrocephalus Association of
Kenya,
P.O.Box 937-00600
Nairobi Ngara
Kenya
Email: shakenyanairobi@yahoo.com
1 Inserting a thin tube (the catheter), attached to a bag, into the bladder via the urethra.