Children living in refugee camps and host communities all over the world face a multitude of challenges including crowded conditions, high levels of poverty and disease, and difficulty accessing services such as schools and healthcare. Issues such as a child's right to a holistic development, to play, to develop self-esteem, and to promote their well-being are sometimes neglected in favour of life's 'essentials' (like food and shelter). But inclusive play and the development of early learning skills are crucial, as a fundamental right and to help them thrive in educational settings and have a more productive future. In this article, Jodie and Julia share project highlights from Humanity and Inclusion.
Parents' clubs make a difference
From 2016 to 2020, the Growing Together project worked in 11 refugee camps and 52 host communities in Cox's Bazar, Bangladesh, the Thai-Myanmar border, and in Peshawar and Nowshera districts in Pakistan. It was led by Humanity and Inclusion (HI) and delivered by local NGOs.
Parents' clubs were a key feature. They ran weekly or fortnightly, depending on the country context and local provision. They focused specifically on inclusive play and early learning activities to promote child development. We established 147 clubs for parents of children with and without disabilities using an inclusive approach. Over 3,000 parents attended the sessions to help their young children play and to learn tips about how to promote early learning. They learned about early childhood development intervention, including nurturing caregiving and inclusive play and learning.1
Although project staff helped to facilitate the sessions, there was a strong focus on empowering parents to lead on different aspects and to share their own knowledge and experience. Because the clubs include parents of children with and without disabilities, this was a powerful way to break down the stigma of disability and meet other caregivers in a non-threatening way.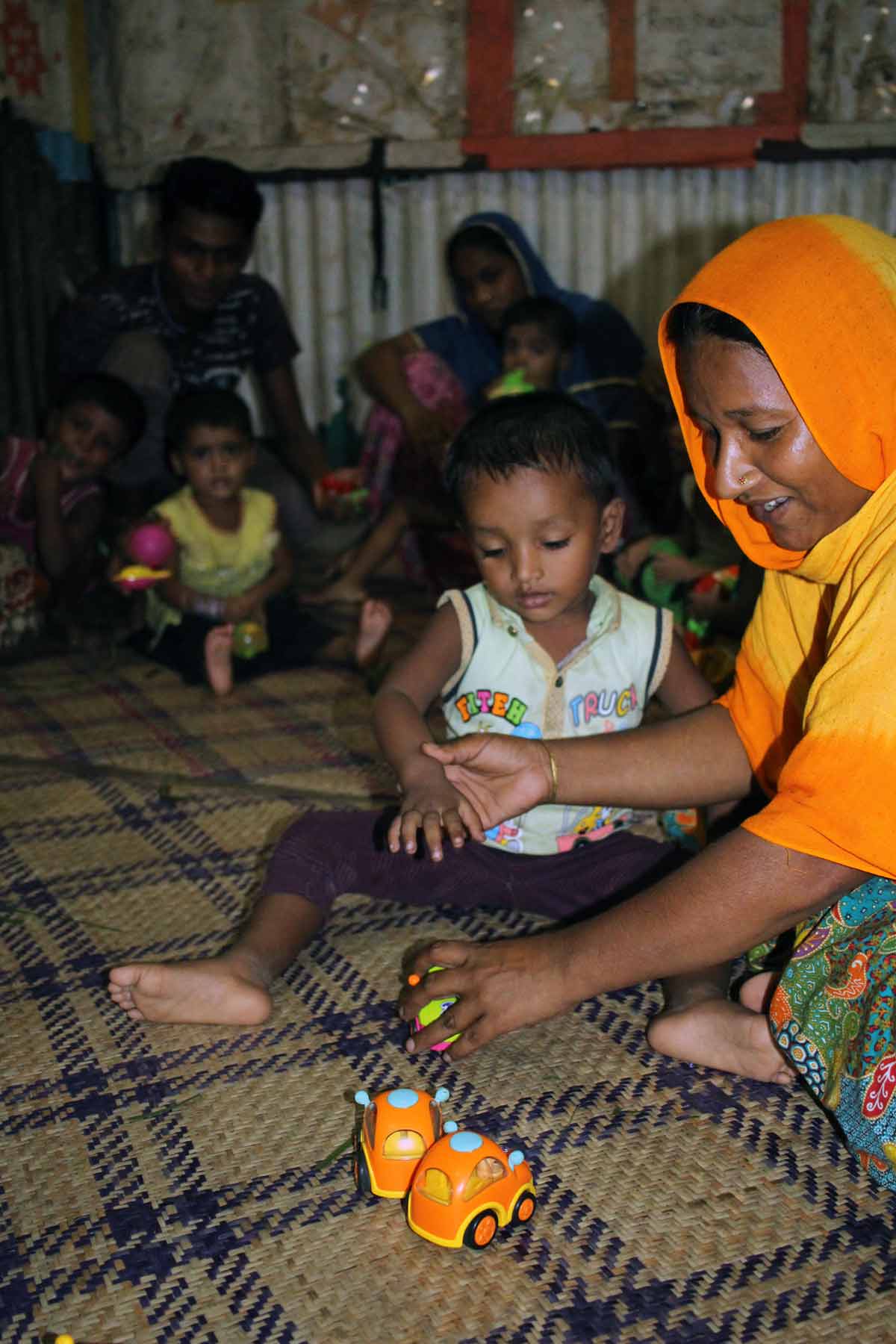 The parent's clubs also provided a space to practise activities with a facilitator and share tips and challenges. For example, the 'Blue Box' is an early child development tool (adapted and revised by HI) and used to promote children's physical, cognitive, communication and social-emotional development in a structured way. It is a series of cards with simple activities for parents to work through at home, based on their child's age and stage.
One of the aims was to promote development for children at risk of developing cognitive impairments due to a wide variety of potential risk factors (e.g., malnutrition, prematurity, infection, extreme poverty, violence, forced displacement, maternal mental health, etc). The system includes a chart to monitor the child's developmental milestones and a set of cards with activities for the families to use to promote the achievement of each target.
The cards also include descriptions to guide parents on how the play activities can be adapted to support children with specific disabilities, such as children who are deaf, blind or have physical disabilities.
The importance of outdoor play
Whilst the parents' clubs encouraged children to start developing early learning skills, it is also crucial to allow children to play outdoors together, to develop their imagination, language, socio-emotional, co-operation and problem-solving skills – all crucial prerequisites to formal learning. Therefore, the project also created 50 inclusive play spaces, including a number of outdoor play grounds located in communities.
The play spaces were designed and constructed according to key criteria so as to be inclusive and participatory of all children, families and communities.2 Creating play elements as accessible as possible meant that ramps and pathways were included, as were different seating options where children could have a break from play or participate in quieter activities. Swings with different types of seating options allowed children with different physical needs to access the play facilities.
Sustainable and environmentally friendly approaches were promoted, using low-cost and locally available materials and involving the community. This included working with local artists or having children involved in painting, art projects or taking care of the garden, and sensitively addressing the barriers to play that can prevent the inclusion of girls.
What was the impact?
Overall, caregivers involved in the parents' clubs became much more actively involved as the project went on, and an increased proportion of mothers have engaged fully in the groups compared to their passive engagement when the project started. There has been a cultural shift to some extent and increased access to play-based opportunities for caregivers. There has also been a noticeable improvement in the amount of time caregivers spend playing with their children and supporting early learning.
As a result of the project, caregivers not only recognise play as important for child development, but they also actively practise child development and early learning activities with their children. Parents could see positive changes which encouraged them to continue with these sessions. The approaches were easy to use, easy to replicate and had a strong focus on community support and cohesion. However, some caregivers, particularly in Thailand, did not see the value of play for the sake of play. This emphasises the need for more advocacy and awareness among communities in displacement contexts in order to change attitudes towards play and early learning opportunities for all children. In Pakistan, the parents' clubs have been taken on by the community since the project ended.
The link to learning
Early learning and child development go hand in hand with a child's access to play in all forms. When we give young children access to play – from targeted structured play in small groups supported by caregivers, to the freedom of outdoor play to help develop a range of independence, imagination and co-operation skills – we are supporting all aspects of early learning. Any early years learning curriculum should include activities to promote communication, socialisation, problem-solving, listening, attention, thinking and memory skills in addition to fine motor and gross motor skills. By focusing on inclusive play development, in the early years, and working hand in hand with caregivers, this helps to lay the foundation of future success in education.
[1] https://bit.ly/eer9-31a
[2] https://bit.ly/eer9-31b
Contact:
Jodie is Inclusive Education Specialist (currently with HI Myanmar). Email: j.nguy@hi.org
Julia is Global Inclusive Education Specialist (based in London). Email: j.mcgeown@hi.org