In this article, Lohis recounts her personal experience of improving her practice as an early childhood educator. She also explains how she is now supporting other teachers to ensure children from low-income families can access better quality early education.
Background
Not every household in Nigeria believes that a child's first 5 years are crucial to their overall development and outcome in life. Many think that at this age they are too young to learn and it is a waste of hard-earned resources to enrol them in an early childhood centre.
Early childhood education in Nigeria is provided by both the public and private sectors. Low-income families can only access early childhood education in public schools or private schools charging low fees. Often, these schools are over-subscribed and under-resourced, so there is a limit to the number of children who can be enrolled per school year and pupil-teacher ratios are high. The quality of the teaching is varied.
My experience
My teaching experience in one school changed my perspective about early years education. Unlike the schools where I had taught before, learning outcomes in this school were positive. I observed that each child was treated as a unique individual and this was evident from the relationship between the teacher and the children. According to the parents, the children were happy and eager to come to school.
The teachers were professional, warm and had a passion for teaching. They used teaching and learning resources that were age-appropriate. The children had access to, and could explore indoor and outdoor learning spaces, which was very effective for teaching and learning.
Learning was differentiated. The uniqueness of each child was a major guide to differentiating each child's class activities. There was no rote learning. Instead, the approach to teaching and learning was like laying a foundation for a house. Each concept was taught in such a manner that the child could relate to these concepts – even outside the classroom. The children were encouraged to interact and socialise. During this period of development, their language is still evolving so opportunities were created for children to interact with their peers and the adults in their setting throughout the day.
Learning through play was a major component of the teaching and learning process. Play is a beautiful way of reinforcing learning in an integrated way. Children can, for example, learn numbers, colours and shapes all in one lesson by sorting, counting, etc.
The entire school climate was generally positive. Thanks to teachers who know their onions! Each teacher was equipped through continuous professional development during the course of each academic session.
Acme Education Resource
My experience in this school ignited my passion to seek opportunities to become a better early years school teacher. I began to research child development, how children think and learn, as well as what makes a great early years programme. Such programmes must follow a pathway that enables holistic learning and supports the overall development of the child. In most of the schools that provide early years education for low-income families in Nigeria, much emphasis is laid on cognitive learning at the detriment of other learning domains.
I started the Acme Education Resource with the aim of familiarising teachers with global best practices in teaching and learning. School owners that cater for the learning of low-income households do not charge high school fees so invest less in the school facilities and professional development of their staff. The teachers can be ill-prepared and unaware of what the expectations are. The result is an unequal society where only some children have a great head start in their learning and life journey.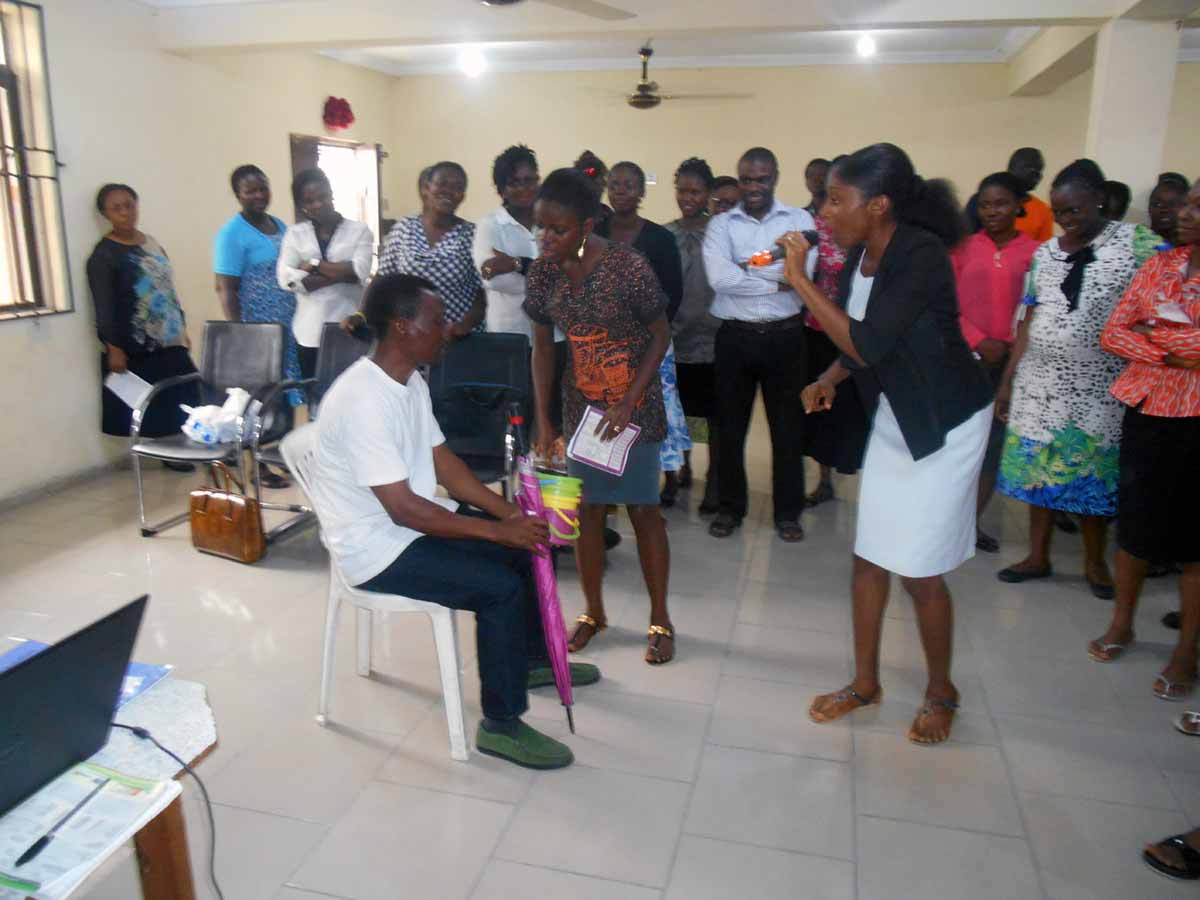 Acme's focus is on providing opportunities for children from low-income households to access quality early years education. We aim to bridge the learning gaps among children from low-income households, which is so much more important now that COVID-19 is increasing inequality and challenging our ability to build inclusive societies.
Acme's approach
Acme offers its services to low-income schools at no cost but charges a fee for schools charging high tuition fees. We want these teachers to understand their pivotal roles in the children's learning journey. Schools either request our services or we approach them to ask for an opportunity to train their teachers.
First we spend time understanding their approach to teaching and learning, observing the teachers, looking at the curriculum and how it is put into practice in lesson plans. Training is tailored towards the needs of each school.
I developed a teaching curriculum and training manual that focuses on the real work that teachers do in the classroom. The curriculum includes, but is not limited to:
Classroom management: Class size is often large so we inspire teachers to think of ways they can manage their settings. For example, doing activities in teams. Acme's approach is to not spoon feed teachers but to challenge them to think outside the box. There is always room for improvements when we challenge ourselves as teachers.
Inclusive classroom: Children are unique in how they learn. We challenge teachers to leave no learner behind. They often complain of lack of resources but there are creative ways to improvise with natural resources that are abundantly available around us. For example, teachers can teach shapes to 3 year olds using natural resources as much as possible. Teachers need to provide opportunities for children to hear, see, and feel these shapes. They can form these shapes using cut sticks from the trees around them, draw the shapes in wet sand, look around them to see where in their environments they can see these shapes and so on.
Towards the end of a training workshop, there is a breakout session. Here teachers work in teams to come up with novel ways to tackle their observed challenges. Using the training as a guide, they come up with solutions. Because the solutions come from them, they are motivated to take actions and seek for ways to improve their effectiveness.
Much work still needs to be done so that no child is left behind and, more importantly, that the learning process sets the foundation for a great future for these children.
Contact: Lohis is an Education Specialist at Acme Education Resource, Abuja, Nigeria.
Email: acme16edu@gmail.com