Parents and caregivers are a child's first teachers. In this article, Jennifer looks at how this influential role relates to building the blocks of early childhood literacy.
Parents' role in early reading
Young adult novelist Beverly Clearly, shares that "children should learn that reading is a pleasure, not just something that teachers make you do in school". Parents are ideally positioned to introduce and demonstrate that reading can be many things, including a pleasurable, new and unexpected experience, and it offers a unique time for bonding and exchange.
There is a difference between reading to and reading with your child. Active reading involves the latter, and:1
builds neural pathways in a young child's developing brain;
helps children build vocabulary;
helps children learn to think, reason and develop their own opinions;
helps children build their sense of home, place in the world and unique identity;
helps children prepare to be successful in school.
Some easy ways that parents can begin 'active reading' include:
Ask questions when reading a book to their child.
Connect the book's subject to the child's everyday world.
Connect the book to the child's interests.
When re-reading children's favourite books, point out different things about the book each time.
Connect reading to an activity.
Parents should not be put off when a child's interest in reading comes in waves, but should keep trying to weave reading into the child's day or week.
Reading together can be a wonderfully participatory experience and leads to thoughtful action. For example, reading a book about growing vegetables can be a precursor to getting outdoors and gardening with your child.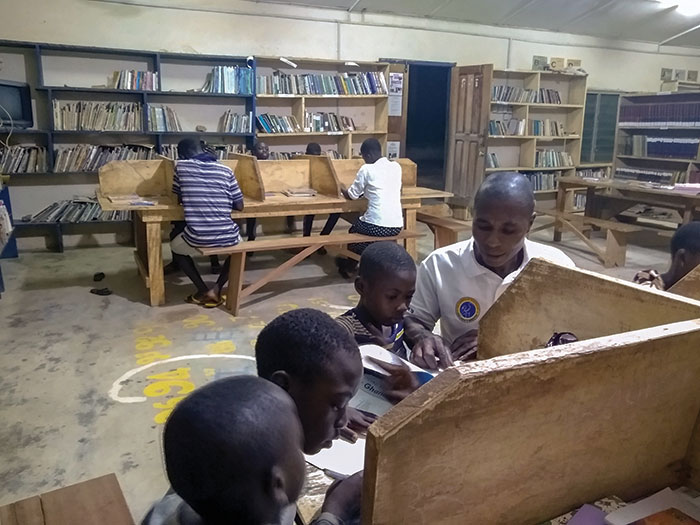 The role of libraries
Libraries are public institutions and community centres designed to be open to everyone, of all ages, backgrounds, ethnicities and incomes. They can support parents and caregivers in opening up the world of books and reading to their young children, especially parents and caregivers of children aged 0-6 who may not yet be enrolled in school or other programmes.
Raising small children is not easy, it can be a challenging and isolating experience at times. It is an immersive, messy, revelatory, fun yet loaded prospect to be in charge of a little one's growth, education and development. Having access to a local library is a limitless tool for helping parents be their child's first teacher.
In many countries, there are concerns about children watching too much television, or spending too much time using smartphone or tablet screens.2 Increasingly parents and educators are supporting more outdoor education and more creative introductions to literacy. Libraries across the United States (US) are responding by providing free and engaging opportunities to convene, learn and read together. Storytime for toddlers is a programme offered by librarians that has exploded in popularity in recent years. At Brooklyn Public Library locations in New York, Storytime programmes are offered in a range of languages to engage local populations, from Arabic to Russian to Spanish.3
There is also a free, flexible volunteer-run campaign called '1000 Books Before Kindergarten'.4 Parents sign their children up and keep track of every 100 books that they read. As they meet each milestone, children can select a prize from the librarian's treasure chest, building momentum to continue to participate. Because public formal education does not typically start until age five or six, the 1000 Books Foundation created this programme to promote reading to newborns, toddlers, and infants. This could have long-lasting positive impact in a country where 1 in 5 students struggle with reading, and 32 million adults cannot read, according to the National Centre for Education Statistics.5
Boosting access to library facilities
What about reaching parents and caregivers who do not have the access, time, ability or interest to bring their children to the library? One successful, long-running example is the Laundry and Literacy Coalition. It started in 1989 when a local children's librarian in Chicago thought she would reach out to families at the laundromat – where families who do not own washing machines can pay to wash their clothes, and usually wait around for the machine to finish.
The role of libraries in encouraging early childhood literacy is not unique to the US. We can learn greatly from global ideas and best practices for libraries. One such example is the Humjibre community library in Ghana
(www.ghei.org/humjibre-community-library).
The Ghana Health and Education Initiative (GHEI) is a unique, grassroots programme offering quality health and education services in the Western region of the country. One of GHEI's main achievements is the creation of Humjibre's community library. Local citizens helped build the library and regularly volunteer at this interactive space that is central to the town's community spirit, supporting parents by providing a space they can take their children to.
Isaac Menseh is a local parent who shares how the library has played a vibrant role for engaging the whole family in learning, reading and writing.
"GHEI's Community Library in Humjibre has provided a space for my children to complete their school work without disturbances. It is difficult to study at home and my children look forward to coming to the library every day. It has improved their reading and writing skills in English. In fact, they love reading a lot and I was inspired to buy books for them so that they can gain more knowledge. I am thankful that the library exists in our community and I am confident that it is ensuring a brighter future for my family!" ~ Isaac Mensah, Humjibre resident and local parent
In 2009, I contributed to GHEI's Girls Education Programme. During this experience, I found that the library was a source of pride for the whole community, bringing together local people of all ages. GHEI was able to broaden the impact of the library by creating its Early Childhood programme, which continues to this day. This programme engages early learners and their families in activities that aim to improve children's literacy. The programme has demonstrated long-term positive impacts on students' literacy levels and overall participation and retention in school.
Notes
[1] These have come from Samantha Cleaver and Munro Richardson's book Read With Me: Engaging Your Child in Active Reading
[2] http://bit.ly/JLaurenFN2
[3] http://bit.ly/JLaurenFN3
[4] http://bit.ly/JLaurenFN4
[5] http://bit.ly/JLaurenFN5
Contact
Jennifer is an educator and international development professional living in New York, USA. She enjoys reading with her toddler, who favours books about cats, whales or the alphabet. She can be reached through EENET on info@eenet.org.uk