In this article, Khairul Farhah uses her PhD research to explore the question of who decides what is best for a child when determining how they are educated – the parents or the professionals.
The country context
Policy
Malaysian law has developed to improve the support received by pupils with disabilities. A national review of policy and provision for pupils with disabilities and their families is gathering momentum. The government has a target of ensuring that 75% of children with disabilities, including deaf children, are educated in mainstream classrooms by 2025. In contrast, the government is also committed to retaining special schools as part of a broad spectrum of provision and to enable parents to choose a special school placement for their child if that is their preference.
Healthcare
Primary prevention of hearing loss through immunisation, health education, and improved maternal and child health services has been the government's priority. Services to support children's audiological and speech needs have improved greatly since the introduction of audiological support in the 1960s. The Ministry of Health has provided cochlear implants to more than 600 severely and profoundly deaf children since 1995. The introduction of the Newborn Hearing Screening in 2001 has enabled deaf children to be identified before their first birthday.
Learning support
In Malaysia, support from teachers of the deaf is only available when children attend schools and there are no specialist teachers available to support deaf children outside of special education services. Therefore, parents are more likely to have contact with medical professionals than with educationalists before their children start school.
Doctors and audiologists have the most influence on deaf children's mode of communication as they are involved in the initial diagnosis and the fitting of hearing aids. Subsidies are available from the Government. However, approval of these subsidies can take up to two years so parents often have to cover the cost of the technology and its maintenance. While families are coming to terms with their child's deafness diagnosis, they must also understand the management of hearing technology and its benefits.
The majority of deaf children are born to hearing parents with no experiences to draw upon, no expectations to refer to, and no close deaf family or friends to consult. There are many issues for parents to consider in deciding their child's communication needs. Increasingly, initiatives are supporting the learning of sign language but there are limited resources available. Support for learning BIM (Bahasa Isyarat Malaysia – Malaysian sign language) is only provided by NGOs, such as the Malaysian Federation of the Deaf, and training for interpreters is also limited. Therefore, parents often prioritise improving their children's use of spoken language skills.
The start of a parent support group
Within this context, a group of mothers of deaf children with hearing aids or cochlear implants got together on Facebook (FB) in 2010. The initial purpose was to discuss how they could support each other to help their children and learn from each other. Networking helps parents to build confidence and social capital in order to better support their children. As the group grew, the mothers started to plan gatherings and workshops for the benefits of families, using a public FB group called HEAR ME.
In 2015, HEAR ME Malaysia – locally known as Persatuan Ibubapa Anak Bermasalah Pendengaran (Parents of deaf children association) – was officially registered. The group is now recognised as an NGO. As well as being a parents' forum, it is an advocacy group providing services including: talks and information sessions; one-to-one advice and support; training courses; and family gatherings.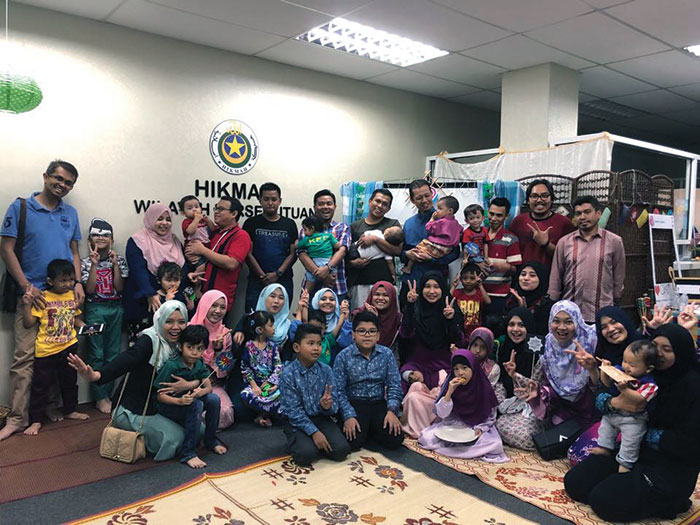 Results of the parents' advocacy
This emerging trend among parents to advocate for and take a leading role in supporting their children's educational needs demonstrates a concerted effort to encourage the acceptance of children with diverse needs. The movement has been successful in including deaf children into mainstream schools, within their community, rather than in residential settings, in line with the government campaign to move towards an inclusive education system. Attending local schools raises awareness of diversity, increasing children's social inclusion as well as providing more opportunities for them to use hearing more effectively and develop greater spoken language abilities.
However, my study found that the high cost of hearing aids and cochlear implants limits the number of children who can benefit from this technology, since not all parents can afford it. Even if they get an implant and/or hearing aid fitted, daily maintenance is required if it is to be used reliably and appropriately.
Members of the Deaf community in many countries advocate for empowering the teaching and learning of sign language to ensure that deaf children are connected with the Deaf community – an important source of support – and Deaf culture. Teaching children using sign language in mainstream schools also increases the ability of hearing children to communicate with deaf peers – meeting the aims of inclusive education and societies. There are therefore many modes of communication available, but there are gaps in the training of professionals to cater for the changing needs of deaf children.
Professionals working with deaf children need training to understand that there are many ways of developing children's communication skills, and different approaches may need to be considered for each child. But most importantly professionals must be prepared to take parents' opinions seriously because a supportive parent will have been developing their child's communication for several years before they start school.
Where to educate a deaf child, using which methods, is part of an ongoing debate, and it is important to understand all of the arguments and make informed decisions accordingly. I advocate for inclusion in the mainstream using whatever mode of communication the parent and child prefers.
From my research I have found that the best approach is one where parents and professionals work together to develop an inclusive environment. An appreciation of the importance of developing a broad range of flexible support structures in accommodating the individual differences between deaf children would also be helpful in developing inclusive education practices.
Contact
Dr Khairul Farhah Khairuddin is a senior lecturer in the Faculty of Education at the National University of Malaysia. She can be contacted on kfk@ukm.edu.my.
You can find out more about HEAR ME at www.hearme.my