In Project Elimu (PE) we have a holistic approach to education, putting parents at the centre of our work. In this article, we will explain how the organisation has developed from delivering ballet classes to growing a network of teachers across Kibera, Kenya.
About Kibra
Kibera, which is known by its residents as Kibra, is the biggest informal settlement in Kenya. It is home to over 170,000 residents, according to the 2009 Kenya Population and Housing Census, but residents estimate that the real number exceeds 700,000. When people think of Kibra, they think of poverty, limited education opportunities, limited healthcare, and overcrowding. At PE we think of potential, resourcefulness and unlocking opportunities.
Many schools in Kibra are community schools, aiming to meet a shortfall in state school provision. A number were set up to cater for particular groups, such as children who are HIV positive. The cost of sending a child to one of these community schools is often less than the additional cost of sending them to supposedly free state-run primary schools. Therefore, while community schools are private schools, their pupils may come from some of the most vulnerable Kibra communities.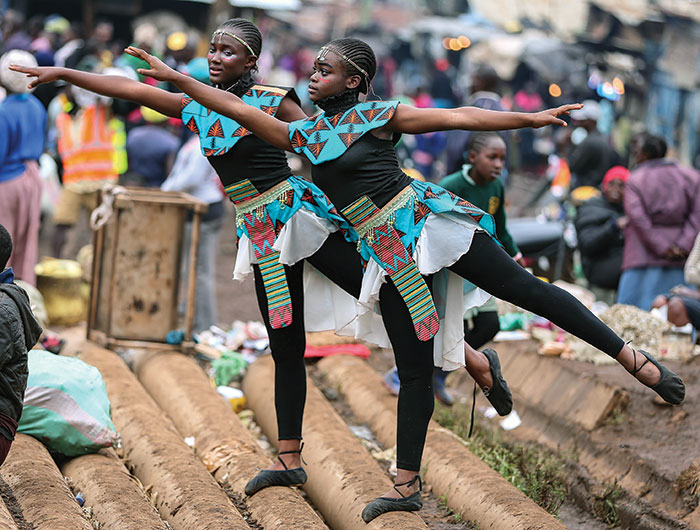 About Project Elimu
Mike Wamaya, the founder of PE, has been teaching ballet in Kibra and Mathare informal settlements since 2009, first as part of Anno's Africa, a children's arts charity, and later (since 2017) as part of PE's education programme. PE was set up to support quality education for children living in informal settlements and beyond, through extra-curricular activities in schools and by supporting teachers to develop and refine their teaching skills.
The problem with building schools in informal settlements like Kibra is space, forcing school buildings to extend upwards. In its early days, PE assisted schools to build additional floors and add or refurbish toilet blocks. The aim was to provide learning spaces that were more welcoming and that could enable dance to take place. PE's education programme centres around dance lessons.
Being able to dance gives children confidence, helps raise their aspirations, and increases motivation for school. For those who have different skills, PE is extending extra-curricular activities to include other arts, creative writing, and ICT skills. We aim to build a supportive framework around these activities, with parents at the centre.
Parental involvement
Parents are involved in all of PE's day-to-day activities. Before dance classes commenced, we called a parents' meeting. We initially wanted to help parents differentiate ballet from other less respected dance activities, such as exotic dancing. The meeting stressed the value of dance to education, especially in terms of the exercise it provides and the discipline it develops – as well as the joy it brings. Many children taught by Mike have gone on to be respected dancers – on the stage in Kenya and overseas – and others have performed well at school and moved on to university.
Peer-to-peer teaching and learning help parents understand not only the value of dance and other extra-curricular arts activities, but education as a whole. We are developing a supportive community of parents, across the community and around individual schools, that can support each other and their children. For example, Christian parents are encouraged to answer questions asked by Muslim parents and vice versa. We conduct quarterly parents' meetings, providing opportunities to discuss their children's activities and other issues that they raise.
A parents' association was set up to act as the intermediary between PE and the parents in between meetings. The parents' association chairs the parents' meetings, explains the projects to other parents, and takes on the role of monitoring attendance in schools. The parents' association contains parents of children who attend all the schools in the PE network.
In order to stay in the dance classes, children need to maintain their efforts and attendance at school. PE works with teachers and the parents' association to monitor the children's performance at school. When a problem is identified, the parents' association works with the child's parents to change approaches to children's workload in and outside of school – especially when grades are dropping because children have excessive responsibilities at home. The parents' association also supports parents who struggle to communicate effectively with schools.
Wider family and community involvement
One of the main barriers to children taking part in extra-curricular activities is their responsibilities at home, such as looking after younger siblings. Multiple teachers therefore co-lead the dance classes, meaning younger children can attend and be looked after while their older siblings dance. Currently, this happens at the side of the classroom, but PE is planning a separate childcare room in their new building (a new dance studio is under construction with funding from the Kulczyk Foundation and individual donors). As their children are looked after, parents are able to work at the same time as the classes, which makes them feel supported and valued by the project.
PE also supports the economic activities of parents and the wider community. In September 2018, PE was funded by the Kulczyk Foundation to stage a show involving over 100 children. The costumes and ballet shoes were made by tailors and cobblers within Kibra and rival the ballet tutus made in Europe. The principle of 'keeping it in Kibra' – and more importantly with Kibra parents – extends to the caterers, builders and other services required by the organisation as it continues to grow. Committing to parents and their businesses, through childcare provision or hiring them to work on projects, builds their respect for PE and willingness to work together to further support their children's education.
The future
Our aims for the future are to strengthen parent-school relationships, using our network of schools to build teachers' respect for parents. Through a project with Manchester Metropolitan University in the UK we are working with teachers to co-design a teacher education programme that helps them to meet the needs of Kenya's new competency-based curriculum – and develop strong communities of teachers and parents around the schools. The starting point was a head teachers' summit in January 2019 and development of a mutually supportive network of schools – each school identified a strength that they were willing to share.
Dancing and education do not happen in a vacuum and Project Elimu wants to strengthen networks to develop a brighter a future for Kibra's children and their communities.
Contact
Mike Wamaya is founder and director of Project Elimu
www.projectelimu.org
mike@projectelimu.org
Su Corcoran is a researcher at Manchester Metropolitan University and programme officer at EENET
sucorcoran@eenet.org.uk.