Communities and families have a bigger role in supporting education beyond helping children attend school. A group of amateur sports people in the UK have created their own organisation to bring disadvantaged children into sports, which helps develop their learning and confidence.
What we do
To do well in education, you often need the resilience to push yourself into learning new skills. This can be difficult if you already feel excluded and lack confidence. Sports and exercise help build children's confidence and focus but can be inaccessible without money for equipment and venues. Set up in 2016 by a small group of amateur rock climbers, Urban Uprising helps disadvantaged children learn the international sport of climbing. Initially set up in Brazil, the charity now works in several UK cities and relies on volunteers from the local community, many of whom are parents.
How we work
Urban Uprising seeks referrals from social workers and schools in deprived areas, and offers climbing sessions for disadvantaged children at weekends and during school holidays. These children are often among the poorest who do not have money to travel for exercise or use sports facilities.
Trained volunteers, from the communities in and around the areas where the young people live, use Urban Uprising's skills framework to assess and coach young people aged 8 to 18. Skills include:
Physical: stamina, strength, flexibility, and coordination;
Social: trust, peer support, empathy, respect, communication;
Personal: listening, responsibility, resilience, focus, reflection, confidence, problem solving.
Participants build relationships with the instructors and volunteers. These adults often become positive role models for the children, which is especially important for young people who would otherwise not have such role models in their lives. Extra time and support are given to help children with disabilities get used to the environment and develop their climbing skills.
The benefits
Children with autism have benefited from being able to learn new skills and expend physical energy without the potentially stressful features of team sports (like social rules, loud noises and heavy physical contact). Girls and other children who have not been encouraged to do physical activity have found major confidence boosts from learning to climb.
"All the adults are really helpful. I now can get up to the top of the sloped wall. I never thought I could, but now I know I can." (Connie)
"Climbing is like a symbolism for autism and for life! Just keep going, thinking of the next step at the time! Climbing made me feel inspired to work harder and seize every new opportunity which comes my way!" (Rameez)
"I really enjoy going and feel really proud of myself every time I leave." (Dean)
"It is great to see the children's confidence in themselves grow week by week. The Volunteer Coach Phil was great in connecting with the kids and helped them work on their resilience. When reflecting on the programme with my pupils, they told me they can feel a change in their fitness levels, their resilience and their self-esteem." (Mrs Wilson, school teacher)
The benefits go wider than personal skills and confidence. Children are engaged in structured and rewarding learning during the long school break in the UK, applying their critical thinking skills to the climbing wall and keeping their cognitive abilities up for the new school year. Urban Uprising widens its impact by running awareness raising sessions with experts in schools and linking schools with climbing centres so that they can set up their own climbing sessions.
The UK has a strong rock-climbing community, but young people living in poverty or with disabilities often do not have access to it. Urban Uprising provides an opportunity for them to get involved in the sport and supports them to work towards a nationally recognised educational climbing award, helping them to move forward in the climbing field and potentially find employment. Being supported to gain qualifications can be a huge boost for children who have never felt they could do well and this increased self-confidence can improve their motivation and performance in other learning environments.
Urban Uprising shows how important communities are to providing young people with a head start.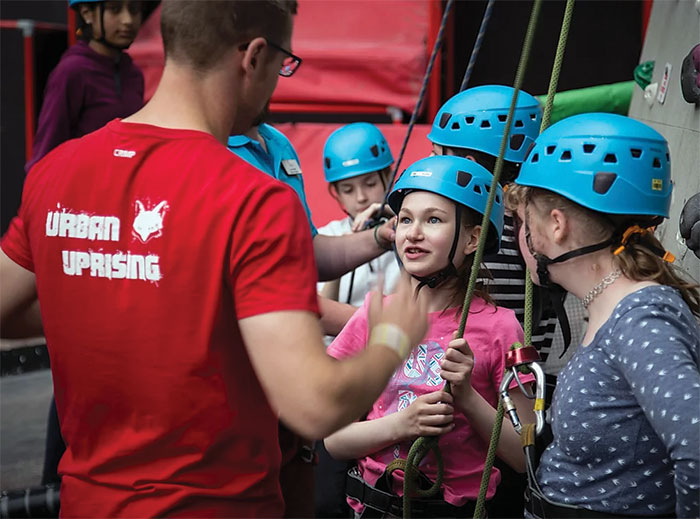 ---
Urban Uprising's Approach
1. Taste: A session for novice climbers aimed at introducing them to the basics and fun of climbing.
2. Climb: Weekly sessions to transform a young person from novice to competent climber. We encourage them to reflect on their own progression and support other members of the group. We focus as much on personal development as we do climbing, with our volunteers acting as mentors.
3. Repeat: Drop-in sessions for young people who have completed the climb programme. This takes place at a local climbing wall with subsidised costs. Climbing and personal development goals are continued with support from our volunteers.
---
More information about Urban Uprising can be found on their website: www.urbanuprising.org