My favourite teacher supports girls' rights to education
My name is Warda. I am a 14-year-old girl. I am in Grade VI at Glorious Academy. I have decided to participate in the writing of this article, 'The adult I like most in my school'. This adult is my teacher, Ms Zainab, who is about 50 years old.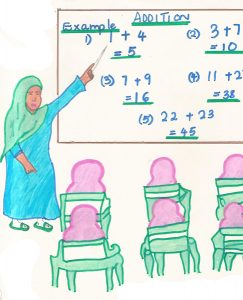 Ms Zainab likes to teach mathematics, my favourite subject. I understand her subject very well. She is kind. She likes to help many pupils. This teacher has a great deal of love for all the kids and does not discriminate anyone. She tells us that mathematics is a very good and simple subject. Ms Zainab teaches the sixth grade. This teacher likes to help pupils, especially those who do not understand her subject well. She does not like to be angry.
One day she sent us to Asha's parents to bring Asha to school because she had not attended school for a long time. When we arrived at Asha's home, her mother warmly welcomed us. We told her mother what we had been told by the teacher. Suddenly, we heard the voice of Asha's father saying, "What do you want here?" He did not know that we had been sent by our teacher. We all responded that were asked by the teacher to come to take Asha to school. Asha replied "Yes, I have not been to school for a long time now". Her father said "'Shut up! I have told you that you would soon be married. Get out of here". He shouted at us angrily and we all left and went back to school.
The teacher asked us "Where is Asha?" We all told her what happened and what Asha's father had told us. The teacher said she would go to meet Asha's parents herself after school hours. When she asked Asha's mother about the matter the mother replied that Asha's father does not want his daughter to go to school anymore because she is now a grown up. The teacher was deeply distressed by hearing such a statement. Later she asked Asha, "Do you want to learn?" Asha responded "yes teacher". The teacher asked the parents "Why do you forbid this child to go to school?" Asha's father was not able to answer. Finally, he agreed to let his daughter go back to school. The teacher was happy and left with joy. On Monday we saw Asha coming into class. We all praised the teacher for her efforts to bring Asha back to school.
Ms Zainab is well-mannered and cares for all the pupils. She loves them all, and she is working hard to make sure they all succeed, as she did for our fellow student, Asha. And so I call on other teachers to be like Ms Zainab in order to bring development to our school.
Warda, age 14, Zanzibar, Tanzania