An integrated approach to including vulnerable children in India
Jacob Brunner, Georgina Day and Mandipa Ghosh
Child In Need Institute (CINI) was established in 1974 with an aim to achieve sustainable development in health, nutrition, education and the protection of children, youth and women in need. It has grown into a vibrant organisation working in various thematic divisions across West Bengal, gaining extensive expertise of working on integrated models of education and protection for street-connected children.
The Education Programme
In Kolkata, the capital city of West Bengal, CINI works in and around the streets, slums, pavements and station platforms where street-connected children and families can be found. These places lack basic amenities such as sanitation, water and drainage, and, the children born to the families who live on the streets are often deprived of nutrition, education and health and a safe environment in which to grow and play.
To provide these children with an education, CINI has developed strategies that complement government efforts to universalise elementary education and to control the increasing numbers of working children. The Education Programme focuses on the enrolment and retention of all children aged 6-14 years from the streets, informal areas and redlight districts.
Out-of-school children are identified during outreach work on the streets, where they have their places of work, and the surrounding slum areas, and taken to age appropriate classes in neighbourhood government schools, as per Right to Education Act 2009 (RTE'09).
However, a street-connected child who is taken immediately back to school is not likely to stay there without extra support and encouragement. Those who are referred through CHILDLINE (a call centre that a child can call for help or an adult can report abuse) are brought to stay in CINI's transit home before being reintegrated with their families. Others are able to access support through CINI's drop-in-centres. All of these children receive a special education package which takes into account their individuality and variations in needs. It is a three-month activity-based package that helps the children with functional literacy and life-skills education.
This non-formal education follows the Bridge Course Curriculum: an accelerated learning methodology, to suit different ages and abilities that aims to bridge children's learning gaps using specially designed child-friendly course books and teaching manuals. These resources have been adopted by a number of government and non-governmental organisations. Life-skills education is integral to this package, providing street-connected children with the knowledge of how to face the difficult conditions and challenges they experience on the streets. The learning packages have also been adapted for coaching children with specific learning needs.
For children who live in slum areas, CINI provides after-school coaching support to prevent them from dropping out and help first generation school attendees and other vulnerable children with their studies. The children receive academic support, counselling and lessons on child rights and life-skills to support their holistic development. To help teachers to deliver this support, CINI has developed Teaching Learning Materials (TLM) on different subjects. These are upgraded each year to meet the children's changing needs.
These centres run for 3 hours, 5 days a week in local schools and youth club premises. Presently, 3500 children are supported through this programme. Each year approximately 100 children complete secondary education.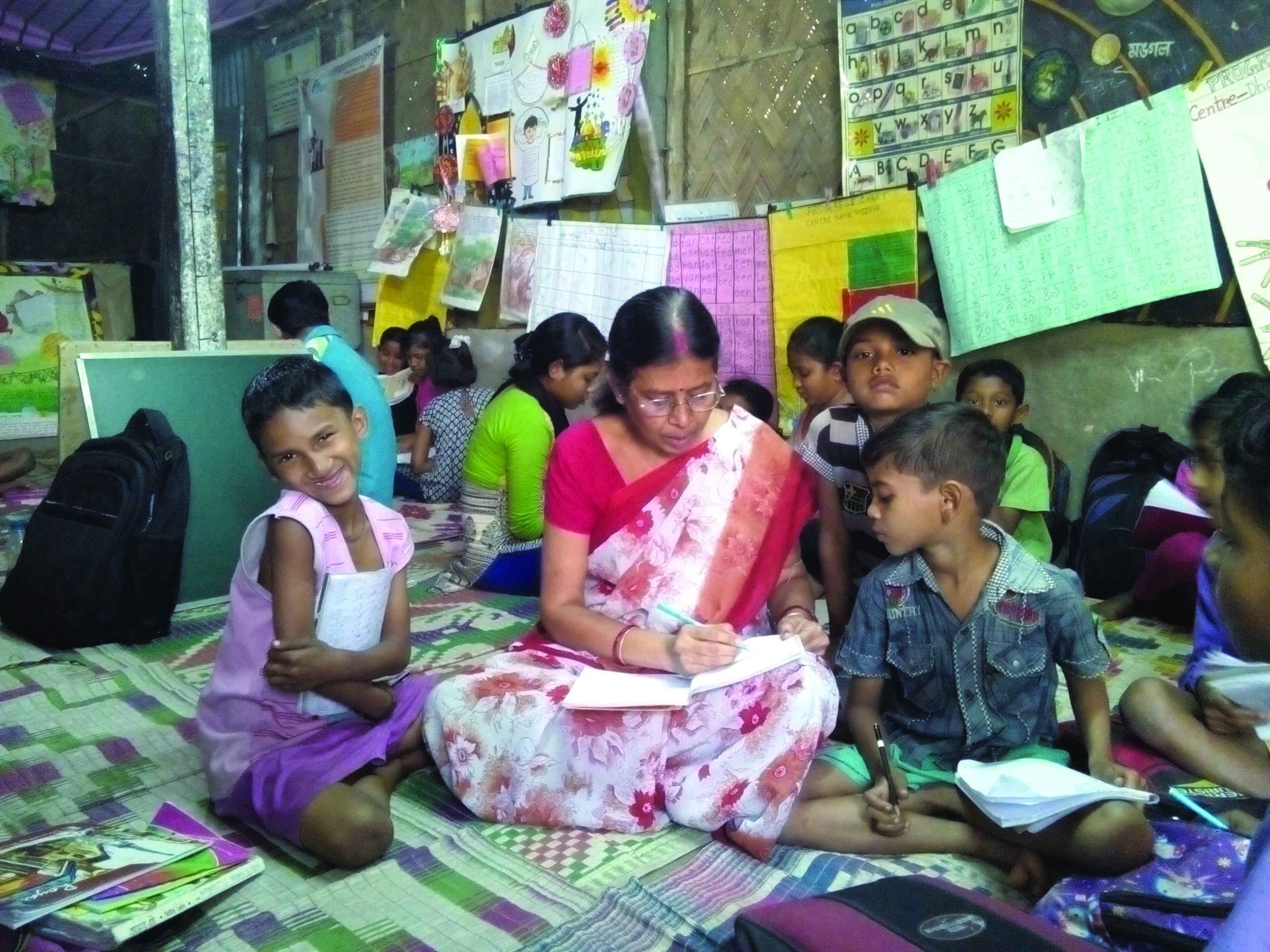 An integrated approach to inclusive education
CINI works with teachers and other stakeholders to develop child-friendly schools that welcome and support the children arriving from the streets and slums. Training is provided to help teachers understand specific needs of vulnerable children and the reasons why they are more prone to dropping out of school. In addition, a pool of training resources, including manuals, hand-outs and other documents are available to use by the schools.  Presently, this model is followed by nine government schools in Kolkata.
To keep children in school, families and community need support. A number of parents have not been educated themselves and so CINI begins by working with families and communities to understand children's rights and their duties and responsibilities as caregivers to uphold those rights. A family is the best place for a child and we aim to help families become a safe place, conducive to the development of the child. Some families need more assistance than others.
There are, however, many children living on the streets without parents. In collaboration with State Education Department, CINI provides the hardest-to-reach children, with residential housing on the premises of the government schools that they attend in Kolkata. Care is taken to ensure that these facilities enable access to education from a home-like environment, where they can build friendships and access adults who care about them and their needs.
Additional support for deaf children
CINI has initiated a programme for deaf children aged 3-14 years, living in different slum areas of Kolkata. Child Friendly Corners have been established in 8 locations where the children are provided with education, and supported to develop communication, socialisation and life-skills. From here the children are able to access government-run schools and pre-schools. CINI provide additional support through regular training sessions for school teachers, special educators and the peers of the deaf children on communication, teaching methodology, the preparation of deaf friendly teaching and learning materials, and lesson adaptation to enable deaf children to easily understand.
Again a family strengthening approach is implemented, where parents receive training on deafness and related issues, including education and communication to support their deaf children at home.
Ensuring participation of deaf children in all school related events and giving them responsibilities is one major focus of CINI's inclusive education approach. Currently, 250 children are receiving education in inclusive classroom environments.
Authors
Jacob Brunner – Partner Development Manager, StreetInvest
Georgina Day – Impact and Communications Manager, StreetInvest
Manidipa Ghosh – Assistant Director, CINI
Websites: www.streetinvest.org and www.cini-india.org
Contact:
jacob.brunner@streetinvest.org