Final Word: Pedro's story through education
Sarah Thomas de Benitez
Young street-connected people live complex lives in chaotic circumstances, and their experiences of education reflect that. Here I share Pedro's story. It is 'typical' only in the sense that he faced challenges that many street-connected girls and boys confront – wherever they are – and his journey, like that of many others, does not follow a straight path through one particular type of education programme.
Pedro was 9 years old when he started living full time on the streets of Puebla City. Located in Mexico's central highlands, Puebla is a sprawling, commercial city of 2.5 to 3 million people. It has a thriving informal economy, and a steady flow of people migrating in from rural areas with a history of extreme poverty. Pedro's mother left before he was old enough to enrol in primary school. No free pre-schooling was available in their neighbourhood on the city's fringe. When Pedro was 7, his grandmother died and his father, a construction worker in the informal sector, left all four sons in the care of a local teacher, to move to the USA as an illegal migrant. By that time, Pedro was enrolled in Year 1 of the local state primary school, but a chaotic home life made for erratic attendance. Pedro and his siblings must have been more than their teacher/carer had bargained for, because she arranged for them to go into care within a year. Each child was taken to a different organisation. Pedro failed his first year of primary. He enrolled in another school from the more stable environment provided by the organisation, repeated Year 1 and passed into Year 2. 
Pedro's unhappiness at being separated from his brothers overwhelmed any desire for schooling and stability. He ran to the streets at 9 years old to find his brothers. Street life was brutal, exhausting – and exhilarating. Running errands for a mechanic, ferrying market produce, opening taxis doors and carrying shopping bags, sleeping in urban nooks and crannies, Pedro had little time for thoughts of school. He briefly attended daily non-formal education classes at a street-outreach welfare centre, but it was far from his workplace and his hours were unpredictable. Pedro stopped going – but not before discovering the addresses where he might find his brothers.
By 10 he was exploring the wider city, finding and visiting these organisations when he had time – asking resident boys through open windows if they knew anyone with his (distinctive) surname. His quest was cut short by a police officer and welfare workers, who placed him first in a state welfare home and then, after he ran back to the street, with another organisation. Here there were hints but no firm allegations of sexual abuse. He failed his third year of primary, and in time became labelled as a serial runaway. At 12 welfare officials – in some desperation – placed him in the state juvenile detention centre to 'stop him running'. Pedro attended non-formal education classes. Despite his disrupted, sometimes chaotic schooling, Pedro quickly made headway in classes – once winning first prize in a quiz about children's rights. Even at the time, he was aware of the irony…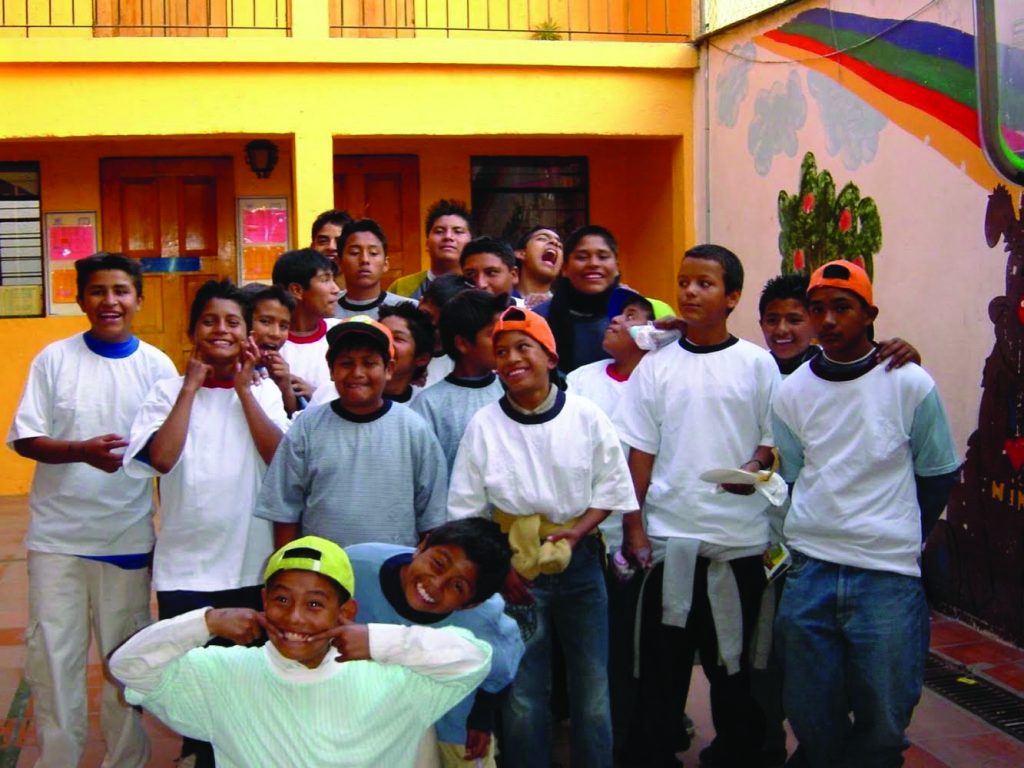 Finally, Pedro was offered a place at an organisation where staff started by listening to children's experiences and their opinions. Within a year, Pedro was in contact with his family, had visited both younger brothers, was in regular phone contact with his older brother and father, and had accepted that, rightly or wrongly, the other organisations would not release his younger brothers until they finished their basic education. Pedro settled in to catch up on his own missed schooling with some enthusiasm. He completed 4 years of primary school in 1.5 years through a state-run accelerated schooling programme, with supplementary support from the organisation. Enrolling at age 14 in junior high school he progressed at a rate of 1.5 school years each academic year – while also taking vocational training in baking and biscuit-making – until he caught up with his mainstream peer group. Pedro graduated from high school at 18, with a half-scholarship for a place at Puebla's Iberoamerican University.
By 18, Pedro had had first-hand experience of non-attendance, dropping out, failure, repeat years of formal schooling, non-formal education, accelerated/catch-up programmes, supportive and non-supportive mainstream schools, catch-up programmes for adolescents, learning by rote, life-skills training, vocational training, and holistic support.
But life doesn't stop at 18. Pedro decided not to take up his university place. Instead, he took up an offer of support for (illegal) migration from his uncle in New York, and followed his father and older brother. Pedro used his vocational training experience to get a job in New York making pizzas, and saved hard until he raised the money for both younger brothers to join him in New York. By 22 he had achieved his dream of uniting his siblings.   
I have met Pedro a few times in New York, most recently in July 2017. Aged 29, he has two young children with his long-term partner. Sadly, his youngest brother is dead, after a return to street life in Mexico City. The oldest battles with chronic depression and drug addiction. Pedro and the middle brother, who also has a young family, remain close – emotionally and geographically – living a few streets from each other.
Still an illegal migrant, a 'Dreamer', Pedro continues to make pizzas six days a week – now in a higher-class Italian restaurant that pays better, although for longer hours. He worries about his family's future as his partner and children are also 'Dreamers', but he feels 'blessed'; 'a lucky man – I have everything, with my family'. He is fit, healthy, hardworking, anxious to be a good father and loving husband. As he contemplates becoming 30 he thinks wistfully of his abandoned university place. He would have liked to study psychology. He thinks maybe he'll find a way to go to university when his kids are grown, so his journey through education may still have some way to go.
Pedro's diverse educational experiences as a child are echoed across Africa, Asia and Latin America, and by some children in Europe, North America and other rich nations. Educational systems everywhere exclude children who are most in need of educational support. At the same time, innovative programmes have sprung up – often on a shoestring and often at great personal sacrifice – finding ways to help young people with chaotic lives in complex circumstances forge their own paths through formal and/or non-formal educational opportunities.
Sarah is a senior independent researcher and consultant currently researching street-family-work interfaces with street-connected young people and providing technical assistance to entities that encourage governments to apply UN General Comment 21 for street-connected young people.
Contact: sarahthomasdebenitez@gmail.com