Enabling education for long-term street-connected young people in Kenya
Vicky Ferguson
Being a young person on the streets of Mombasa
You are 21 years old. You arrived on the streets at the age of 7. You never learned to read and write and had only been to school occasionally, over 14 years ago. You came to the streets after fleeing a challenging situation at home. For 14 years you have hustled to survive, doing work in the informal labour market and begging. You have been a victim of all forms of violence from many people, on so many occasions that you have lost count. You have been sexually abused and have also been a perpetrator of sexual abuse.
You have been incarcerated several times for the 'crime' of being homeless. In those jails you have been frightened, hungry, persecuted, abused and beaten. On the streets you have been hungry most days, forced to eat out of bins or the rotten food handed out from cafes. You have not slept well for 14 years – always sleeping with "one eye open", fearing police round-ups, the theft of your few possessions, or being attacked while you sleep. You have been judged every day of your life. You have used substances to mask the multiple complex traumas you have experienced. These substances have been the solution to your problems.
This is the reality for most of the young men Glad's House supports to leave the streets and move into education, employment and/or training. Our aim is not for all these young people to go back to school, but we are passionate about ensuring every one of them leaves us with basic numeracy and literacy skills to give them a chance to be fully self-sufficient as they move on to live totally independently. In an area with 44% youth unemployment (double the national average) we have to do everything possible to give our young people a fighting chance in the job market.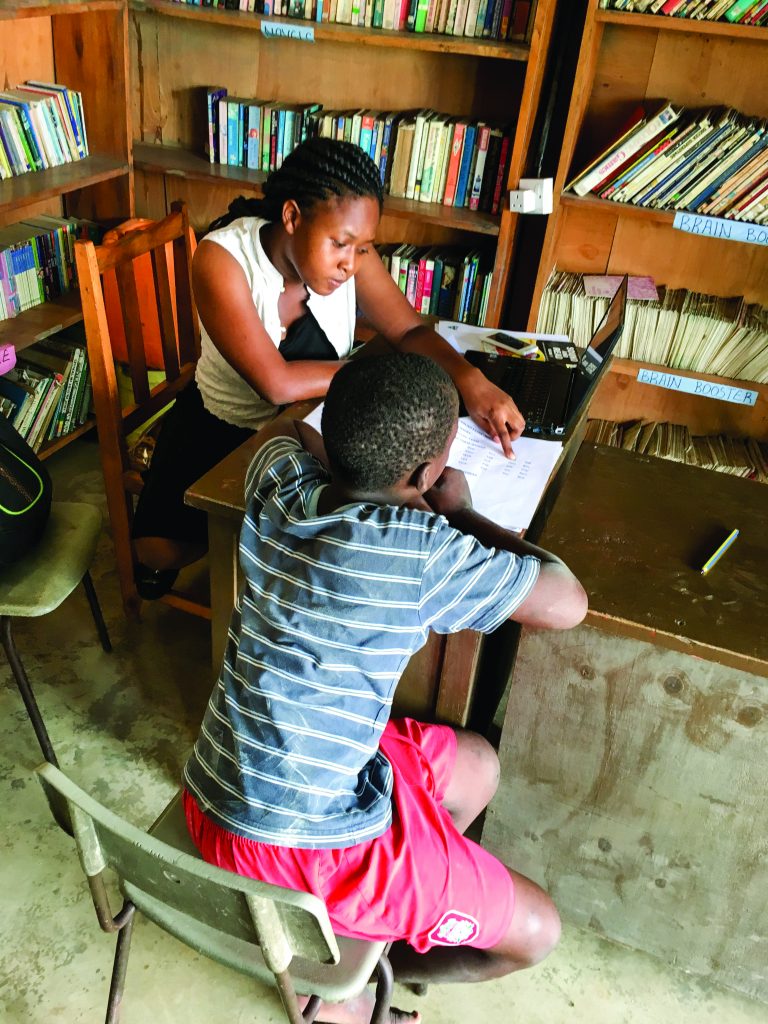 Barriers to education
Getting each young person to the point of self-sufficiency is a long journey. They present themselves as strong and resilient, but vulnerability lies just below the surface. A fear of rejection stems from why they initially came to the streets. They are unwilling to show their weaknesses and fears as they needed to develop a 'tough' persona on the streets to survive. They are reluctant to trust anyone as they have frequently been failed by others. They have developed the low self-esteem of being Chokora (a negative word often directed at street-connected young people) and being viewed as worthless by everyone.
The challenge for Glad's House is to take account of all these issues when each young person takes their first steps into a classroom, sometimes for the first time in over a decade. At this point they become incredibly vulnerable, and allowing themselves to be vulnerable is a difficult adjustment to make. They often cannot write their name and admitting this begins the process of breaking down the 'tough guy' persona and putting themselves in the hands of others. Managing that is a huge challenge.
Making certain that they feel safe enough to be vulnerable is crucial to the success of ensuring all young people are included in our education programme. Knowing we will not misuse their vulnerability in that setting is key. Our street workers and social workers are on the streets daily, building strong relationships of trust with the children and young people. But as the young people enter the classroom, we ask them to be at their most vulnerable with someone they do not yet trust – the teacher.
Other challenges also exist. The young people may have short attention spans after years of being on the move and from the withdrawal of or reduction from substances. (We do not operate a zero-tolerance policy, we work with young people to understand, manage and reduce their substance use.) They may also have poor communication and problem-solving skills having learned to communicate on the streets, and may have undiagnosed mental health issues in a country where this is simply not recognised.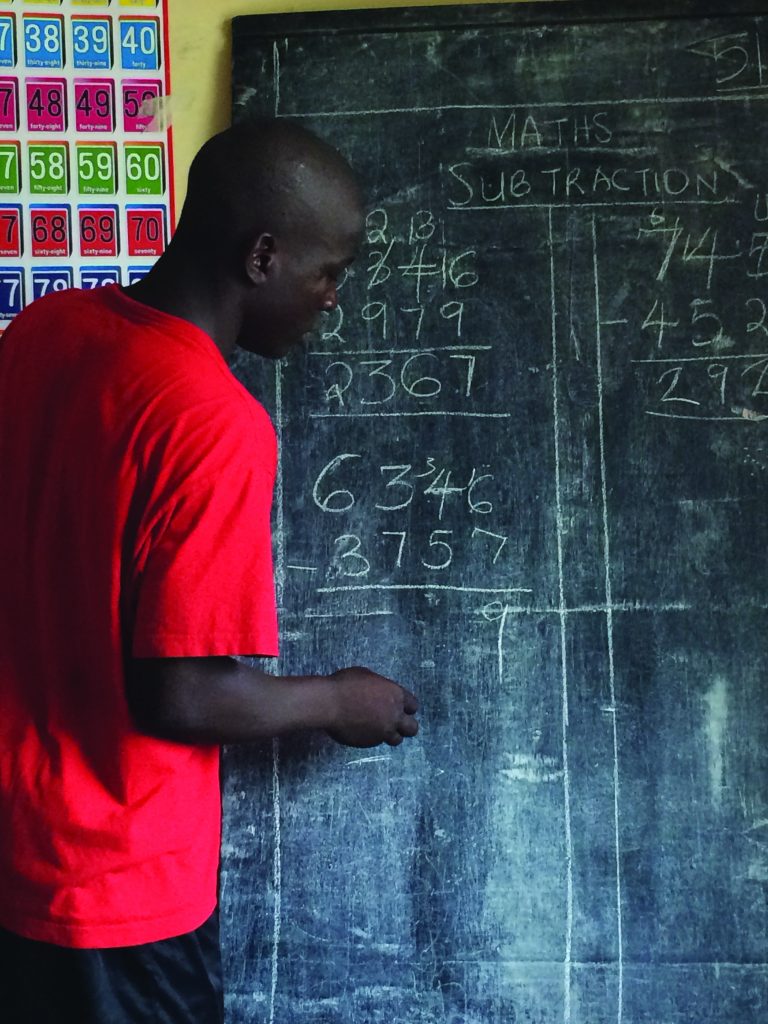 Moving forward
The challenge is to address all the issues to ensure that each young person can access the education journey they choose – whether that be a return to formal education or a grasp of basic numeracy and literacy. We meet a young person where they are and journey with them from that point. At Glad's House we do not have all the answers, but we do know that our holistic therapeutic programme is ensuring that we make strides towards breaking down the barriers to education. Here are four aspects of the programme:
1. Our team members work incredibly closely. The social workers and teachers supporting a young person develop their care plan together. The team from the streets will engage with the young people at the Education Programme and Transitional Home, and interact with the teacher, showing their trust and relationship with the teacher. In doing so, the staff demonstrate to the young people they are not isolated now they have left the streets, but instead that they are working together to support them.
2. Qualified counsellors support the young people who are making the transition away from the streets. Weekly one-to-one and group sessions aim to address the underlying traumas that pushed many young people to the streets, as well as the traumas they experienced while they lived and worked there. This gives them a space to process what has happened and supports them to create coping strategies. Alongside the counselling sessions, we run non-formal life-skills lessons and a mentoring scheme. Together these three programmes improve self-esteem and support the development of communication skills, including problem-solving and conflict resolution, so that when the young people reach the classroom they are able to voice their feelings in a productive way.
3. At Glad's House we provide boxing sessions. Boxing engages the frustration and aggression that young people feel, providing a way to release pent up energy in a positive way. It teaches about risk, that our actions have consequences and we therefore need to think before we act. It also helps young people to heal their bodies after years of neglect, and improve their mental health as their brains begin to release endorphins from exercise. We also run football training as part of the wider programme, for similar reasons. Providing a structured environment, where much of the training is non-contact and conducted within a system that develops self-discipline and respect, encourages the growth of self-esteem and conflict management skills. These sessions are delivered once in the morning and once in the evening, and are open to young men in our transitional homes and those living on the streets.
4. We help the young people at Glad's House get a sense of what they can gain from education. We run a Golf Caddy Programme for young people from the streets to enter employment. A good caddy needs to be able to read and write to fill out players' scorecards. We also encourage those who want to run their own business to recognise the importance of writing receipts, counting change and/or doing stock takes and the power of a basic education in their future lives. We help young people see education as a means to a sustainable future, supported through our programmes.
Our key message
Ensuring that all our young people can access the education that is right for them involves looking at the bigger picture. It is about not only recognising the trauma they have experienced, but also supporting them to address it and put coping strategies in place. It is about creating an individual plan for each young person, as one size does not fit all. We accept that this journey is a marathon not a sprint, and some days education will be at the bottom of a long list of priorities for a young person. Some days there is too much other 'stuff' to deal with to even think about learning. Most importantly we recognise that children and young people own their journey to and through education. Their passion, drive and ambition need to push the process, not social workers, teachers, street workers or Chief Executive Officers (like myself) pushing a child and young person to learn. It is about us lighting a fire in their bellies, supporting them and empowering them to develop their own abilities.
Vicky Ferguson is the Chief Executive Officer of Glad's House
Contact: vicky@gladshouse.com