Catch-up education: The door to future possibilities in Ethiopia
Biruktawit Yohannes, Berhanu Sintayehu, Yoseph Alebachew and Lynnette Kay
Background
Retrak is an international NGO working with street-connected children in Ethiopia. It helps them move off the streets and reintegrate with their families throughout the country. Street outreach workers interact with children on the streets to build relationships of trust before inviting them to join the Retrak programme. At Retrak's transition centre, children receive safe and secure accommodation overnight, three meals a day, basic health care, life skills training, psychosocial support, and educational catch-up classes.
Structure of the programme
When children first enter the centre, their literacy and numeracy skills are assessed using informal assessments of Amharic literacy and numeracy based on expected grade levels. It is an informal process because they are not used to formal educational assessments and we want to build a positive attitude to education. Children are provided with individual learning plans and assigned to one of three groups for educational catch-up classes:
Those who have never attended school;
Those in Grade 1 or above Grade 1 who cannot read and write Amharic;
Those who are functioning at a level above Grade 1.
Daily classes focus on literacy (Amharic), numeracy, science and social studies with regular debating, reading and drawing classes. As the children come from different regions, with different education systems, Retrak developed a basic framework for these subjects. Each child's learning plan is developed using the assessment of their current status and Retrak's framework. The learning plan is flexible because children's performance improves as they settle. Each child receives individual attention within their group of 8-10, from supportive, qualified teachers.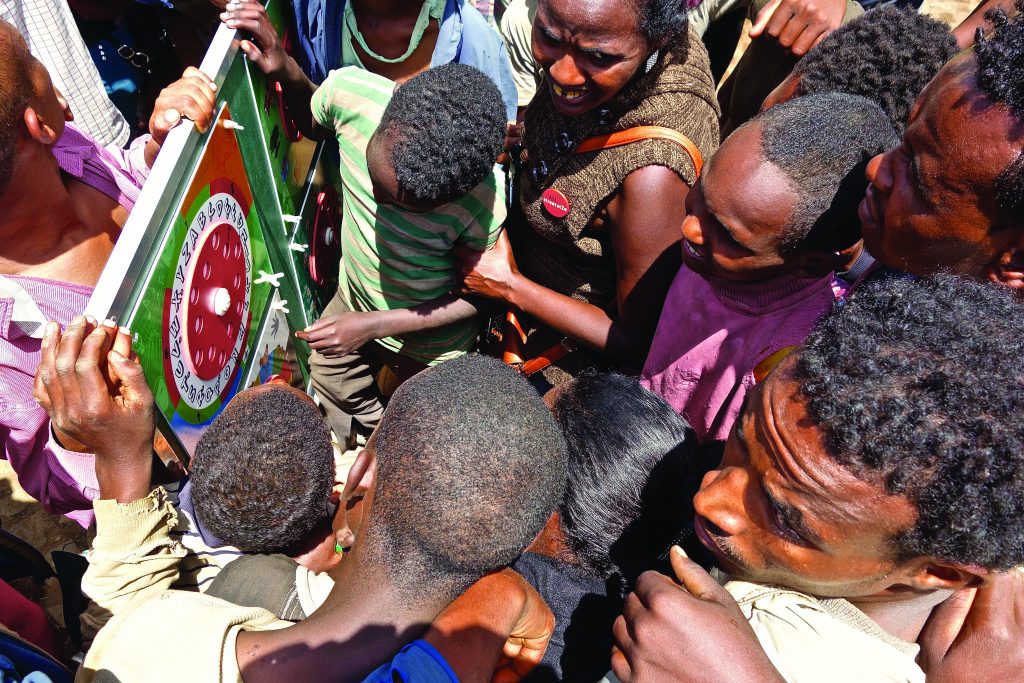 Objectives of the programme
The primary objective of the catch-up classes is to prepare children to resume formal education at school when they are reintegrated with their families. Due to children's experiences of interrupted education, and abuse and neglect on the streets, we need to:
Build children's self-esteem and confidence in their ability to learn;
Help children to overcome specific barriers to learning such as addiction, poor concentration and the emotional and psychological trauma of abuse;
Help children to develop literacy and numeracy skills to resume education at an age-appropriate level.
The children therefore require intensive individual and group counselling in addition to catch-up classes. Each child is allocated a social worker who is their case manager.
Activities
The teachers work with children in their groups using the government curriculum. Each child works at their own pace and on their specific programme. Teachers provide positive feedback on their progress.
To support the catch-up classes, children also receive daily life skills training on issues such as:
health and hygiene;
HIV/AIDS and other sexually transmitted diseases;
addictions;
child protection;
communication (including negotiation, conflict resolution and assertiveness skills);
self-management (including anger and time management, thinking, planning and decision-making skills, perseverance and motivation);
gender empowerment (including gender differences, roles and equality);
cultural awareness (such as tolerance, harmful traditional practices, dangers of migration and trafficking).
When the time comes for a child to be reintegrated with their family, social workers accompany the child to their (new) school to facilitate enrolment. Retrak teachers provide a letter outlining the child's progress and current academic level. Retrak raises awareness with the school principal about street life, by sharing examples of the problems children face finding food, shelter and work, and their experiences of abuse. This helps address myths associated with migration to the city and the stigmatisation of children who have been on the streets.
Results
Retrak Ethiopia has reintegrated hundreds of children, and 80% are still with their families and at school two years after reintegration. Many have passed the National Exam to allow them to progress to high school (Years 8-10) or preparatory school (Years 11-12). Some go on to achieve outstanding results and have been accepted into university.
However, the change in children's attitudes to education is the most encouraging result. When children leave the Retrak centre they complete an exit interview. Most children report that the best aspect of Retrak's programme is the catch-up classes. We observe children who are eager to learn, reading in their free time rather than playing sport, and choosing to do assignments to hasten their progress.
"Education helps me to distinguish good and bad things and think critically". Asmamaw (aged 14)
Alternative options
For some youth over 15 years, reintegration with their families and returning to school is not a preferred or realistic choice. Therefore, Retrak also offers support through non-formal technical and vocational training (VOT) and transition to independent living in the community.
To be eligible for VOT, children need to have a basic level of literacy and numeracy, which the catch-up education provides. The young people choose the training course they want to pursue (e.g. tailoring, mechanics, carpentry, catering and hairdressing). We provide guidance on employment opportunities, salary expectations and advantages and disadvantages of each option. We also support them to find accommodation in the community, provide food, health care, educational resources and VOT training fees. Weekly follow up and support from social workers is important, as well as regular training in the 'soft skills' needed to learn effectively and find and maintain suitable employment. Retrak's individual focus is maintained through vocational training, as each child has specific strengths and needs.
Retrak recruits and trains community mentors to follow up with the young people after our formal intervention has finished. Mentors frequently include the young people in their family activities and encourage them to persevere in employment even when it is difficult.
Retrak has supported young people in the following ways:
to gain long-term, sustainable employment in growing industries in Ethiopia;

to set up their own business, employing others;

to become teachers at vocational training schools.
Companies with whom we collaborate frequently ask for more trained youth from our programme because they are reliable and hard-working employees.
Conclusion
Supporting children to leave the streets and resume formal education or technical training requires a comprehensive, holistic approach. Each element is important to address children's individual needs. When street-connected children have the opportunity to engage in education they are eager to learn and able to achieve. As Bireda (aged 15) reported, "I lack an opportunity, not an ability to learn".
Lynnette is Country Director for Retrak Ethiopia. Biruktawit and Berhanu are teachers and street outreach workers. Yoseph is a social worker responsible for youth in vocational training.
Contact: lynn.kay@retrak.org