Attending Street Smart: Non-formal education leading to formal qualifications in Kenya
Su Corcoran and Ian Wilson
Child Rescue Kenya (CRK) works with street-connected children and youth in Kitale, Kenya. They implement a three-stage programme of reintegration to encourage young people to leave the streets and return home: 1) building relationships with the young people on the streets; 2) providing up to 12 months of residential care while they prepare to return home, or go to alternative care situations, and school; and 3) returning home. Ian and Su explore the first of these stages in this article.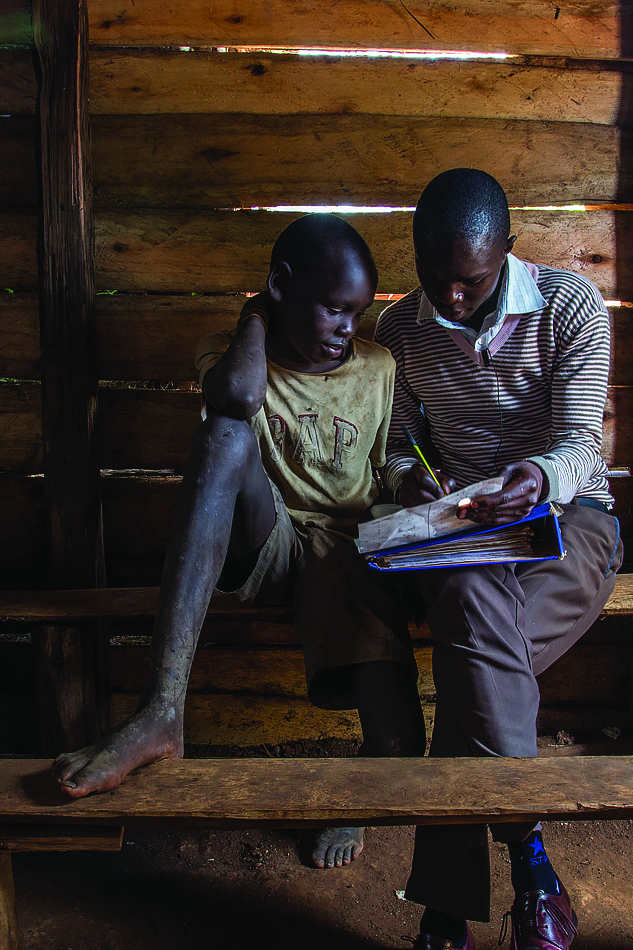 Developing trust
Street Smart is a drop-in centre run by CRK to provide a place in which young people living and working on the streets can wash, gain non-formal and life skills education, access basic first aid and support to attend hospital for medical care, and eat a meal. To encourage them to come to the centre, Street Smart teachers and social workers conduct street walks to get to know the young people on the streets in Kitale, check that they are ok and catch up on their news, remind them that the centre is open, and identify new arrivals to the town or streets.
CRK is primarily concerned with assisting street-connected children and youth to return home. Street Smart is a first stage in this process. The ongoing conversations and relationships developed between CRK staff and the young people on the streets, during the street walks and at the centre, are the beginning of a process in which these young people begin to trust adults. This is especially important if the reason for their being on the street is the result of neglect and/or abuse. If a young person is newly arrived on the streets, it can be straightforward to return them home almost immediately after minimal mediation, for example if they have come to the streets after an argument with their parents or a similar event that can be easily resolved. For those who need time to prepare for their reintegration journey when they decide they want to leave the streets, CRK's Birunda Rescue Centre provides residential care for up to a year.
At Birunda the children attend non-formal education. The curriculum is designed to remind, or in some cases teach, the children about what is expected of them when they go back to school. It helps them to catch-up with some of the content they missed so that they do not have to repeat time at a particular level when they go back. For those children who have never been to school, the teachers ensure they are able to read and write as much as possible, to give them confidence in their own abilities before they go to school.
Studying for the Kenya Certificate of Primary Education
There are always young people who chose to remain on the streets. In these cases it is important that CRK provides trustworthy adults to whom the young people can confidently turn for advice and assistance. For youth engaged with income-generating opportunities on the streets, leaving does not always appeal. The vast majority of these youth are young men, many of whom would like to achieve education-based qualifications but feel they cannot attend school full time, especially if their income is supporting their families. In addition, older youth do not want to attend classes with much younger children. In Kenya they return to the class at the level they dropped out of school, so an 18-year-old could be placed in a class of 9 or 10-year-olds.
Street Smart provides morning classes that cover the subjects examined for the Kenya Certificate of Primary Education (KCPE). The young men are able to attend for a few hours each day, eat lunch, and then return to their street-based work in the early afternoon. Those who attend classes regularly, and show commitment, are registered with the national examinations board as adult candidates to sit for the KCPE. Afterwards they are able to choose the next stage of their education journey. If they get high enough grades at KCPE, they may be assisted to attend secondary education at an adult education centre. Otherwise, and if they would rather follow this route, they are assisted with securing vocational training as apprentices.
The livelihoods project
CRK assists the young people who have finished primary education, as well as others who have not, to find either short-term vocational training or apprenticeship placements as tailors, hairdressers, construction workers and mechanics. CRK runs tailoring classes, but the other professions are taught on-the-job in placements with local businesses, which can provide them with a minimal income as they train. The trainees also acquire skills – like business planning – to help them start service-based businesses with low capital outlay.
Many of the young men in particular have been, or continue to be, street-connected. Some will have lived on the street full time, but most now reside in low-quality housing in the slum areas and tend to rely on street-based informal employment networks for survival. This can involve the illegal brewing of the alcoholic drink changaa and other risky activities. To encourage the young people in vocational training to attend training sessions and complete their courses, CRK developed a system of peer networking and support, to build a community around the young people.
Alongside sports activities that encourage the development of relationships between the young people, CRK sets up peer networking groups in which the alumni of the vocational training project are assigned to support those new to the project. These social support groups become formalised and the members are encouraged to meet regularly to share experiences. They may also develop group savings plans, in which each member pays into the group on a regular basis and takes a turn to receive the lump sum. This money can be used to develop their business, pay for unforeseen events or make large payments on essential items, like school fees if the young person is already a parent, or taking care of siblings.
In some cases the young people develop business plans together and are supported by CRK staff to become more economically self-sufficient. The peer groups provide a community in which they can move forward together – an inclusive network that operates as a team to gain entry into the labour market.
Ian Wilson is the Director of CRK and Su Corcoran is the Fundraising Officer.
Contact: fundraising@childrescuekenya.org and director@childrescuekenya.org