Teacher training for inclusion and quality education in emergencies
Clare Atwine
Since 2013, power struggles between rival political groups have resulted in conflict in South Sudan. Hundreds have been killed, and thousands left homeless. The situation triggered a massive influx of refugees into Adjumani District in Uganda. A total of 568,472 South Sudanese refugees have arrived since December 2013, and 378,305 arrived in 2016 alone1. Adjumani is one of the largest refugee hosting districts in the country, with over 171,740 South Sudanese refugees. It is estimated that about 4,000 children with a diverse range of disabilities live within the existing refugee population and host communities. In this article, Clare describes how Finn Church Aid (FCA) and their partners provide opportunities for both refugees and Ugandans to access quality and inclusive education. She also introduces an important new teacher training resource for use in crisis contexts.
The effects of conflict
Life for those who fled South Sudan has become unpredictable. Many have been subjected to physical or mental violence. Families were separated during the panic and rush that followed the spread of violence. Parents, who once were able to provide the basic necessities for their children, are no longer able to do so. Ugandan Refugee Policy has been hailed as one of the most progressive approaches on the continent. For example, the policy ensures that local host communities also benefit from the emergency interventions delivered to refugees. However, limited financial, material and human resources have led to a situation in which the rights of persons with disabilities are often neglected, particularly in the refugee context. This is especially the case with children with disabilities and their right to education.
In emergencies, conflicts and natural disasters, FCA targets both school-going and out-of-school children and youth, providing safe learner-friendly environments and education in formal and non-formal settings. For example, we have established an accredited vocational school in a refugee settlement in Western Uganda; supported children with disabilities to access inclusive education; constructed accessible classrooms and toilets, with ramps, in Pakele Girls Primary School, Adjumani; conducted workshops about disability with communities in and around the refugee settlements; and trained teachers – which we will focus on in this article.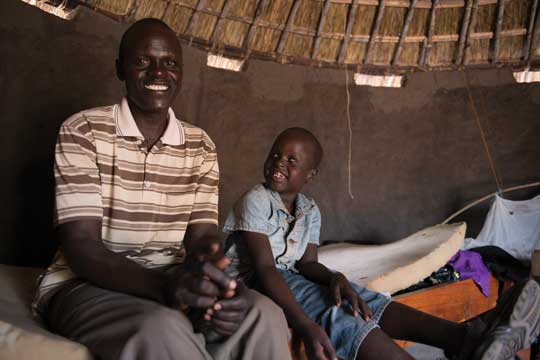 © Finn Church Aid/Hugh Rutherford
Improving education quality
The low quality of education provided in primary schools in Uganda has been attributed to the critical lack of teaching capacity across the country: according to the 2013 Service Delivery Indicators report, only one-in-five primary school teachers had achieved competency in English and Mathematics. In addition, FCA's monitoring data from current education projects consistently reveals that teachers lack the capacity to promote essential skills, including: critical thinking, problem solving, innovation, or collaboration. Furthermore, weak community engagement has further eroded schools' capacity to deliver quality education.
To respond to this gap, FCA implemented a rights-based approach to training local and refugee teachers on inclusive teaching and learning methods and practices in Adjumani District. Facilitated by a FCA Education Specialist in 2015, the relevance and content of the trainings were planned in close collaboration with the Adjumani District Education Office and other local education partners, to ensure that the content met the needs of the teachers from 26 schools across the district and refugee settlements. Mainstream teachers were provided with introductory workshops on inclusive education, and special needs education teachers were provided with a four-day training course. The workshops aimed to strengthen the teachers' capacity to identify and attend to the individual needs of all pupils, especially those with special educational needs and disabilities in a mainstream classroom setting. The workshops and training courses engaged participatory approaches that encouraged the teachers to share information, learn from each other, and work together to solve common problems.
These initial trainings were the beginning of a broader effort to deliver teacher training and support in Adjumani. In 2016-2017, introductory, refresher and specialised trainings on inclusive and special needs education are planned for 200 teachers. The content of these trainings has been informed by the responses of the participants in the initial workshops and by an external assessment of the training. As one teacher from Pakele Girls Primary School says:
"More personnel trained in inclusive education and language translators are needed here because we are few and yet this work is challenging."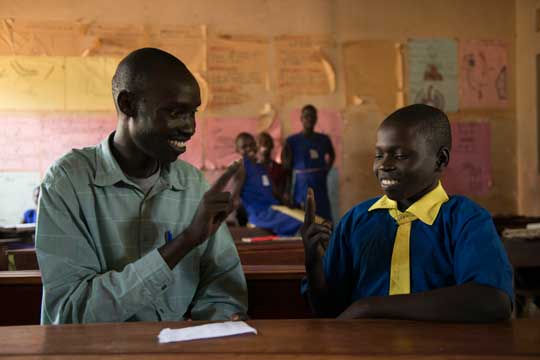 © Finn Church Aid/Hugh Rutherford
Within the target group for the trainings are unqualified or under-qualified teachers from the refugee communities who have been recruited to work in the primary schools in the refugee settlements.
FCA currently supports schools such as Pakele Girls Primary School financially, to employ special education needs teachers. A government-stipulated recruitment ceiling per district prevents such staff being hired by local government. FCA is also advocating with partners to secure funding for Assistant Refugee Teachers to be employed.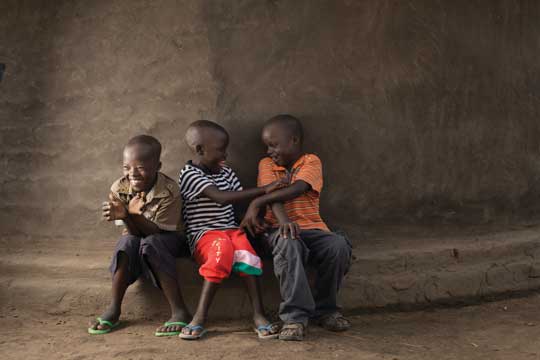 © Finn Church Aid/Hugh Rutherford
Working with the Teachers in Crisis Context Working Group
The second round of trainings draws on specific training material, commissioned and developed collaboratively by members of the Teachers in Crisis Context Working Group (originally the Refugee Teacher Working Group)2, of which FCA is a member.
The training pack (see page 35 for details) was piloted by FCA in Kakuma refugee camp, Kenya, in 2016. The lessons learned as part of this roll-out are being incorporated in the trainings in Uganda. The materials have been developed at the global level and thus are not context-specific to Uganda, but we review and adapt them in relation to the local context and the needs identified during the external assessment of the initial training sessions. Module 3 has a particular focus on Child Protection, Well-being and Inclusion.
The materials provided by the training pack respond to a critical gap in open source, competency-based teacher training materials. They cover the foundational knowledge and skills required by teachers in crisis contexts, where teacher training is often limited to ad hoc workshops. The pack provides the basis for a pre-service and in-service training programme. The materials can be used in their entirety to prepare teachers in crisis settings, but are also flexible enough for users to adapt selected modules or sessions according to the local needs of teachers. Each module includes a facilitator pack, participant guide and PowerPoint slides that can be used in training sessions.
Contact: The country manager of Finn Church Aid's Uganda Country Programme is Wycliffe Nsheka.
Email: Wycliffe.Nsheka@kua.fi
Website: www.finnchurchaid.fi
1Figures reported in November 2016, http://bit.ly/eer5-art3
2TICCWG members include Finn Church Aid, International Rescue Committee, Norwegian Refugee Council, Save the Children, Teachers College-Columbia University, UNHCR and UNICEF. The group has worked in close association also with INEE in development of the materials.