Getting out the 'Magic Box': Using a mobile school to build self-esteem
Vicky Ferguson
When children and young people are unable to access school, one option is to take the school to them. This was the motivation behind the development of Mobile School, a Belgian NGO. The mobile school they developed is essentially a school on wheels that can be used by social workers and educators in their work with children. In this article, Vicky describes her experience of introducing a mobile school to Glad's House, an organisation working with children and young people on the streets of Mombasa, Kenya.
Glad's House
Glad's House works with children and young people aged 0–27, who are deemed 'too challenging' by the rest of society. These are children and young people who other people have given up on; children living and/or working on the streets and on dumpsites; and those in conflict with the law. We link them with trustworthy adults, such as social workers, foster parents and volunteers from the community, who can help them survive, protect them, and bring some fun into their lives.
Glad's House is predominately a street-based organisation that focuses on street work and sports initiatives to give children and young people some opportunities to leave the streets and work towards positive futures. For example, a Boxing and Transitional Home Programme helps the hardest to reach young men, aged 14-26, who have been on the streets for over five years. The sports focus of the programme helps to improve their health, fitness and nutrition. Alongside this, the programme helps to find foster homes or support the young men into safe independent living situations. It also supports them to continue in or return to education or find employment. For instance, the programme has a link with a local golf resort and helps the young men find employment as golf caddies
Glad's House has an education programme which includes offering education-based activities at a drop-in centre, as well as after-school tuition to support as many children as possible through their primary and secondary education.
Partnering with Mobile School
In 2016, Glad's House launched a new programme as part of our outreach work, in partnership with Mobile School (www.mobileschool.org). Glad's House is the 43rd Mobile School partner, with other partners working in Europe, Latin America, Asia and Africa. We are excited to join such an amazing network of practitioners, who run mobile schools in many different settings: e.g. refugee camps in Greece, markets in Mexico, and on the streets of Mombasa.
At the centre of the Mobile School approach is the focus on improving a street-connected child or young person's self-esteem. Most of the children and young people we work with have experienced significant trauma in their lives, often before and after coming to the streets. For most, their self-esteem is severely damaged. Mobile School does not aim to replace the traditional curriculum, but instead focuses on building self-respect. With a non-judgmental and constructive approach, the children and young people are offered a chance to reflect on their identity and situation in a positive environment with trusted adults.
A school on wheels
The Mobile School is an extendable blackboard on wheels that can be pulled through the streets. By opening it up via its telescopic system, a meeting place is created anywhere that a street worker decides is the most useful. The Mobile School is a package of teaching methods and games. It contains over 350 educational game panels that can be attached to the blackboards. All the materials are divided into themes, including Literacy and Numeracy, Health Education, Learning by Playing, Social and Communication Skills, Children's Rights, Drugs Education, Street Business Skills, and HIV/AIDS Education.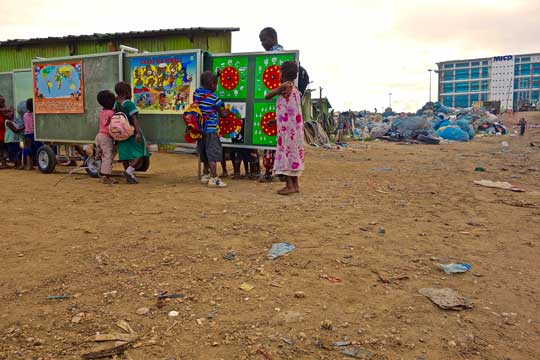 © Sander Degeling
Getting started
Mobile School representatives visited us initially to ensure that we were a 'good fit' for the project. They delivered a workshop for our social workers, and a few months later ran two weeks of intensive training on the theory behind the initiative and the technical skills required.
Glad's House is in the initial stages of introducing the Mobile School to the streets. We have taken our wonderful 'Magic Box' around the city centre in Mombasa and to the dumpsite where young people search the rubbish for scrap materials to sell. Each time, it is met with big smiles and lots of laughter and enjoyment. Children and young people of all ages and abilities engage with the Mobile School, and for us that is one of its biggest positives. It does not matter if you have never been to school or whether you have completed primary or secondary school, whatever your ability you can work with the Mobile School and at the end of the session you will feel positive.
There were some teething problems at the start, especially with scheduling. Glad's House has a significant presence on the streets and getting the Mobile School out at the right time for both the staff and the children and young people wanting to take part was challenging. We therefore held some informal consultations during other outreach sessions to develop a schedule that works for everyone.
Unexpected outcomes
The children and young people we support on the streets are often under the influence of substances, including cannabis and solvents. We have been positively surprised that this has not been a barrier to them engaging in the sessions. The Mobile School has provided a focus for their attention, whether they have been under the influence or not, which means that they are all able to benefit from sessions.
A highlight for me was watching a young man, aged 22, whom I have known for almost ten years, walk around the 12 metres of blackboard and engage in every single activity. Each time he completed an exercise, he would come to find me and take me to the board to show me what he had achieved. It was a very special moment that cemented just what can be achieved with our Mobile School!
The future
A long-term aim of the Mobile School is to reach a group of children (aged 0–13) who we do not yet engage with much. Although we have not set formal educational outcomes for the Mobile School, we hope that it will encourage some children to consider moving into more formal education.
With the success of the Mobile School on the streets and at the dumpsite, we will be delivering additional sessions in a Juvenile Remand Home. This will help ensure that children and young people, who are often remanded in custody for having committed the 'crime' of being homeless, have the opportunity to re-build their self-esteem. When children and young people believe in themselves, anything is possible.
Vicky Ferguson is the founder and CEO of Glad's House.
Email: vicky@gladshouse.com
www.gladshouse.com