'Pikin to Pikin Tok': A participatory and child-friendly radio for education programme in Sierra Leone
Tricia Young
Some great responses to providing education in emergencies begin as adaptations to projects that are already in place. In this article, Tricia explains how an early childhood education programme evolved in response to the Ebola crisis in Sierra Leone.
Child to Child has been at the forefront of developing transformational approaches to children's participation globally. We believe that children should be partners in realising their rights to education, health, protection and play.
Getting Ready for School
Most young children in developing countries lack access to formal pre-schools and other learning opportunities. The innovative Getting Ready for School (GRS) model was therefore developed to provide cost-effective and efficient early childhood education to children living in communities without formal pre-schools or other early learning opportunities.
GRS provides early childhood education using an innovative Child to Child methodology that engages older, already-enrolled, primary school children as mentors for their younger peers. These 'young facilitators' support the 'young learners' to develop the early learning competences they need to enrol in school on time and be ready to learn.
In Sierra Leone, GRS has been implemented in collaboration with The Pikin to Pikin Movement since 2011, in the marginalised and impoverished Kailahun District, where the decade-long civil war started and ended.
Impact of Ebola
The project was running successfully until the outbreak of the Ebola virus halted all activities in March 2014. Kailahun District was the epicentre of the outbreak, where the first cases were detected. In May 2014, a public health emergency was declared. Measures taken to contain the spread of Ebola included school closures and a ban on public congregations.
© Andrea Gordon
We were forced to stop our programme, as encouraging groups of children to come together was a major public health risk.
This outbreak was the most severe the world has ever seen. In Sierra Leone alone, 8,000 children were orphaned, 1,364 in Kailahun District. Consequently, older children, almost exclusively girls, had to take on parental roles, resulting in a huge drop in the number of girls accessing education, potentially reducing their future employment prospects. Forced to focus on urgent income generation, girls turned to transactional sex to supplement household incomes. They were also exposed to greater levels of sexual violence and, inevitably, greater numbers of girls fell pregnant, becoming teenage mothers. Children who survived the disease were stigmatised, especially those living with the side effects of Ebola, such as the loss of hearing, sight and/or mobility.
Pikin to Pikin Tok
In response to the Ebola crisis, GRS was reconfigured by Child to Child and The Pikin To Pikin Movement into a child-friendly and participatory radio for education series with funding from Comic Relief. Radio minimises the risks of Ebola transmission, as no public congregation is required, and allows larger numbers of beneficiaries to be reached.
Pikin to Pikin Tok was launched in March 2015, aiming to inspire children to work together to tackle the stigma and exclusion they face because of being affected by Ebola. Through listening to the radio programmes, they have learned how to minimise the risks of catching Ebola and other serious diseases. They receive key health and life skills messages that they can share, to keep themselves, their siblings, their peers and the wider communities safer.
How the radio series is run
Pikin to Pikin Tok comprises three different programmes: Story Time; Under the Mango Tree; and Messages Through Music:
Story Time was designed to engage younger children, although it is suitable for all ages. It uses traditional stories to address the issues facing the children. For example, a story of three goats shows how, when the goats work together, they are able to overcome adversity. It is also intended to support the development of numeracy and literacy skills.
Messages Through Music engages older children (7-12 years) and uses music to address the various issues faced by the children. Simple songs promote the importance of hand washing to avoid the spread of diseases including Ebola.
Under the Mango Tree engages the oldest children and is designed to support critical life skills development. This programme addresses the issues that have emerged in the wake of Ebola, including stigma and exclusion, disability, sexual violence and teenage pregnancy, and helps children to critically think through how to respond to these challenges.
What distinguishes Pikin to Pikin Tok from other radio for education initiatives is that the children themselves are co-creating content: 36 children have been trained as Young Journalists, responsible for identifying stories and conducting interviews. A professional radio production team edits the content, which is subsequently broadcast by Radio Moa, the local community station with a total audience of 500,000 across the region. Wind-up solar powered radios were distributed across local communities, and children are supported to listen to the broadcasts by adult volunteer facilitators, trained to support their participation. After episodes of Under the Mango Tree have been broadcast, phone-in sessions enable children to share their stories related to the issues addressed, the strategies they have developed to respond to those issues, and the challenges and successes they have experienced. Adult experts are often on hand to support these discussions and help children identify what they can do to address the challenges they experience.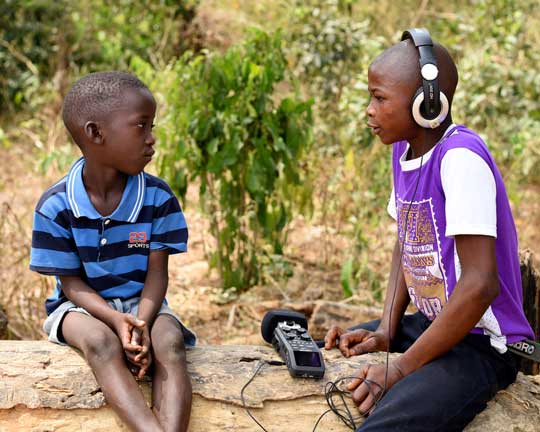 © Andrea Gordon
Pikin to Pikin Tok is especially designed to help overcome the severe disadvantage and exclusion that girls often face in education systems and the wider community, and has been recognised as a model of good practice by the UN Girls Education Initiative. Gender is mainstreamed across the series of programmes, with messages of gender equality integrated throughout. Several episodes of Under the Mango Tree have directly addressed girls' increased vulnerabilities, risks and harms. Recent episodes have included the Young Journalists challenging the Minister for Social Welfare, Gender and Children's Affairs about the inadequate government response to violence against girls; another focused on the things that boys can and should do to support the girls in their community and keep them safer.
Given the project's significant positive impact, the Child to Child and Pikin to Pikin Movement Team hope to continue the work if funding is secured. The model has also informed the development of a project to promote the resilience and protection of unaccompanied children on the move across Europe.
Tricia Young is Director of Child to Child
Email: t.young@ioe.ac.uk
www.childtochild.org.uk