Teacher-as-researcher: Reinforcing teachers' inquiring skills to promote inclusion in Zanzibar
Said Juma
Teachers are at the heart of successful inclusive education and need to be well prepared to address its diversity and challenges. They need support so they can see themselves, and be perceived by others, as self-confident professionals who have the scope to contribute to reducing barriers to learning for all pupils. Teachers in Zanzibar work hard but seldom get an opportunity to reflect collaboratively on their practices. With encouragement they can network and share experiences with other teachers to create more innovative and inclusive teaching strategies and work with colleagues to try to do things better. In this article, Said documents the next stages in developing participatory action research with teachers, following the introduction of the approach in 2014.
The Inclusive Education and Life Skills (IELS) Unit in the Zanzibar Ministry of Education and Vocational Training (MoEVT) has been determined to expand action research (AR) to develop teachers' capacity to address barriers to inclusion. Further capacity building workshops were therefore held in December 2014 (see Enabling Education Review 3 for details of how the action research work started in Zanzibar).
Two three-day workshops were held (one in Unguja and one in Pemba). The main facilitator was from the State University of Zanzibar, assisted by the AR focal person from the IELS Unit and a representative from the Department of Teacher Education (who had previously been a training participant).
AR participants
The AR teams that had formed earlier in 2014 came together again in December, providing consistency to the AR work. The teams were made up of IELS Unit staff, IELS Advisers and Resource Teachers from Teacher Centres, and teachers from Kisiwandui (Unguja) and Michakaini 'A' (Pemba) primary schools. The AR topics they had been working on included:
How to raise awareness of parents with children with disabilities about the existence and the role of the IELS Unit.
How to raise awareness of inclusive education within the departments of MoEVT.
How to help teachers improvise and use inclusive teaching aids during their lessons.
How to improve pupils' attendance on Fridays.
The participants made short presentations about their AR projects in order to share their experiences and learn more about AR from each other. Some of the teams had completed their first cycle of AR, while others were still working on the research. They discussed the various challenges and achievements. Finding time for the AR activities was a key challenge, especially when some activities need to take place during school days.
Encouragingly, participants shared that they had learned the basic principles, skills and values of conducting AR as well as the importance of collaboration among themselves.
AR informal documentation methods
Another challenge experienced and openly expressed was that of writing reports to document the AR activities and findings. The teachers found it challenging, due to lack of time and skills needed to write formal reports.
The facilitators therefore focused the December workshops on how to use informal AR documentation methods. The main message was that teachers are documenting AR findings for their own benefit; to help their own memory and thought processes. They are not preparing reports to give to other people to prove that they have done their job properly.
Participants were shown how to use documentation methods such as: taking photos, drawing diagrams and mind maps, writing reflective diaries, and using an 'AR wall' (displaying photos, diagrams, texts, etc, about their AR work on a wall in school).
The AR team members were delighted to learn that AR enables them to use informal ways of documenting their data. To help them fully grasp the informal documentation methods, participants tested them by documenting the activities done during the workshops. They successfully used diagrams, short texts, simple tables, and photos to document the workshop processes and outcomes.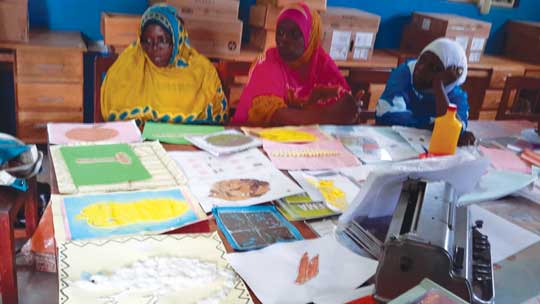 Action research team members with the low-cost tactile teaching aids they have made © Said Juma
Mentoring follow-up
A closer follow-up in June 2015 focused just on the two pilot schools. The AR facilitator held a semi-structured interview with each AR team member and reviewed information from the reflective diaries that the teachers had kept during the process.
AR activities and results
The facilitator found that, when collecting data for their AR project, the teachers had interacted with their colleagues through interviews and discussions, and then reflection. The AR had also been an opportunity for them to go beyond the four walls of their classrooms to interact with parents, school committee members, local leaders and other people around their school communities. Michakaini 'A' primary school AR team, for instance, had managed to investigate and reduce pupil absenteeism on Fridays through co-operation between the team members, parents and other teachers in the school.
Kisiwandui primary school's AR team had worked with other teachers in the school to share ideas about, and then make and use tactile materials to be used as teaching aids during their lessons, especially for pupils who are visually impaired. They had also observed and reflected on their pedagogical practices and discussed how to make them more inclusive. They found that using inclusive teaching aids had helped to increase active participation and achievement among pupils.
Scaling up AR to more schools
To fulfil its commitment to expand AR in Zanzibar, the IELS Unit conducted four mini-workshops (3-4 hours) for six more schools in Unguja (Kinuni, Kilimahewa, Hailesellasie, Hurumzi, Matemwe and Mfurumatonga) in June 2015. In total, 70 teachers attended. Participants were introduced to the meaning, key principles, features and cycles of AR. They identified a number of inclusion-related challenges they are facing in their schools. At the end of the workshops, each school formed an AR team and promised to work on at least one of the challenges using the AR process. Although participants seemed keen to use AR as a tool to help them implement inclusive education, they of course need further capacity-building support to identify and address their own challenges. This will happen in December 2015.
The short experience so far with AR in Zanzibar already shows some of the benefits of the approach for teachers. It has the potential of being an in-service teacher education strategy that empowers teachers. AR is undoubtedly time consuming, but we are encouraging teachers not to think of AR as an additional burden or an add-on to their already heavy workload but rather as an opportunity for them to have more freedom to act and to make inquiries into their own practices. We are confident that engaging in collaborative AR will help teachers build informed and evidence-based practices that can help to promote inclusive education.
Said Juma is Assistant Lecturer in the School of Education, State University of Zanzibar, Tanzania.
Contact: said.juma@suza.ac.tz