Sustainability and shared financial responsibility in education: An example from Cambodia
Hervé Roqueplan and Sandrine Bohan-Jacquot
The development of education for children with disabilities, and of inclusive education more generally, in many places has been initiated by non-governmental organisations (NGOs). The work often remains in the hands of the NGOs and thus stays small-scale and ultimately unsustainable. In this article, Hervé and Sandrine explain how the Cambodian organisation, Krousar Thmey, has sought to develop education responses that embed strategies for sustainability and government ownership.
Background
Krousar Thmey ("New Family" in Khmer) was founded in 1991 to support street children in the refugee camps at the border with Thailand. Krousar Thmey now aims to enable underprivileged and disabled children to be included in society and lead responsible, independent adult lives, through providing them with appropriate support, quality education and artistic development, in line with their traditions and beliefs.
Every year, Krousar Thmey works with around 2,500 children and their families in 14 provinces and towns. In 2015, its education programme for children with hearing and visual disabilities helped 800 children to access education, from kindergarten to high school. The organisation first supports children with sensory disabilities to learn Sign Language or Braille in one of its 5 special schools, for 4 and 2 years respectively. After this, the children are included in regular classes in the general public education system. Cambodia's schools only operate for half days, so the children with visual and hearing impairments can continue to receive specific support in the special schools for the rest of the day, offering them a unique mix of inclusive and special education.
Many former Krousar Thmey-supported students have progressed to university or have found permanent employment. By the end of 2015, 21 blind and 6 deaf students were studying at university, while 19 blind and 5 deaf students had graduated since 2010, and 109 youth with hearing or visual disabilities in total were employed.
Empowerment and sustainability
Krousar Thmey started its education services for children with disabilities in the early 1990s; there were no existing services to build on. Its focus on education services for children with sensory disabilities was particularly unusual in Cambodia. Krousar Thmey maintained this work even when donors were not supportive of the issue or wanted the organisation to take different paths. For instance, Krousar Thmey refused to establish an individual child sponsorship scheme which it felt would create differences between its beneficiaries, and it refused to create orphanages, preferring to develop longer-term solutions to support children back into their families/communities and local schools. The organisation actively sought to raise funds through private donors to ensure that its work did not simply stop after a short traditional donor-funded project cycle, as happened with most NGOs.
The organisation operates a long-term vision for supporting vulnerable children. Investing in teacher training has been a crucial element for success. Teachers in Krousar Thmey's special schools are not just trained once or twice for a few days, but have received training for a month (during summer break) every year for the last 20 years. Teachers of the inclusive classes in public schools, to which deaf and visually impaired students transition, also benefit from regular training during holidays.
The organisation has focused on developing solutions that take account of local perspectives, are accepted by the community and are thus more sustainable. Krousar Thmey took the gradual approach of building on existing resources and capacities. Its commitment to sustainability has also involved working closely with the government. Krousar Thmey used demonstrations of successful education interventions to convince the government about education and inclusion for children with disabilities. It aims to fit all of its work within the existing education system rather than creating a parallel system. For instance, the special schools established by Krousar Thmey have been built on government land and follow the national curriculum, with adaptations by the teachers, and the organisation seeks always to involve local authorities, from commune to ministry level, in its activities.
To further enhance sustainability, Krousar Thmey has always sought partnerships with other stakeholders in the field of disability or child protection, at national level (Association of the Blind in Cambodia, Deaf Development Program (DDP), Friends International, etc.) or at international level (International Council for Education of People with Visual Impairment, National Technical Institute for the Deaf, etc.).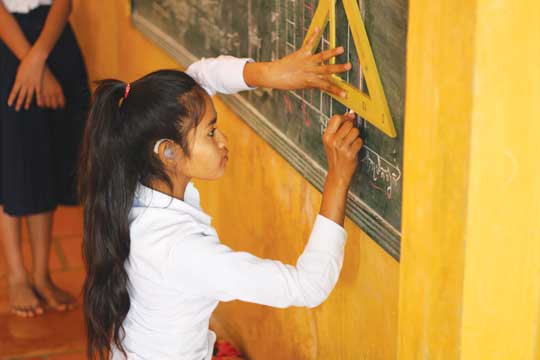 A hearing impaired student in Cambodia © HR/Krousar Thmey
Shared financial responsibility
More recently, a new project to include low vision children in public schools has been set up. From the start it has had active participation of the local district education team. Inspectors have been given significant additional responsibilities to monitor the inclusion of children with low vision. In return, Krousar Thmey has provided a financial incentive to the inspectors, although ultimately the aim is for the Ministry of Education, Youth and Sport (MoEYS) to replicate the work and take on any such financial responsibilities. Financial incentives have not been offered to regular teachers, however, as being inclusive should be part of their day-to-day job.
In 2011 Krousar Thmey initiated a transfer process to MoEYS for the 5 special schools, which will mean the Ministry taking full financial responsibility for them by 2020. The 10-year framework for the transfer has included (in 2012) all special needs teachers initially trained by Krousar Thmey being added to the government payroll and receiving their basic salary from MoEYS. In 2014, the Ministry agreed to fund all Braille book printing as well as the Sign Language Committee established by Krousar Thmey and DDP (whose remit includes developing Cambodian Sign Language) and the production of textbooks with Sign Language indications. Such engagement represents an average of 100,000 USD a year (about 10% of the annual budget Krousar Thmey dedicates to its education programme).
Krousar Thmey's management is now discussing with MoEYS senior leaders to finalise the last 5 years of the transfer plan, defining clear milestones, responsibilities and objectives. This will include ensuring the schools and special needs teachers are accorded a status that ensures an appropriate budget and salaries.
In conclusion
International and local NGOs have contributed, and will continue to contribute, to the building of quality and inclusive education systems in developing countries. However, it is vital for NGOs to remember that education for all children in the country remains the duty of the government, and only the government has the power to change education on a national scale.
Contact: Hervé Roqueplan, General Director, Krousar Thmey, Cambodia, direction@krousar-thmey.org
Sandrine Bohan-Jacquot, Inclusive Education Consultant, bohan.jacquot@gmail.com
Web: www.krousar-thmey.org
Facebook: http://bit.ly/eer4-art1
Video: http://bit.ly/eer4-art2 (3 mins)