Supporting the implementation of government early childhood development education policy in Zimbabwe
Patrick Makokoro
Implementing government policy for early childhood development education (ECDE) in Zimbabwe was challenging for schools in rural areas. In this article Patrick explains the approach of the Nhaka Foundation, which encourages parental and community involvement in ECDE activities. The approach also provides nutritional support for children, while the community volunteering aspect supports adult community members to learn useful skills.
Background
Despite heavy investments in education after independence in 1980, subsequent financial and political crises in Zimbabwe have eroded the gains made and there has been little investment in ECDE. In 2005 the then Ministry of Education, Sports, Arts and Culture (MOESAC) introduced a new policy to incorporate ECDE classes into Zimbabwean primary schools. The Ministry established posts for qualified ECDE trainers in each province.
While this was a welcome policy initiative, measures were not put in place to ensure that quality services could be offered. A lack of awareness of the importance of ECDE in rural areas, and the poor quality of services available, hindered policy implementation. Parents viewed ECDE centres as costly play groups. Classes lacked equipment, and teachers needed additional training.
Despite a lack of resources from the Ministry, most primary schools established rudimentary ECDE classes. They functioned without facilities, furniture or equipment, staffed by untrained volunteer teachers. Such local level commitment demonstrated that ECDE programmes could be valued and, with nurturing and support, could flourish.
Foundations for universal ECDE
The Nhaka Foundation, a Zimbabwean non-profit organisation, was established in 2007 to provide access to education and health care for vulnerable and orphaned children. It supports programmes that are locally sustainable and respectful of the natural environment and local communities' cultural values. The Foundation works in partnership with the community to re-establish traditional safety nets that were eroded during Zimbabwe's recent social and economic upheaval.
The Nhaka Foundation recognised that ECDE centres could play a vital role in various early interventions, including monitoring children's health and nutritional status and ensuring that children access birth certificates.
Bridging gaps
The Foundation recognised that a range of targeted strategies would help overcome some of the obstacles to accessing quality ECDE in rural communities.
1. Create parental awareness. This was done through quarterly 'dialogues' to encourage engagement, participation and actively encourage male involvement. The quarterly dialogue introduced parents, teachers and community members to the importance of investment in early learning and development. Importantly the dialogues also focused on ensuring that children with disabilities had a chance to attend school by ensuring that renovated classes had access ramps. Discussions with parents also centred on ensuring that there was increased awareness of the importance of sending girls to school and awareness that the most vulnerable children need to attend pre-school.
2. Encourage all stakeholders in the community to play a role in promoting children's right to access ECDE services. The Nhaka Foundation works with Child Protection Committees which are community bodies that ensure that the rights of children are being met, and with ECDE parent committees which are composed of parents whose children attend ECDE classes. Both committees received advocacy training in lobbying stakeholders and championing the needs of young children. In addition the Foundation partners with other community organisations, such as the village development committees and school development committees. It insists on community leadership in all its programmes.
3. Improving ECDE quality. While raising awareness of ECDE is important, the quality of programmes determines whether parents stay committed to ECDE. The Nhaka Foundation thus sought to improve the quality of ECDE services through teacher training on a quarterly basis. Training for head teachers and ECDE teachers, the school development committees and the ECDE parent committees was conducted in partnership with MOESAC's ECDE training staff. Supporting teacher workshops and training for ECDE para-professionals demonstrated that limited amounts of strategic funding could be effective in giving ministry employees the capacity to perform their duties.
The Foundation also turned its attention to the available infrastructure and focused on the importance of renovating and maintaining existing unused classrooms in local government primary schools. Its work on the physical environment included training in, and construction of, play equipment. Participants were taught to be creative and resourceful, (and thus ensure sustainability) by using local materials to construct jungle gyms, see-saws, climbing areas and other fun playground spaces.
4. Nutritional support. Finally, the Nhaka Foundation's comprehensive interventions included nutritional support through the provision of corn soya blend porridge and a local fortified protein drink called mahewu to all children in the programme. This increased both enrolment and retention of children at ECDE centres.
Moving towards universal ECDE access
The Nhaka Foundation's package of interventions has helped bridge the gaps to ensure that government policy of extending ECDE services through primary schools could become reality. Its interventions have created demand for the services, and ensured quality teaching and physical environments conducive to learning.
The sustainability of these interventions is ensured by using ministry staff to manage the ECDE centres and implement training. Primary school teachers have noted improvements in school readiness and performance among children who have participated in ECDE programmes.
Case study of a primary school volunteer
"I prepare food for the children attending the ECDE centre. I was selected by the parents to take these duties because they needed my children to benefit from the feeding, since food was a challenge in my household. I have established relationships with children attending ECDE in my community who I take to and from school. The guardians and caregivers have decided to support me financially so that my children will attend ECDE classes. I began saving and started a peanut butter project. I used the proceeds to purchase school uniforms for my three children. I wish to expand the business so that I can sell to retail outlets.
Guardians and caregivers in the community bring skills to renovate the ECDE classrooms. The inexperienced youths are learning skills from the experts. My neighbour's son who completed his secondary education joined professional volunteer carpenters who came to construct an outdoor playground. Through this exercise he acquired carpentry skills. If there was no ECDE programme, which created an opportunity for me to volunteer, my children will not be attending classes. Volunteering in ECDE programmes has empowered the community with life skills they can use to benefit themselves."
Patrick is the Director of the Nhaka Foundation.
Contact: patrick@nhakafoundation.org
Twitter: @PatrickMakokoro and @NhakaFoundation
Web: www.facebook.com/NhakaFoundation and www.nhakafoundation.org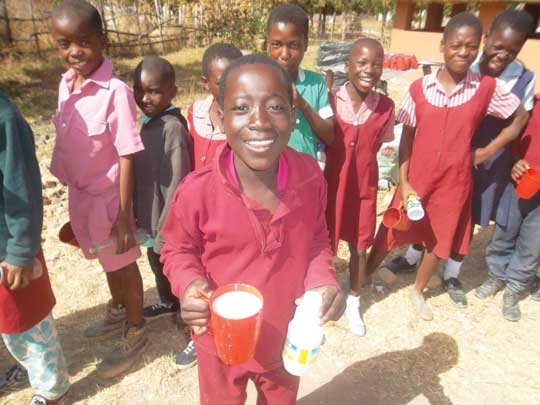 School feeding programme © Nhaka Foundation