Inclusive sport: Skateboarding in Cambodia
Benjamin Pecqueur and Sandrine Bohan-Jacquot
We all know that a good quality education includes non-academic activities. Making sporting activities inclusive is an important part of creating an inclusive education system and an inclusive society. In this article, Ben and Sandrine explain how children with disabilities are being included in skateboarding, and how this activity is linked with wider learning opportunities.
"It always seems impossible until it's done" – Nelson Mandela.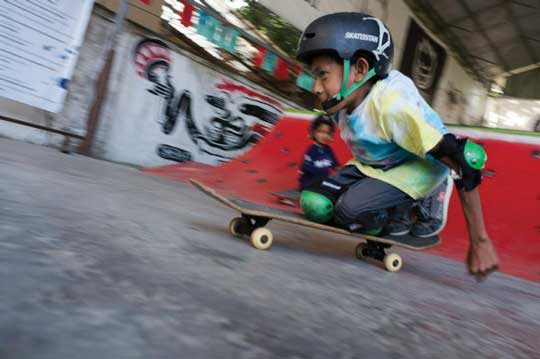 © Skateistan
Background
Skateboarding is a new activity in Cambodia. In 2011 Ben Pecqueur was practising with his old skateboard at work − he worked for a local NGO for children from a slum. The children were immediately attracted to the idea of skateboarding. A skateboarding activity soon started and the number of children coming to the session increased massively and very quickly. Ben contacted Skateistan, an organisation that was established in Afghanistan in 2007. Ben asked them for support. In 2012, Skateistan Cambodia launched, with a skateboarding-based youth outreach project.
Finding solutions together
The skateboarding activity attracted all children including those with disabilities.
"At first, we were a bit puzzled and wondered how a child without legs could skate. We did not know how to teach them." (Tin, female skater and Skateistan Education Coordinator)
"We did not know how it would work but we just welcomed them." (Ben)
The Skateistan Cambodia team sought support from disability organisations, but no one knew anything about skateboarding. The children with disabilities were excited, motivated and willing to try. The instructors worried the children would fall and hurt themselves, so started teaching them to fall properly, wearing professional standard safety gear. Children with disabilities first sat on the skateboards, before progressing to more complicated moves. The instructors were encouraging and congratulated every success, whilst making sure the children felt safe and confident.
"It happened somehow naturally. Nobody knew what to do but eventually children and the instructors found solutions together." (Ben)
"Skateboarding makes me feel better and it made my body stronger. I walk better now. I was afraid I would break my arm at first but the instructor helped me a lot, talked to me, explained everything and I started to feel confident. My favourite thing is going up and down on the big ramp. Now I can join in and play with my friend. I feel confident that I can do like other people do. We do skateboarding as a group and I am not alone anymore." (Srey Pov, 21-year-old woman with a physical disability)
Some children with disabilities are now in a position to teach the basics of skateboarding to newcomers without disabilities, which they find rewarding.
"Children are so excited, their carers told us that every morning the children ask if this is the skateboarding day." (Ben)
New challenges
Skateistan Cambodia is welcoming children with physical, sensorial and intellectual disabilities. Two blind children from Skateistan Cambodia's partner NGO, Damnok Toek, are now coming to the sessions. Working with blind children is a new experience, and the team is still looking for solutions together.
'Skate and Create'
Skateistan Cambodia uses skateboarding as a tool to connect youth to creative education. At a Skateistan Cambodia session, one hour is spent in the skate park, and one hour is spent in the classroom. New activities are offered every week as part of a themed curriculum using various forms of art: graffiti, decorating skateboards, playing with building blocks, theatre, dance, photography, etc. At the moment children are learning about teamwork, support and equality by creating a tree with pictures of each one of them supporting the others. For some of the children with disabilities the instructors have adapted the curriculum and level of difficulty for some tasks.
Inclusive skateboarder community
"At first we felt embarrassed and did not know how to behave with children with disabilities but now there are no more barriers to help each other and we all work together." (Ben)
At the beginning, separate sessions were organised for children with disabilities. But the children preferred to mix with each other, so now children with disabilities interact with other children from their surroundings in the same sessions.
"We do not look at the disability but at the skate tricks they can do. Skateboarding is a personal sport, you challenge yourself but you are part of a team. The team is as excited as you are when you succeed with a trick after 10-15 failures. Everyone stops what they are doing and applauds you. Children with disabilities join all external activities and celebrations we do. They are now part of the skateboarder community."
Skateistan Cambodia
With a staff of nine, Skateistan Cambodia currently works with 150-200 youth each week, half of whom are girls. Skateistan Cambodia uses skateboarding as a tool or 'hook' to engage youth in comprehensive health, education, and counselling services provided by other NGOs in Cambodia. Skateistan Cambodia has official partnerships with organisations such as: The Cambodian Women's Development Agency, Damnok Toek, Friends International, Action Cambodge Handicap, Pour un Sourire D'Enfant, Tiny Toones and Hope for Justice. For more information see: http://kh.skateistan.org/about-us
Contact:
Benjamin Pecqueur benjamin@skateistan.org
Skateistan Cambodia Country Manager, Street 135, House 26, Sangkat Phsar Doeurn Tkov, Khan Chamkar Morn, Phnom Penh, Cambodia.
Sandrine Bohan-Jacquot Inclusive Education Consultant bohan.jacquot@gmail.com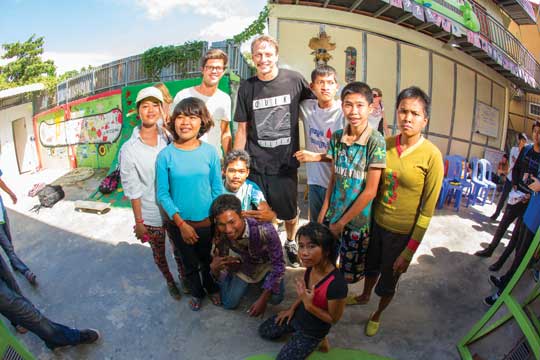 © Skateistan