Empowering Afghan children through project-based learning
Mahshid Mawj, Mustafa Sarvary and the NAC Education Teams
School curricula, in Afghanistan and many other countries, are usually designed so that learning is split into separate subjects, often with few connections being made between those subjects. In this article we describe a project-based learning programme with primary school students and teachers in Afghanistan that took place in 2014. The programme sought to link subjects and make them relevant to the reality of students' lives.
What is project-based learning?
Project-based learning focuses teaching and learning on a themed project, which involves a range of subject areas. With this approach, clear, practical connections can be made between different subject areas, which can't easily be done when subjects are taught independently. This alternative method of education encourages and supports students to use a range of skills that best fit their abilities and interests to address the project at hand. When interactive, student-centred teaching and learning techniques are used, project-based learning can be inclusive of all learners.
Overview of programme
The activities took place outside regular school hours in school communities in the Afghan provinces of Kabul, Ghazni and Badakhshan. The programme was organised and implemented by the Norwegian Afghanistan Committee (NAC) with support and funding from children in three 'Friendship Schools' in Norway (Krohnengen, Sulitjelma and Vindern). These three schools are partnering with schools in Afghanistan and learning about the country. The children in Afghanistan and Norway communicate through letters and blogs.
Programme objectives:
Conduct training for teachers on inclusive, child-friendly education and education for sustainable development, using project-based learning and subject integration methodologies
Conduct four daily activities in school communities over a period of two weeks, focusing on saving and protecting the environment
Introduce project-based learning and subject integration – linking the curriculum with children's everyday lives – focusing on biology, chemistry, environment, language and technology
Make students aware of the value and importance of the environment (indigenous flora and fauna, disaster prevention and mitigation, etc.), all related to relevant themes for the targeted school communities
Promote youth leadership, responsibility and solidarity – as part of citizenship and leadership education
Promote participatory teaching-learning approaches amongst teachers and head teachers.
The project-based learning used school facilities and involved teachers and students, but abandoned the typical classroom model of education in favour of workshops, free discussions and other activities linked to the projects.
Although the actual projects unfolded differently in different school communities, a common structure was used to organise the programme. This involved two stages: i) a period of training teachers in inclusive and participatory education and project-based learning; ii) participating students and teachers conducted the projects during an activity camp.
Training for teachers
Teachers and other education staff received one week's training before beginning the projects. Over 40 teachers, several district education officials in each participating province and a number of NAC education staff participated.
The training helped participants understand the relationship between different education subjects and how to connect these subjects with the lives of their students. Specific to the project theme, they learned about environmental sustainability and the interconnections between the environment and human needs (including issues like water, good soil, animals, energy, clean air and a safe environment).
Teachers also learned a range of inclusive approaches such as: facilitating teaching and learning in a participatory way; giving students responsibility for their own and others' learning and teaching them to share with others and respect one another; establishing a friendly environment for students and teachers; motivating students and developing their individual skills; developing students' self-control and their capacity to work together in a team.
A teacher from Ghazni province, Ms. Shayma, explained, "Now I understand that children have a lot of abilities, but we teachers forget or ignore them. The children just need guidance to bring these abilities out".
Doing the projects
The two-week project-based learning activity camps were conducted during the winter break in Ghazni and after regular school hours in Badakhshan and Kabul. Five schools were involved, with over 300 students participating in all the activities and hundreds more joining in with activities such as advocacy campaigns.
During the camps, students engaged in highly interactive activities related to the natural environment and technology (with specific work on computers). They not only learned about the environment, but were supported to take an active role in improving the environment in their school communities (e.g. by planting school gardens). They were also encouraged to share positive messages through advocacy (about environmental protection, sustainability and related issues, including women and girls' rights), targeting senior community leaders and other community members.
In Badakhshan, the students led advocacy campaigns at their schools, focusing on the importance of environmental awareness and alternative energy use. More than 750 students participated from the two schools. They recited poems, read articles and presented what they had learned to parents, neighbours and teachers. In Jaghori and Malistan districts in Ghazni province they were also able to present their suggestions on how to improve education and protect the environment to more than 800 community members and to the district governors.
Results
Surveys were given to teachers and students at the end of the programme. The results showed that the majority of participants had gained a deeper knowledge and understanding of inclusive education, project-based learning methodology, and the project topics. Most participants also found the project-based learning approach engaging, interesting and confidence building.
"I love this methodology. We have much more freedom and time to discuss and share our ideas. Me and my classmates very much enjoyed learning in this way." Somaya, 8th grade student, Gahzni province.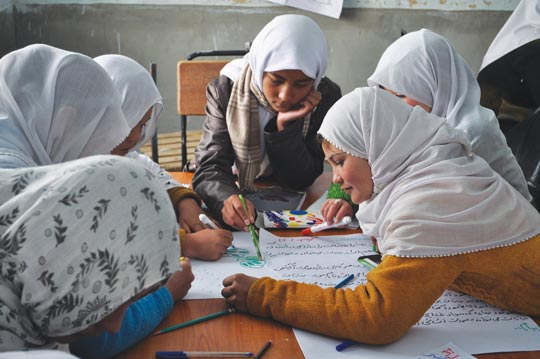 NAC is member-based organisation founded 35 years ago, with the fundamental belief in the principles of freedom, independence and a better life for the Afghan people. NAC aims to support the long-term interests of Afghanistan and to strengthening the basis for development and self-sufficiency through knowledge, democracy and human rights, sustainable management of natural resources, and improved health for all
Contact: Mustafa Sarvary
Kabul, Afghanistan
Email: communication@nacaf.org
Web: www.afghanistan.no