Empowering and educating girls through football in Malawi
Hanneck Mdoka
Heaven Stars Women's Football Club in Blantyre, Malawi uses football to entertain, educate, and empower girls, giving them sport and social skills which build assertiveness and self-esteem. Heaven Stars FC started working with 17 girls in one community and now works with 66 girls in two communities. This article shows how they have successfully combined sport and education to develop a comprehensive programme for girls' development – the only team in Blantyre to do so.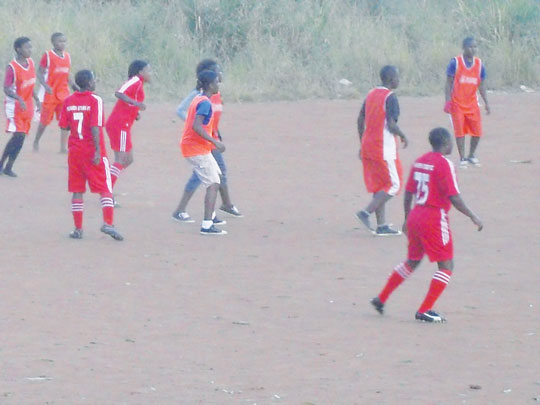 The situation for girls in Malawi
Girls and women in Malawi face immense inequalities, even in schools and colleges. They experience high levels of HIV and AIDS, teenage pregnancy, rape, and gender-based violence. Police reports show that violence against girls at school, by boys and teachers, is high, but little is done to counter it. Girls rarely receive help to deal with the trauma of sexual abuse or harassment.
Inaccurate or imprecise information on sex, pregnancy, rape and HIV/AIDS is often delivered to girls and women in an insensitive or incomprehensible way. When girls become pregnant, many remain out of school due to a lack of understanding about the school re-admission policy.
Providing platforms for girls to learn about healthy sexuality and a healthy lifestyle, and coping with stress and adolescence is crucial, but there has been a lack of dedicated action to raise awareness, encourage discussion or promote positive change.
Why focus on football?
Football is the continent's most popular sport, which is why the Heaven Stars FC team chose it as a vehicle to equip girls with skills – such as leadership – that are often more easily accessed by boys. The initiative provides girls with a safe space to grow, develop, talk about the challenges they face, and learn from peers about how they cope.
There are few opportunities for girls to get involved in sport in Malawi, partly due to gender roles and domestic duties assigned from an early age. Lack of media coverage on girls' and women's successes in sport negates the important contribution women are making, denying women leadership positions. This makes a girls'/women's football club all the more valuable as a way to put girls' education and empowerment into practice.
The team in action
Heaven Stars is aimed at young women in primary and secondary schools on the outskirts of towns. The team runs weekly football and life-skills education sessions, led by coaches, peer leaders and trainers, who are recruited and developed locally. The club currently has five trained volunteers who work in Blantyre Urban and Rural Education districts. Each semester the volunteers run between 6 and 8 two-hour training workshops, four days in a week, focusing on football drills and life-skills.
Each workshop starts in a classroom and ends up on the football field. Participants engage in role-playing games and life-skills education, followed by drills, activities and a football match. For the first four sessions the volunteers reiterate the rules of the programme, with an emphasis on the workshops being a 'safe space'. This concept is unfamiliar, but vital to participants' understanding that they can be themselves, shouldn't be afraid to ask questions, and can voice concerns.
A priority is to ensure the girls play in a safe and comfortable girls-only setting, which caters for their basic needs (through providing water and snacks); their safety; and their psychological needs. Being sensitive towards a girl's needs as she is growing up and participating in sporting activities allows her to feel safe and trusted – key factors to boost her physical and mental development.
Promoting the school re-admission policy
The second part of the programme aims to get out-of-school girls and young mothers back into school, in line with the Ministry of Education's policy on re-admission. The policy was put in place in 2000, but there have been few efforts to raise awareness among communities and young mothers about the availability of a 'second chance' for education. The specific procedures for getting back into school need detailed explanation for the young mothers and teachers to fully understand. Heaven Stars therefore brings in experts to raise awareness and explain the procedures during the training sessions.
Results
Teachers and school principals have been very receptive to the programme. Although resources limit the work to small groups of girls, the team is consistently greeted by a large number of keen players. Requests have been made for more workshops for students and teachers.
The programme has resulted in increased availability of health information, through workshops and online guides. Girls and women are being trained and empowered to resist violence and develop economic opportunities, and have taken up training to work as leaders within the programme. More young mothers are re-enrolling in school, and in 2013, Heaven Stars FC became Blantyre District Women Presidential District Champions.
Expansion
Through football, the club has demonstrated that it is possible to reach a wider audience to raise awareness on girls' education and empowerment. Our fan base grows steadily, and has not seen a dip since inception. Heaven Stars FC has been approached by several more schools and communities seeking workshops.
The team has a significant social media presence. Heaven Stars FC is also in discussions to air a documentary on radio stations, and will make a set of short videos to highlight the positive effects of sport on the development of girls and women. More public talks, posters and demonstration games are planned.
The club has ambitions to provide mobile girls' football clinics to surrounding districts; open an academy of girls football in Malawi; promote environmental issues; and earn further recognition in Southern Africa. The club has developed two sets of guidelines for a replicable Girls and Football model: "Girls Only Spaces" and "Drills and Skills for Coaches". An important goal remains securing sustainable funds and support to meet demand.
Contact: Hanneck Mdoka
P.O. Box 31597, Blantyre 8, Malawi
Email: info@heavenstarsfc.org
Tel: +265 (0)994 706 284