Nasir Ahmadi
In this article Nasir describes how the Enabled Children Initiative (ECI) set up a school for children with disabilities in Afghanistan that aims eventually to include them in mainstream settings by working with other schools to develop inclusive learning environments.
A new school
Afghanistan has one of the largest disabled populations globally: 17.3% of children and 80% of adults have a disability.1 However, people with disabilities face stigma, discrimination, and barriers to education, healthcare, skills-building and employment. As such, many children have never been to school, and are subject to bullying and discrimination. Mainstream schools routinely reject children with disabilities and have no experience of inclusive learning programmes or inclusively trained teachers. Therefore, putting children needing additional support straight into these classrooms could set them up for failure, or worse, abuse and discrimination.
In September 2020, I joined ECI (a non-profit organisation in Afghanistan) to start a special school as a first step towards developing a more inclusive education system. ECI's school aims to provide education and rehabilitation for children with disabilities not currently in school and who have not previously received an education. We also partner with mainstream schools to co-develop inclusive classrooms so that we can safely transfer our students into mainstream education.
A change in regime
Nine months after we opened in December 2020, the Afghan government collapsed and we made the difficult decision to close the school. We lost hope in the future. It was difficult to accept the possibility of losing the school. Parents cried when I called to share the news as this was the only school that would enrol their children. But it did not take long to re-open. The children were eager to return and parents repeatedly asked when this would be possible. Staff who were still in the country wanted to return to work, even though we have to work even harder now.
We operate under new restrictions and logistical considerations. For example, we must segregate students and staff by gender, organise transportation for female staff and students, and prioritise the safety and personal security of students and staff. The costs of basic goods increased dramatically after the economic collapse, and the related humanitarian crisis means many of the families we serve now face poverty.
We are trying to grow our school with fewer resources, more uncertainty and greater demand. As a community of teachers, parents and students, we stand strong together. Today, we have 65 full-time students (28 girls and 37 boys) and a growing waiting list. They have visual, hearing and speech impairments, Down's syndrome, autism, and intellectual and physical disabilities.
Our approach
The huge demand for education for students with disabilities in Afghanistan continues. Our school offers a lifeline for families who felt excluded and struggled to cope with their children's disabilities. We aim to enable every child to reach their unique capacity and potential. We use adapted classroom approaches to teach academic subjects and provide occupational and physical therapy, psychological counselling, sports, art, sign-language, Braille, and life-skills training through our curriculum. Our students have diverse ages and disabilities. Since we are a small school, we have mixed-age classes so that we work with the children at the level they are at and support their further development.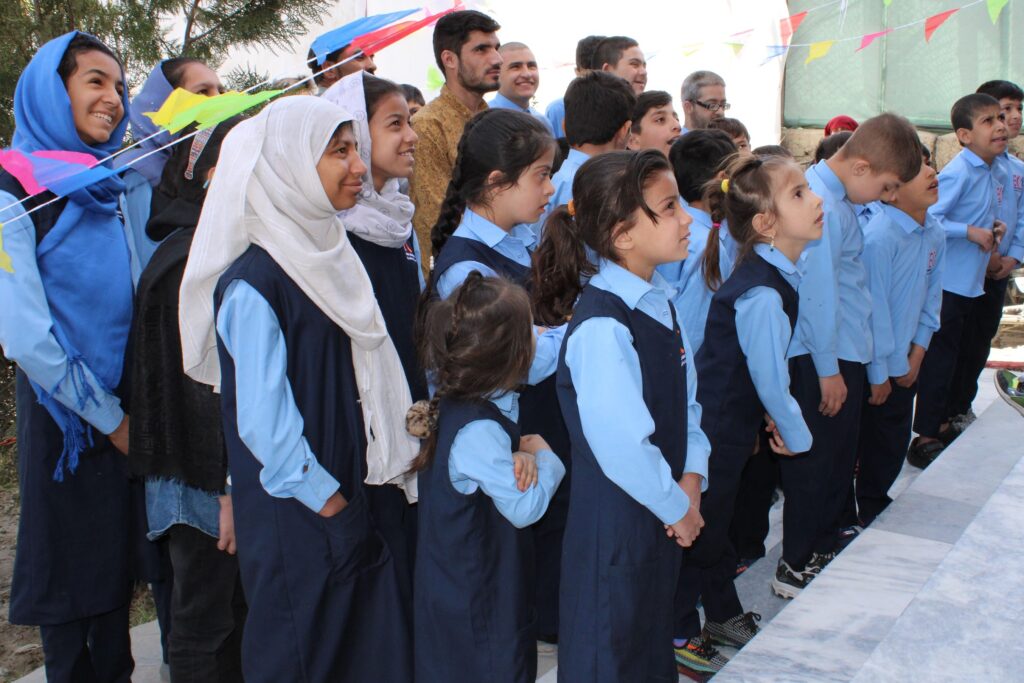 We encourage parents and caretakers to play active roles in children's learning. They participate in regular one-to-one meetings and training to learn techniques to use at home. They attend parent-teacher conferences and school events to celebrate their children's achievements. They participate in family sessions with our psychology and physiotherapy teams, learning to support their children's progress. A family-focused approach helps each student to become independent, thriving, and social individuals supported by their families, communities, and school.
Supporting transition
We want our school to be a model of education for students with disabilities in Afghanistan. Importantly, we want to support more inclusive learning environments in mainstream schools in Kabul for our students to transition into. We are building ongoing partnerships with other schools to prepare them to welcome children with disabilities. Change is possible, even in these uncertain times, especially at the individual student level.
We first work with the school principal to encourage the school administration to see the benefits of an inclusive approach. We provide awareness training for the wider school community and survey the school to assess the need for basic adaptations for inclusion. Can learners with physical disabilities access classrooms? Do school policies and procedures (especially for safeguarding) ensure the additional protections and services for children with disabilities?
We provide ongoing technical support and training for schools to develop their inclusive practices. Currently, we are working at the level of the individual children who are transferring from our school into mainstream settings. We work with parents to help them support their child and access any additional counselling or therapy that is needed to ensure regular attendance in mainstream school. We monitor the progress of the school and the children we place in their care to provide feedback to develop the inclusivity of the school's systems.
Looking to the future
I believe change is possible at country level. My PhD focuses on challenges faced by visually impaired students accessing education. Many share stories of positive change: shifts in people's attitudes or beliefs about disability and what people with disabilities can achieve. This gives me hope that change can happen.
No one in Afghanistan is certain about the future, but I think that it will be determined by our actions today. Our long-term vision is inclusive education in every school, where all students have equal educational opportunities, pathways to employment, and are respected as members of their communities. We have a long way to go, but our work at the ECI School moves us closer, one student, one family, one school at a time. In the long term, we aim to develop an inclusive sustainable education curriculum for Afghanistan – building relationships and encouraging cooperation with relevant local and national government departments. We hope to develop policies and procedures for inclusive quality education for all students with disabilities.
1 Asia Foundation Model Disability Survey 2019
Nasir Ahmadi is principal of the ECI School in Kabul and a Ph.D. candidate at Northeast Hill University in India.
Contact: nasir.ahmad@enabledchildren.org