EENET has published two video sets in recent years – 'An Inclusive Day' and 'Inclusive Beginnings' – both of which feature inclusive education practice in Ukraine. Through our young voices project, we also worked with children as peer researchers in Ukraine. This work would not have been possible without Oleh Lytvynov, a Ukrainian translator and interpreter. In July-September 2022, Oleh reconnected with several teachers in Ukraine to find out about how they were coping with the war and its impact on education.
Iryna and Inna shared their experiences of working in preschools in Kyiv, the capital of Ukraine. Lesia, Iryna and Oksana all come from Lviv, a city in the west of the country. Lesia and Oksana work in preschools while Iryna is the head teacher of a combined primary and secondary school. The stories they shared with Oleh provide unique insight into how they adapted their working practice to meet the needs of the learners. We share some of their insights by theme in the following sections.
Preparing for a war
Lesia: I could not sleep on the night of 24 February 2022, thinking about whether the war would begin. At 4:03am I took my phone and opened Facebook. The first thing I saw was a post by a member of the Ukrainian parliament published just three minutes earlier, which read: "Here it is". At first, I did not think it was about the war. Then I saw dozens of comments reporting explosions in different parts of the country. I realised that the war had started and I began to wake up my relatives and colleagues.
Iryna (Kyiv): On the morning of 24 February 2022, I was getting ready to go to work when I heard two booming sounds in the distance. I thought it was from a construction site nearby. But then I heard multiple message notifications on my phone, which was unusual for that time in the morning. When I checked, I learned from the teachers' chat that Russia had invaded Ukraine. Listening to sporadic explosions in the distance, I texted the parents from my class, asking who was going to bring their children.
Everyone said they were leaving the city, so I did not go to work that day. I stayed in Kyiv as I could not leave my pets. The capital was understood to be Russia's main goal, with fighting in the outskirts throughout March until the Russian army retreated. Sounds of artillery, anti-aircraft guns, and warplanes did not stop. I was scared and slept in the hallway to ensure I had at least two walls between myself and the street – the so-called "rule of two walls" which can save your life during shelling. I slept fully dressed so I could run out quickly.
Inna: I woke to the sounds of explosions and felt denial. I could not grasp how anything like that was even possible. We could not hold classes that day and contacted parents using our school chat groups. We invited families to stay in the bomb shelter that we had prepared in the school basement when rumours of a potential invasion started. We felt responsible for the safety of our learners and had asked parents to help us stockpile bottled water, food, and other necessities.
On the first day, 39 learners, staff, and family members took cover with us. Over the next 10 days the number of people in the shelter increased. It became difficult to buy food in the city – I keep pictures of empty grocery shelves on my phone for history. The families began to leave by train or car. When my family evacuated to Lviv, the journey took three days because of military checkpoints and the flow of traffic out of the capital. From Lviv I contacted school staff who were scattered across Ukraine and beyond. One teacher travelled to Poland with four families from the preschool. They settled together as a community and she continued to work with her learners there, eventually working in a Polish kindergarten with a class for refugee children.
Iryna (Lviv): The full-scale Russian invasion came as a shock to me even though my team and I had prepared. We turned our basements into bomb shelters, organised medical training events and worked with professional servicemen to prepare older students to understand the situation and learn first aid. The day before the invasion, we held an online meeting with parent representatives to discuss personal safety measures and how education would continue in case of war. This practice of weekly meetings with parents began during the COVID-19 pandemic.
When the bombing started, I instructed families to stay at home. Staff who lived nearby came to school to discuss next steps. At the time, the post of city head of education department was vacant, so we had to make our own decisions. We had a system where I communicated with the school administration and parents, and then administrative staff contacted teachers. To begin with, it was important for everyone to stay in touch so we could track which children remained in the city and who left.
Oksana: I told my staff to stay home and contacted the parents. I invited my son and his family to stay with me so we could be together. On 9 March I took them to the Polish border and returned home alone.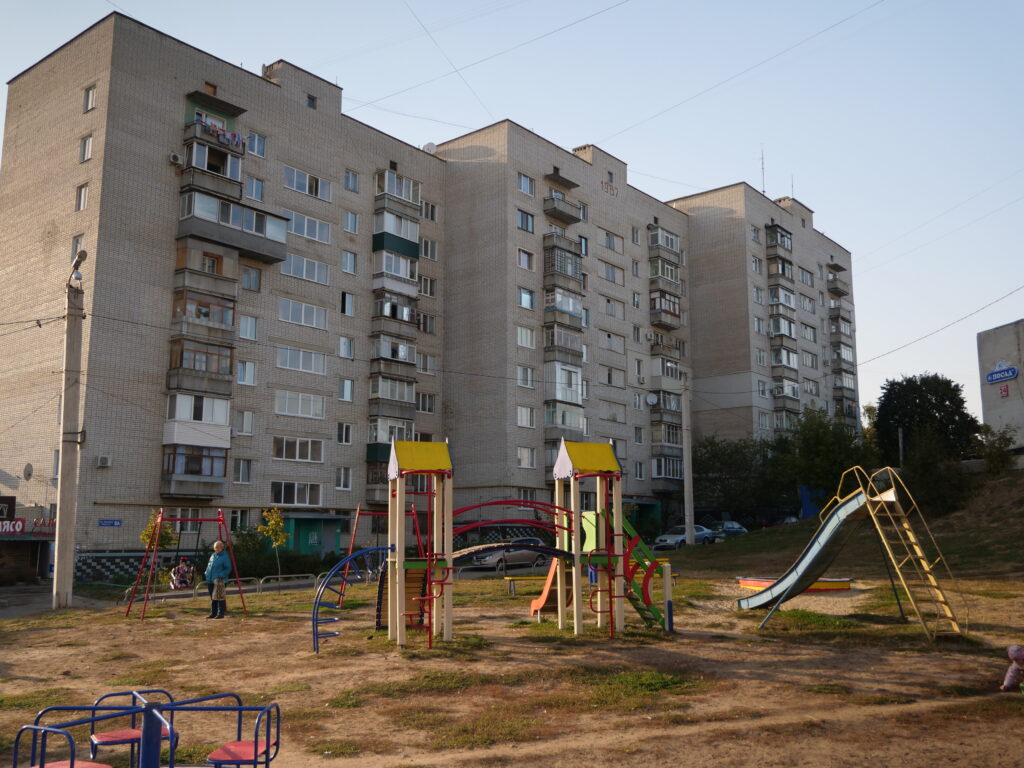 Supporting the internally displaced
Iryna (Lviv): We turned the school into a temporary home for internally displaced people (IDPs) from the regions affected by the war. Parents helped with mattresses, pillows, and blankets. Volunteers and partner organisations helped the school stockpile food and medicines for the temporary residents. We organised the process and logistics and appointed coordinators from among the staff members and parents to ensure shelter for approximately 700 displaced persons.
When Ukraine was part of the Soviet Union, many Ukrainians learned only Russian. Consequently, many of the IDPs coming from the east of Ukraine spoke limited Ukrainian. We arranged free language courses for them. Most of the IDPs did not stay at the school for long. There was a constant flow of people coming and going. After the first two weeks, we had a flawless logistics system of parents from our community and other volunteers helping IDPs find places to live, taking them to the train station or the Polish border, providing games for learners, and so on.
Apart from providing education, most of the school staff volunteered in their free time. They worked at humanitarian logistics hubs, supporting IDPs in different ways, such as providing psychological consultations. As the school is located close to the Lviv International Airport there were fears that the area could be a target for Russian strikes. The IDPs were therefore transferred to the central refugee hub, where they were assisted with finding jobs and long-term accommodation. Our parents helped to build a modular village as part of this. By June, the school was no longer a shelter for IDPs and could begin preparations for the new, wartime, school year.
Other contributions to the war effort
Lesia: Most of my staff stayed in Lviv and were eager to help the country somehow. During the first two weeks, the school's cooks prepared food which we delivered to arriving refugees and territorial defence forces at the train station. Many staff members joined volunteer groups. We tried to move ourselves from a state of fear and be useful.
We tried to stay in touch with the learners' families. Many parents were in the military and provided some reassuring information to keep community spirits up. Other parents donated money for food for the preschool kitchen because, in addition to cooking for the territorial defence, the kindergarten also cooked for more than 200 orphans and children with disabilities who were evacuated from the combat zone to a centre nearby. On some days they used 100 kilogrammes of flour. Although the kindergarten was closed for the first few months of the full-scale war, we did not sit idle. We delivered classes at centres hosting refugee children.
Oksana: I realised that people needed to communicate so I decided to open the preschool – not as an educational institution, but as a sort of humanitarian hub. Many staff members who stayed in the city were happy to join. At first, we collected goods for the army, like food, for example. Later we decided to make camouflage nets. This idea attracted many as it busied people's hands, provided relief, and raised morale because we were together doing something useful. Some teachers felt that they could not come because their children were afraid to stay home alone, so we came together with the children. This helped them to feel a little better as they saw that life was continuing.
As word of the humanitarian hub spread, more people offered help. Some delivered food, some offered electrical appliances for internally displaced people, and others just came and asked how they could be useful. I began to feel that we, as an educational institution, were becoming a community centre. We felt the responsibility, although did not actually know ourselves what else we could do. We organised ourselves to find other ways of helping the country and involving the volunteers. Even though the kindergarten has been reopened, our humanitarian work continues. We do different things: collect food, equipment for soldiers, donations for the army and so on. We registered a charity fund to help orphanages.
Remote Learning
Lesia: At the end of April, we tried to deliver remote learning activities, especially for children with special educational needs, but the experiment was not very successful. In general, everyone felt uncertain during the first few weeks, and it was much easier to go somewhere and do some small concrete things, like making camouflage nets, instead of thinking about how to continue the educational process in the new dramatic circumstances.
Oksana: In the first weeks of the war while the preschool was still closed, we changed the content of communication with the parents. We began posting psychologists' advice on the school's social media to help parents support themselves and their children. We used social media and messages to stay in touch with learners' families, to know who remained in the city and who had left, and whether everyone was safe. It is significant that every one of 360 families whose children attend our preschool responded to our messages and informed us of their status. Unfortunately, there have been losses in our community. One father was killed in battle. We collected money to support the family.
Iryna (Lviv): Even though the school turned into a humanitarian hub, it continued to provide distance education for its learners, as well as for the children of IDPs who stayed at the school and in the neighbourhood. In some cases, the school provided laptops or tablets to make sure learners could join the lessons. The experience of providing distance learning during the COVID-19 pandemic was very helpful in these circumstances.
The situation for learners with special educational needs was somewhat different. For some of these learners it was uncomfortable to study at home with their parents. We organised face-to-face classes to provide structure and routine for autistic learners for example, and others whose parents were not used to supporting their learning at home. The greatest challenge concerned learners with visual impairments. We sought advice from a specialised school and managed to provide the necessary support.
On the 1 September, the school renewed face-to-face education. We have 1001 learners in total, but some families are still abroad, feeling cautious about returning to Ukraine until the war is over. As of October 2022, 104 learners were learning at home – 60 of whom are still abroad. One of the teachers, who has also not returned yet, continues to teach her learners via teleconferencing.
Iryna (Kyiv): I stayed in touch with the parents, but only sporadically at first. After a month, the Department of Education instructed educators to contact learners about where they were and whether they would return to Kyiv soon. Some teachers had online sessions with their classes, but it did not work for me because my class was for 3-4-year-olds. Instead, my colleagues and I began to film short video clips with different activities, crafts, storytelling, etc., for the youngest classes. Some children respond well to crafts and arts and send pictures of their pieces, while others prefer gymnastics lessons.
When the kindergarten closed, the Department of Education needed to know what was happening to justify paying teachers' salaries. They asked us to prepare monthly activity plans and weekly reports about our video lessons and the other resources we use. There is no bomb shelter in my preschool so we took longer to open. We kept it ready for children, watering the plants in the garden, cleaning and doing small repairs and preparing the basement to serve as a shelter.
Reopening schools
Inna: Throughout March and April 2022, we kept in touch with the learners and their families. We provided simple human contact and support rather than education, but we began to think about restarting our work. I returned to Kyiv on 10 May to prepare to reopen. We discussed safety policies in an online meeting with parents. There was no official guidance, so we had to devise our own. A construction expert examined the building to confirm that our basement was safe enough to use as a daytime sleep room to avoid waking the children during air raids. We worked closely with parents to ensure continuity for the children. For example, many families began to feel more relaxed and often ignored the sirens, but we took them very seriously. To not confuse and disorient the children it was important to implement similar rules at school and home.
Before the war,130 children attended Shchastya Kids preschool (shchastya means "happiness" in Ukrainian). In July 2022 we have 58 learners, including newly arrived internally displaced children from other parts of the country. We stay in touch with families who have not come back yet. There is currently no need for remote delivery of learning activities for these children because they have preschool places where they stay.
Iryna (Lviv): The school has two bomb shelters with a maximum capacity for 720, which is not enough to fit everyone at the same time. We had to rearrange the schedules and modes of teaching. Grades 1-5 come to school every day, and the older learners enjoy a blended approach, studying at home on certain days. This system was discussed and agreed upon with the parents, who also suggested many good ideas.
Dramatic times require new and flexible approaches. For example, some displaced learners were asked to return (at least digitally) to their home schools to avoid losing their places. The schools arranged a system for such learners to continue physically attending lessons at our school, but they are assessed by their home schools. This allows the families to stay in Lviv while still formally complying with the national regulations.
Lesia: Our preschool opened on 1 June. It does not have its own bomb shelter, so we had to sign an agreement with the owners to use one nearby. It is a proper bomb shelter, not just a cellar, equipped with oxygen, ventilation, toilets, running water, etc. It takes 3 minutes for an adult to get there, and 11 minutes to bring all children from the kindergarten. Precise timing is a must. When we reopened, approximately 30% of the original school roll were attending. By August, the preschool was at 80% capacity.
Iryna (Lviv): We place great emphasis on safety. All teachers are being trained and certified in providing first aid and we offer this training to parents. We also work with parents to ensure they take their children's safety seriously. For example, during the air raid signal, all learners go to the shelters and remain there until the sirens are clear. At the same time, some parents come and want to take their children home while the sirens are still on. Even though actual missile strikes are rare in Lviv, it is essential to take these things seriously and have consistent rules for learners.
The war has meant that we have had to develop self-organisation and responsibility. We have had to learn quickly, especially in being constantly alert to air raids. In September, a fire started in the old, worn-out electrical room of the school. The school team acted quickly, evacuating all the learners and extinguishing the fire before the firefighters arrived. It shows why 80% of our parents voted for live, in-person education, instead of distance learning as they are confident that their children are safe at the school.
Iryna (Kyiv): Not all families who have returned to Kyiv will be able to bring their children to school. There is a new requirement that only children whose parents have jobs can attend. This condition was introduced to relieve preschools from being responsible for all children's safety. There are other changes too. The war and partial occupation of Ukraine's territory disrupted supply chains in the country, including the supply of food products to Kyiv's kindergartens. Since kindergartens cannot provide meals anymore, children only come for a few hours in the morning or afternoon, and do not have the usual daytime sleep at the preschool.
Another adaptation is the learner/teacher ratio. It is 5:1 now, so the teacher keeps a close eye on the children assigned to them. In the event of an air-raid siren, they must immediately grab 'their' children, help them get dressed and take them to the shelter. This avoids the usual free-for-all when children get ready to go out, and the children can get to safety faster.
Oksana: We did not need to increase our staff numbers with the restrictions on the ratio of teachers to students as children are still abroad. Any staff vacancies are filled quickly by the IDPs who have fled from more dangerous regions of Ukraine and have been able to join the preschool as educators and technical staff. Internally displaced children have also moved to the school. When we admit a new child, we always meet the family to learn about any special educational needs and the child's experiences of the war. Some saw explosions and destruction, some spent a long time in bomb shelters. Educational psychologists work closely with the children, but luckily, we have not observed any serious effects of war on the newcomers.
Some of our staff members are still abroad but they work remotely, conducting online lessons. The COVID-19 pandemic experience was useful in this respect. Each teacher is in touch with their learners' families, and they contact parents of children who stay at home regularly to suggest home learning activities. Some children must stay at home because they have an unemployed parent, but they can join their class during outdoor playtime and attend extracurricular paid activities like dance club, English lessons, or school preparation classes. I also offer their parents visits to our specialists like psychologists and speech therapists if needed.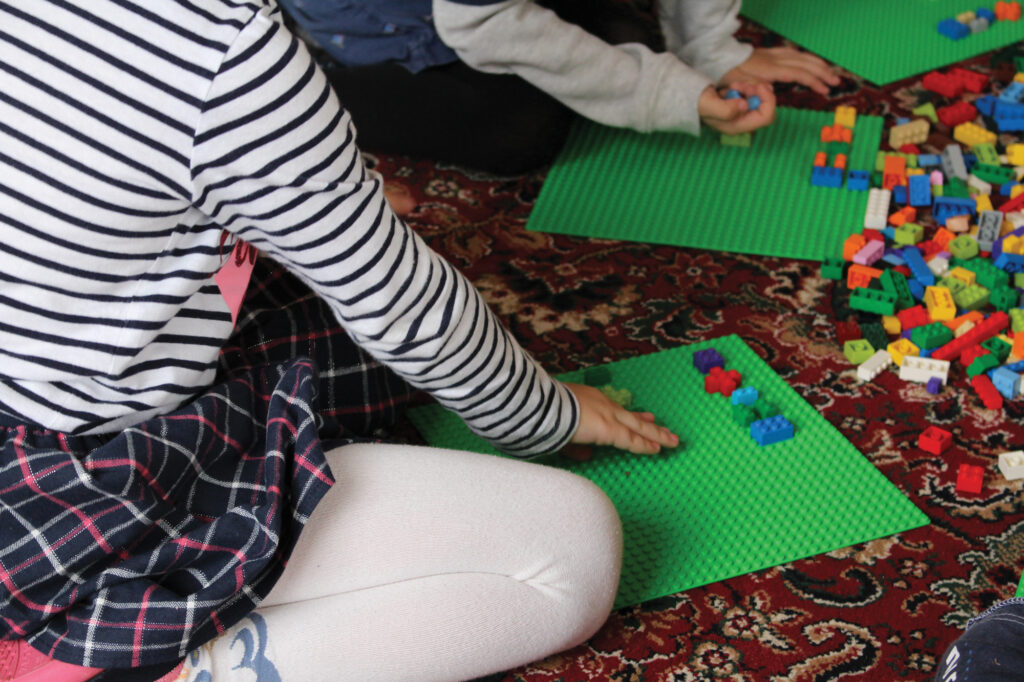 Mental health / emotional support needs
Iryna (Kyiv): According to official reports, over 100,000 people have moved to Kyiv from the more dangerous parts of the country. There are many newcomers in the Kyiv preschools. I already had experience of working with internally displaced children when the war in the east of Ukraine in 2014 displaced children from the Donbas region. I remember how one boy was affected psychologically – he was nervous and cried often. The others introduced a peculiar game called 'separatists'. The current phase of the war is much worse, and many Ukrainian children play war these days.
Inna: I am engaged with the Ukrainian Step by Step Foundation as a psychologist and trainer. I have developed and conducted multiple online seminars on post-traumatic stress disorder (PTSD) for educators from all over the country, based on international experiences. To better support the children returning to Shchastya Kids with PTSD, we work with parents to understand what they have experienced, where they have been, and what they witnessed during the war. We also developed training for staff and parents on how to identify PTSD symptoms in children and what to do.
They began to draw and play war because war became an everyday reality for them. But it is good that they do draw and play at all because they are able to express their experiences. It is more important to keep a close eye on those children who are very calm and freeze their emotions inside.
Shchastya Kids is an inclusive preschool. We treat all children as individuals, and the war has not changed this. Children need to feel understood. Teachers must remain even more aware to identify when someone is startled because of aircraft sounds, for example. We cannot get rid of all triggers, but we can be there to hug children, to tell them that those are our warriors of light who protect us. Many seemingly innocent things can retraumatise children who have seen destruction. For example, when a house of toy building blocks falls apart it can remind a child that they lost their home, or when one colour creeps over the other one when a child is painting. It is impossible to foresee all triggers, but it is important for us to observe children's reactions and provide support.
We also choose educational content (audio, video and literature) with extra care to avoid re-traumatisation. This extends to music – melodies that you have always liked can have a completely different, even re-traumatising effect on children who have survived missile strikes and air raids, heard explosions, and seen ruined houses, etc. In my mind this could be an interesting topic for future research. We have observed children's cognitive and functional regression during the war. For example, beginning to stutter or not speaking at all. Such regression is normal in times of prolonged stress and uncertainty, and we must demonstrate extra patience and understanding.
The war forced us to modify our daily practices. We offer fewer activities during the day at a slower pace. Morning circle-time now includes breathing exercises to help stabilise our mental and emotional state. The teachers are trained to help children cope with anger and aggression, while supporting their own mental wellbeing as we know it is often hard to hold back tears when listening to children's stories. The children are taught to recognise complex emotions in themselves. Every Friday, preschool psychologists conduct resource meetings to prevent emotional burnout in teachers. They are not mandatory, but any staff member can attend if they feel the need. Similar weekly meetings are offered to parents.
The most surprising thing for me is the feeling of unity we experience in our school community. Everyone has their own story: someone's husband is fighting on the front, someone has parents in the occupied territory, but despite all that we have all become closer to each other. And this extends to the parents who show up at preschool meetings and festivals more than ever before.
Lesia: There are new wartime requirements for learners. The teacher:student ratios are tighter but we do not have additional staff. We have to make do with the resources we have. To comply with the new requirements, we must reduce class and pupil numbers. Only children of working parents are admitted but we still cannot accommodate everyone who wants to join. The situation is stressful because children want to see their friends and socialise. It is hard for them to release all their energy at home and parents get tired caring full time. It is a vicious circle: some mothers cannot work because they are looking after their children, and children cannot go to preschool because their mothers are not employed. We consider each case separately and make some exceptions. For example, if a mother is about to give birth, we will, of course, admit her older child.
Our usual ways of working have changed. Safety is the main focus now. Most learning activities take place outside so that we can get to the bomb shelter faster, saving time on dressing the children up. We try to plan for all possible scenarios collaboratively with parents. We discuss the detail, down to what clothes the children should sleep in so that they are prepared for an air raid; there is no time to change clothes. Municipal and central authorities organise safety and civil defence training for us – how to act in case of a chemical attack or radiation contamination, for example. Most of these activities are useful, and we are motivated to learn, knowing this could save lives.
Oksana: The war affects the learning we provide. My first task is ensuring that children are happy and safe. Learning can be provided only when these first goals are met. We proceed from an understanding that a child is an intelligent individual, just like an adult, only a smaller one. We speak with children about the war because they live in a country at war and experience it every day. Children can understand everything that is happening when you talk to them. If an adult does not explain things, the child will gain their experience anyway, but through their own bumps and bruises so to speak, and so they need to be supported.
Lesia Kovalchuk is the head teacher of Preschool No. 37, Lviv.
Iryna Khmil is the head teacher of the Ivan Puluj Lyceum, Lviv.
Oksana Bura is head teacher of Preschool No. 134, Lviv.
Inna Horbenko, is a psychologist and senior lecturer at the Practical Psychology and Inclusive Education Chair of Hryhorii Skovoroda University in Pereyaslav. She is co-founder of Shchastya Kids Kindergarten, Kyiv. Iryna is a preschool teacher, Kyiv.
Oleh Lytvynov is a Ukrainian translator and interpreter who has worked with EENET
on several film and action research projects over the last six years.
They can be contacted via the EENET office.