Luz Mojtar-Mendieta and Ignacio Calderón-Almendros
This story started to take shape in May 2020, during the prolonged period of confinement caused by COVID-19. A group of high school students from different communities in Spain, awakened their activism for respect of human diversity and developed a guide to encourage other students to shape their schools' responses to such diversity.
We brought together 16 young people aged 12-19 years old. They were invited to participate in the initiative to visualise and build the schools they would like to be in. The group included students with greater or lesser success in school, and included differences in social class, abilities, nationality, ethnicity, gender identity, health, sexual orientation, from urban and rural environments.
It was vital for every member of the group to feel important to the success of the project, but how would we do this?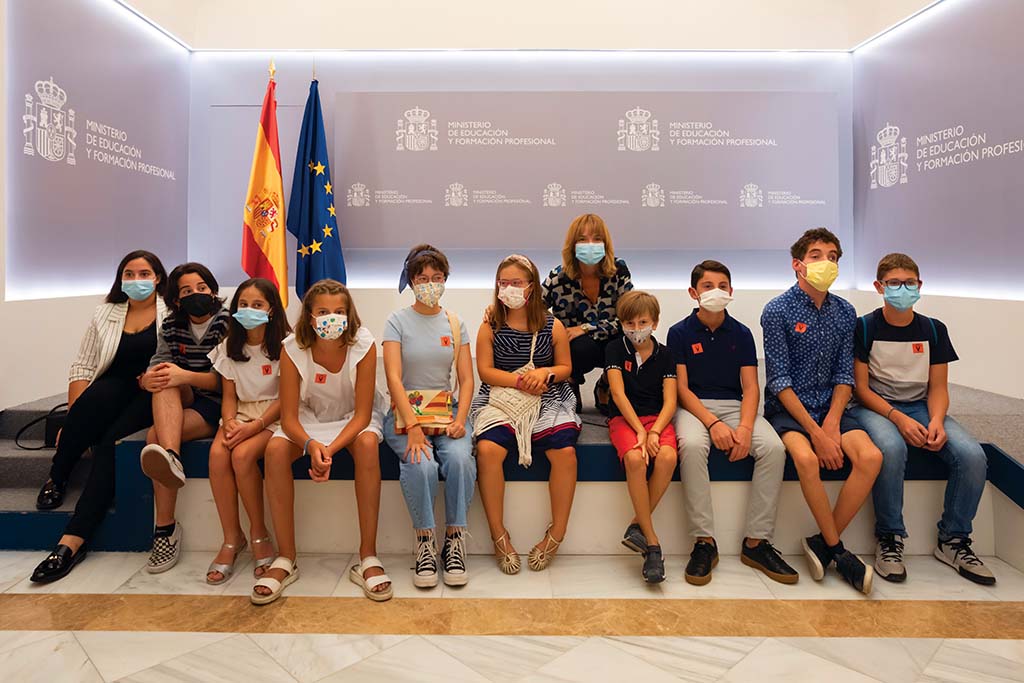 Developing a virtual community
Initially, we invited them to share their personal school experiences and gradually get to know each other.
During the initial virtual meetings, we sensed that all kinds of questions passed through the young people's heads, such as: What am I doing here? Why have I been invited? At this stage, they did not know each other, and it might well have seemed that there was little that united them, given the diversity within the group's membership.
Like all beginnings, it was not easy to get these young people, who were strangers to one another, to talk. However, little by little, what seemed like work meetings became genuine conversations between friends in which they found common interests and preferences. We went on to meet every Thursday afternoon over a period of one year, to develop the guide that we had proposed and turn it into a reality.
During these encounters, no one was required to speak about disability, ethnicity, nationality, or health conditions. Furthermore, nobody needed to speak about anything that made them feel different from the rest. This was not necessary – they just were. Nobody was more than any other; however, everyone was better with others. And it was not necessary for this to be explained because they learned it by being together.
In these ways, an inclusive group was constituted, generated by its heterogeneity and through developing relationships. Seeing so much diversity in the group, the participants did not need to talk about the categories that oppress them in school, but about the barriers they experience because of them. And this goes to the heart of the proposal: to generate a group that allows the construction of inclusive proposals for other people. It was essential that they could experience in first person the fact of feeling part of the group, being able to learn and be valued in it.
Deciding the content of the guide
The meetings became more and more interesting, as they discussed the aspects of school that they wanted to see improved. For example: loneliness; feelings of marginalisation and segregation; the burden of homework; impact of the assessment system; punishments and boredom; the impact of exams; and health-related challenges.
Our role as researchers was to listen carefully to these discussions to inform proposals for future sessions. We analysed each recorded session to capture the students' words and initiate new directions for further dialogue. We could thus review the different aspects that constitute the policies, cultures and practices of their schools, social relations and how teaching and learning processes are organised.
Being listened to carefully by a group of university researchers added value to the students' collaborative work. Knowing that there was methodological and scientific support for designing the guide, gave them security to elaborate further. We could see the self-esteem of each individual, and their confidence in the rest of the group, grow little-by-little.
Each week we collected the students' ideas and developed categorisations to help them design proposals for the next meeting. This encouraged their conversations and supported them to take on the role of researchers. When the conversations became repetitive, with no new ideas, we ended the meetings and invited them to analyse the recordings.
Writing the finished product
By this time, the words of many of these young people – who were undervalued and ignored in their schools – had become the text to study. They extracted the most important ideas, generated analyses and built their own proposals. They located the barriers schools created, rather than focusing on their own characteristics. They recognised their own value, on a personal level and within their relationships. We feel that the main achievement of the process we followed was supporting the students to become aware that they are not alone and have the capacity to decide on their own realities.
Using the topics they selected, we developed proposals for school improvement – to help other boys and girls to build the school in which they would like to be. In this way, the accessible guide – created by students for students – took shape. 'How to make your school inclusive'1 offers step-by-step advice to facilitate the implementation of the proposals made, and invites other groups to create their own proposals.
The process of preparing the guide ended with a celebratory visit to Madrid to meet physically, hug each other, spend a weekend together, and meet, the current Minister of Education of Spain. The young people told Pilar Alegría about the discrimination they face and the need to promote 'a school for all' across the entire education community. She supported their proposals. And those who had been suffering in silence because of the loneliness, segregation, and discrimination of current school standards, now recognised themselves as valuable agents of change for transforming the system – able to accompany other students in their own journeys towards equity and recognition. What a subversive and hopeful task!
This research project is funded by the Spanish Ministry of Science, Innovation and Universities (RTI2018-099218-A-I00). The Spanish 'How to make your school inclusive' guide (Cómo hacer inclusiva tu escuela) can be downloaded here: https://bit.ly/EER10-28
Luz is a Postgraduate Teaching Assistant and Ignacio is an Associate Professor at the Faculty of Sciences and education and the University of Malaga.
Email: luzmojtar@uma.es; ica@uma.es