Rethinking the way we organise schools: An example from India
Kanwal Singh and Ruchi Singh
Three years ago Vishwas, a non-profit organisation set up Vishwas Vidyalaya1, an inclusive primary school. In this article, Kanwal and Ruchi share their experience of helping to establish a new type of school – one where all children have a meaningful and quality education in a positive learning environment. Around 200 children aged 4-16 years are enrolled. Many of them come from Jharsa village, just behind the school boundary wall and located in Gurgaon, not too far from New Delhi, the capital of India. It is the first opportunity for and experience of formal learning for many students who were previously out of school because of their disability, or socio-economic and migratory status.
Vishwas Vidyalaya is a school with a hint of variation from the rest. It developed out of a need to explore how inclusive education could be implemented in its true sense – a school that viewed inclusion as meaningful education for all, specifically in relation to groups vulnerable to exclusion.Through this article we share the processes of establishing an inclusive school and how things have worked for us as we moved from inclusive theory to practice.
Establishing a sound foundation
We began with an analysis of the current status of inclusive education, asking ourselves: What does inclusion mean to us? How would we address exclusion while at the same time being aware of and paying attention to individual needs? How would we ensure that a child with hearing impairment attended class with his peers and at the same time address his needs for communication? Similarly, how would we ensure that a 10-year-old, who has never been to school, could study with his peers. Reflecting on all these questions we were able to clarify and establish our interpretation of inclusion, our core values and beliefs. These translated into the curriculum framework and served as a foundation for planning, organising and implementing all learning experiences in the school.
Our inclusive school model:
An expanded scope of inclusive educatio
that addresses exclusion in all forms rather than limiting it to students with disabilities. Any student could need support and accommodation – temporary or long-term. Therefore individual education plans were made for each and every student instead of singling out students with disabilities.
Admission policies that encouraged children to attend school. Registration for admission was open all year round. No child was screened or assessed prior to admission. Exclusionary criteria like diagnosis, impairments, residential status and income were not used.
Built in flexibility enabled social as well as learning needs of all students to be fulfilled. Students belonged to age-appropriate classrooms referred to as 'Blocks'. Each block had a maximum of 30 students with one class teacher and one support staff. Based on assessments, all students were divided into appropriate instructional groups for different subjects, starting from foundational skills up to Grade 5. This system released students from the boundaries of the syllabus at each grade level. They could learn concepts at their own pace and readiness, rather than being dictated by age and grade. There could be two to three instructional groups within the same grade level.
This model enabled students to attend subjects at different grade levels. For example, a student could attend Math at Grade 3, Hindi at Grade 4 and English at Grade 1.
Students were assessed every four months and regrouped accordingly giving them the opportunity to join back into appropriate groups after long periods of leave due to medical or family circumstances.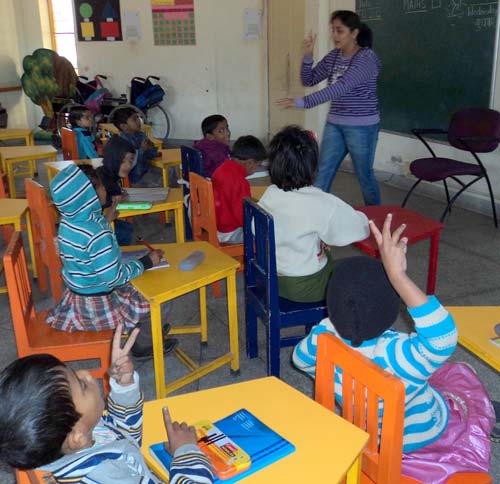 United through learning
Building confident and motivated inclusive educators
Inclusive practices require radical changes in thought and action. Special educators and regular school teachers moved out of their comfort zones. They dropped their titles and took on new roles as 'inclusive teachers'. Instead of 'yours' and 'mine', the students became 'ours'. Teachers were encouraged to search for solutions rather than focusing on the problems. Teachers encouraged older students, including students with disabilities, to accompany the younger students from the bus to the classroom. This enabled the older students to take on responsibility.
Simple words and explanations were used instead of jargon so that staff would feel comfortable. The school leadership organised ongoing in-service trainings, mentoring, group discussions and forums for sharing of experiences. Through these sessions the staff also revisited some deeply entrenched negative attitudes and realised how subtle actions could lead to dependency and exclusion. For example, extra support for students with disabilities deprived them of opportunities to become independent and responsible.
Listening to student voices
Students are an extremely valuable resource. Our students were our best critics, guiding us all the way as we tried out new ideas. They made us truly understand the meaning of 'all children' by forcing us to look beyond the needs of students with disabilities. It was through the students that we learned the importance of understanding their culture and context. For example, when discussing safety in the event of an earthquake, the students explained that they did not have beds or tables in their houses and so could not shelter under them.
The students wanted more formal learning, and complained when there was too much activitybased learning. Students rejected adaptations that increased participation and independence but resulted in exclusion. Students who wrote slowly rejected multiple choice options in favor of extra time.
Conclusion
Our journey towards inclusive education has been challenging but extremely rewarding. Today we may not have all the answers, but at the same time we have a number of successful practices that have evolved in this period. This reaffirms our commitment to continue working towards inclusive education.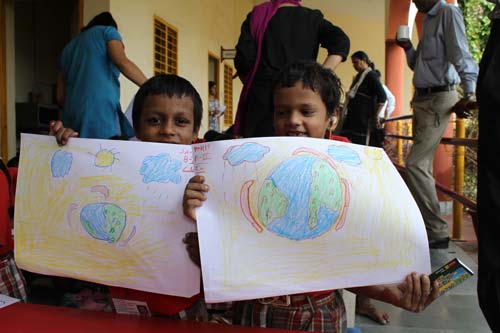 One-two-together
About the authors
Kanwal Singh is currently working as Director: Education and Training at Vishwas, India. She has 25 years' experience in the field of special and inclusive education, and spearheaded the establishment of Vishwas Vidyalaya. She has been involved in teacher trainings and curriculum development at the State level ans is a contributing author for textbooks and manuals on inclusive education. She can be contacted at kanwalsingh.vishwas@gmail.com
Ruchi Singh works at Vishwas as Manager of the Research and Training programme. She has been working in the area of disability and development for the past 7 years and played an active role in setting up Vishwas Vidyalaya. She can be contacted at ruchi.singh.0511@gmail.com
1 Vishwas means belief, and Vidyalaya is a school. Vishwas is also the name of the not-for-profit organisation that established the school.