Inclusive Education and Parents' Involvement in Mongolia
Mongolia and special needs education
Mongolia is in the heart of Central Asia, between China and Russia. Its population of 2.6 million is sparsely spread. The country is divided into 21 provinces and one municipality which is divided into nine districts. Mongolia is a relatively young country with 30.7 per cent of the population of children aged 0-14 years.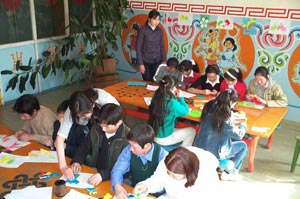 Before 1989, the socialist government of Mongolia pursued a policy of institutionalising disabled people, building a network of special schools and residential care facilities. While this system addressed basic needs for disabled people, it excluded them from social and political life. Following the political and economic changes of the 1990s, this institutional framework collapsed. Due to shortages of funds and resources, special schools in rural areas were closed and social benefits for disabled children decreased dramatically.
The compulsory school education system has weakened since the transition period, and disabled children are now forming a visible part of school drop-outs. Disabled children have very limited access to education, especially in rural areas. Very few special schools exist for children with hearing/speaking disabilities and mental disability. Such schools are only located in the capital city, Ulaanbaatar. Just one offers classes for blind children.
Challenges facing disabled children
527,000 children are in secondary schools, 40,000 of whom are disabled and 0.38% are in special schools
10.3% of 8-10-year-olds eligible to study in schools, and 66.6% of kindergarten-aged children, cannot be provided with educational services
7.1% of children who are studying in schools are disabled
11.6% of children who are eligible to study in school cannot go due to serious disabilities, as stated in the conclusion of the study from the Inclusive Education Unit of the Ministry of Education (MoE).
According to education indicators, Mongolia is a highly educated country with 98.5 per cent of the population literate. Gender discrimination in education is relatively low and there is a higher percentage of disabled children in regular schools than in other countries. However, the education is often unproductive, with poor access for disabled children. Often, educational programmes are not flexible enough for disabled children, and teachers have poor understanding of disabled children's needs, ability or skills. Some teachers have discriminatory attitudes towards disabled children, who are often invisible because of large class sizes. Many severely disabled children are still at home.
Inclusive Education
The beginning of integrated education in Mongolia is closely associated with the DANIDA Special Needs Education Project, 1994-98, implemented in three provinces and in two schools in the capital city. Save the Children UK's (SC UK) programme (1998 to the present) on the integration of children with disabilities into regular pre-schools, and more recently into primary schools, was implemented in three provinces.
Successful implementation of integrated education programmes requires the involvement and support of the parents of disabled children at all levels. From 1998, with the support of SC UK, a group of families with disabled children formed an unofficial association which became closely associated with SC UK in the implementation of its integrated education activities. By 2000, this informal association had developed into a formally constituted NGO – the Association of Parents with Disabled Children (APDC) – dedicated to protecting the rights of, and providing assistance to, disabled children.
During the international workshop on 'Inclusive Education Policies for Children with Disabilities', held in Ulaanbaatar in March 2003, the term 'integrated education' was changed to 'inclusive education', at the suggestion of SC UK's Mongolia Programme Director, Mr Karlo Puskarica.
The workshop was organised by SC UK. It aimed: to renew the inclusive education initiatives in Mongolia; to help participants share with, and learn from, other countries in terms of policy development and implementation; to identify priority issues and recommendations for policy development and implementation in Mongolia. SC UK believes that influencing policy is the main approach to solving problems.
The MoE has made changes in its structure and established an Inclusive Education Unit (IEU) with SC UK's technical and financial support.
Partnership
SC UK has a solid partnership with APDC, and, through the partnership with the IEU, an Inclusive Educational Programme for Disabled Children is being developed. This was jointly agreed by the Minister of Education, Minister of Health and Minister of Social Welfare and Labour in December 2003. Currently these ministries, SC UK, APDC and other related organisations have formed a Programme Implementing Committee to co-ordinate programme implementation.
Importance of parents' participation
Parents believe their participation and voice is a very important element in implementing inclusive education programmes. APDC is capable of assisting in the development of more educational services and improving living conditions for their children. It is implementing the Institutional Strengthening of APDC Project, funded by the European Union and SC UK.
APDC's achievements include: international relationships and information flow, organisational development, strategy and structure. Most importantly, it has united over 700 parents. This has raised the voice of disabled children and there is a growing public awareness of their rights.
We recently had the chance to visit EENET in the UK as part of a study tour. We met Susie Miles, who gave us many ideas about inclusive education. Information is essential for parents, for other related organisations, and for the general public. Sharing information and experience with other countries on inclusive education is important for a developing country like Mongolia.
Conclusion
Every child has a right to education. Every child would like to go to kindergarten and school, but at the present time not every child has the opportunity. We believe inclusive education is the right path to follow in order to fulfil the child's right to education. The first step to inclusive education is being built in our country, with the effort of all sections of society: children, parents, as well as governmental and non-governmental organisations.
The Association of Parents with Disabled Children looks forward to networking and sharing ideas and initiatives with other members of EENET throughout the world.
N.Enkhtsetseg
Chief Executive Officer
Association of Parent's with Disabled Children
5-52, Diplomatic Compound, 6th khoroo,
Chingeltei District, Ulaanbaatar, Mongolia
POB: 460, 46A
Tel: +(97611) 318 060
Fax: +(97611) 327 391
Email: apdc@mongol.net
In partnership with SC UK, the Government is involved in a number of 'inclusion' programmes, such as work with street children, school drop-outs and families affected by poverty and family breakdown. The MoE's Inclusive Education Unit also has a broad focus, which includes street children and other economically disadvantaged groups. APDC's work with disabled children, therefore, does not stand alone. I have been the Advisor to APDC from the outset and have been impressed by their work and dedication to the programme's development. The Executive Staff Team are enthusiastic and hard working. In a relatively short time they have managed to create an organisation that is democratic in structure and involves both parents and children in raising their voices throughout the wider Mongolian society.
Peter Blackley,
NGO Development Advisor
"Thank you for accepting us in Manchester University… it has made a profound impression on us. Your newsletter and website is the huge source of information on disabled children's education issues and it is greatly helping our work… I would like to express that EENET is the valuable, great resource of information and would like to name it 'the best intellectual investment'."
N Enkhtsetseg