Family Action for Inclusion in Education
In many countries the campaigning work of family-based advocacy organisations has led to the transformation of individual schools and education systems. This EENET guide is based on parents' stories from Lesotho, South Africa, Bangladesh, Nepal, Romania, UK and Australia, collected over the last few years by EENET. It takes the reader on a journey through the stages of development, typical of many advocacy groups, and provides useful reference material under the following headings: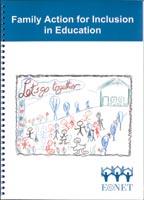 Talking – Membership – Survival – Empowerment – Community Involvement – Challenging Exclusion from Education – Voices of Young People – Networking – Beyond Disability – Strategic Planning – Advice – Vision for the Future.
A set of questions at the end of each chapter encourages readers to reflect on their own experience:
How can family members be helped to come to terms with disability and challenge the discrimination they face in society?
How can parents ensure that governments take responsibility?
How can parents work in partnership with professionals?
Which community members could provide support for the inclusion of marginalised children?
How can children play a greater role in their own education?
Tree diagrams
We developed the palm tree diagram below as a summary of the contents of the publication. It shows the roots, or foundation, on which the inclusion work is based; the importance of the trunk; the different aspects to the work in the branches; and the fruits of all the hard work: education for all children.
We invite you to capture your story on one of the following trees, depending upon the kind of trees that grow in your area – acacias, baobabs, oaks – or perhaps you could draw your own. We will feature your tree diagrams in the next issue, and on the website. There will be a pack of resource materials for all those who send us a contribution.