Editorial
When inclusive education is talked about in the West, there are often two assumptions. Firstly, that inclusion is related to so-called, 'developing' nations, and that everything is all right in countries like the UK and USA. And, secondly, that inclusion is synonymous with disability.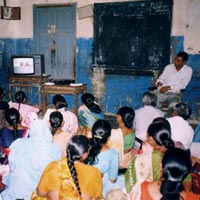 Inclusion is about the development of societies that embrace diversity. It is not only about what happens in schools and in classrooms. At present there is a major mismatch between the educational practices in classrooms and what happens in real life. Why should we expect all learners to read in the same way when in reality that does not happen? Why are there special classes and special schools when there is no special adult world?
There are major problems in Western societies relating to inclusion. The racist attitudes, gender stereotyping, disablist assumptions did not fall from a tree. They emerged from very conservative traditions. The relationship between poverty and educational failure is also a big issue. Many children in special classes in the West are there as a result of poverty, second language issues or poor educational practice.
International movements should direct their resources and commit their energy to talking about the relationship between education and society. It is extremely difficult to suggest solutions in Burkina Faso, for example, if we have not developed a 'pedagogy of possibility' that has a strong philosophical and theoretical base which is translated into action. We need to transform educational discourse and practice radically, and establish the relationship between education and society, based on human rights, social realities and the needs of learners.
Sigamoney Naicker, South Africa