"HOA NHAP" Vietnam
Producing a local newsletter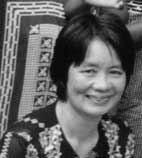 Tran Thi Nhieu is a senior project officer in Save the Children (SC-UK)'s disability programme in Ho Chi Minh City, Vietnam. Here she is interviewed about her role as editor of HOA NHAP (INCLUSION).
Why did you decide to start publishing a newsletter?
I work closely with an informal club of disabled adults. In 1997 they approached me about the need for greater awareness of disability and information-sharing. We decided to produce a newsletter in Vietnamese.
Where do you get the information from?
It's difficult to find new information every month so we take articles from Enabling Education; Disability Dialogue (formerly CBR News) produced by Healthlink Worldwide; and Disability Tribune produced by Disability Awareness in Action. These 3 organisations have access to information that we don't have in Vietnam.
We also collect information from disabled people and parents and we discuss policy and legislation issues. We always mention integration in society. We focus on children with learning difficulties, as we believe they need the most help. Deaf children and blind children receive help from international non-governmental organisations (INGOs). We feature case studies, for example, of enthusiastic teachers who are keen to integrate disabled children.
How many copies do you produce?
The disabled people decided how many newsletters we needed and who should receive them. They translate the articles into Vietnamese. At first we produced 100 copies of the 8-page newsletter, but now we produce 200 copies. We distribute 100 copies around Ho Chi Minh City which has a population of 6 million people. We send the other 100 to North Vietnam. Hoa Nhap is produced every 6 weeks. Terre des Hommes, an INGO, pays for it.
Who benefits?
Services for disabled people have been forced to think about disabled children. The head teacher of a special school asked me to conduct a training session for parents after reading one of the articles. The newsletter helps to change attitudes in general and in particular the attitudes of special education teachers. Parents of disabled children are now more confident about their rights and their capacity to change their own situation.
Tran Thi Nhieu can be contacted at: SC-UK, 26 Dang Tat, Phuong Tan Dinh, Quan 1, Ho Chi Minh City, Vietnam. Fax: +84 88469466. Email: scfukhcm@netnam.org.vn
Useful Resources
How to Produce a Newsletter
is produced by Healthlink Worldwide (formerly AHRTAG). It includes practical guidelines on planning, writing, editing, designing, printing and evaluating a newsletter. Cost £10
Resource Centre Manual
contains comprehensive and practical information about setting up and managing a resource centre. Although it is designed for the health and disability sectors, it is equally useful in other areas of work. £9.50 (developing countries) £14.50 (others) Available online from Healthlink's web site.
To request Rich Text Format (RFT) files contact publications@healthlink.org.uk
Healthlink Worldwide,
Cityside, 40 Adler Street,
London, E1 1EE, UK
Tel: +44 (0)20 7539 1570
Fax: +44 (0)20 7539 1580
Email:info@healthlink.org.uk