"HOA NHAP" Vietnam
La realización de un boletín informativo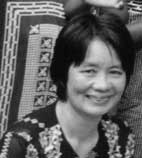 Tran Nhieu es directora senior de proyectos en el programa de discapacidad de Save the Children en la ciudad de Ho Chi Minh, Vietnam. En esta entrevista habla de su rol como editora de "HOA NHAP" (INCLUSIÓN)
¿Por qué decidió empezar a publicar un boletín informativo?
Trabajo en estrecha colaboración con un grupo informal de adultos discapacitados. En 1997 me plantearon la necesidad de un mayor conocimiento de la discapacidad y del hecho de intercambiar información. Decidimos realizar un boletín informativo en vietnamita.
¿De dónde obtienen la información?
Es difícil encontrar información nueva todos los meses, de modo que tomamos artículos de Enabling Education; Disability Dialogue (anteriormente, CBR News) producido por Healthlink Worldwide; y El Tribuno de la Discapacidad producido por Disability Awareness in Action. Estas tres organizaciones tienen acceso a información que nosotros no tenemos en Vietnam.
También recogemos información de personas discapacitadas y sus padres y discutimos temas de política y legislación. Siempre mencionamos a la integración en la sociedad. Nosotros centramos la atención en los niños con discapacidad intelectual, ya que creemos que son los que necesitan más ayuda. Los niños sordos y también los ciegos reciben ayuda de organizaciones internacionales no gubernamentales ( OINGs; en inglés, INGOs). Publicamos estudios de casos, por ejemplo, de maestros entusiastas que tienen deseos de integrar a niños discapacitados.
¿Cuántas copias hacen?
Las personas discapacitadas decidieron cuántos boletines necesitábamos y quienes debían recibirlos. Traducen los artículos al vietnamita. Al principio realizábamos 100 copias del boletín de 8 páginas, pero ahora realizamos 200 copias. Distribuimos 100 copias por la ciudad de Ho Chi Minh, que tiene una población de 6 millones de personas. Enviamos las otras 100 a Vietnam de Norte. Hoa Nhap se hace cada 6 semanas. Terre des Hommes, una OING, lo paga.
¿Quién se beneficia?
Se ha obligado a los servicios para personas discapacitadas a pensar en los niños discapacitados. Después de leer uno de los artículos, el director de una escuela especial me pidió que realice una sesión de entrenamiento para padres. El boletín sirve para cambiar actitudes en general y en particular, las actitudes de los maestros de educación especial. Los padres de niños discapacitados se sienten más confiados respecto a sus derechos y a su capacidad de cambiar su propia situación.
Para contactarse con Tran Thi Nhieu escribir a: SC-UK, 26 Dang Tat, Phuong Tan Dinh, Quan 1, Ho Chi Minh City, Vietnam. Fax: +84 88469466. Email:scfukhcm@netnam.org.vn
Useful Resources
How to Produce a Newsletter
is produced by Healthlink Worldwide (formerly AHRTAG). It includes practical guidelines on planning, writing, editing, designing, printing and evaluating a newsletter. Cost £10
Resource Centre Manual
contains comprehensive and practical information about setting up and managing a resource centre. Although it is designed for the health and disability sectors, it is equally useful in other areas of work. £9.50 (developing countries) £14.50 (others) Available online from Healthlink's web site.
To request Rich Text Format (RFT) files contact publications@healthlink.org.uk
Healthlink Worldwide,
Cityside, 40 Adler Street,
London, E1 1EE, UK
Tel: +44 (0)20 7539 1570
Fax: +44 (0)20 7539 1580
Email:info@healthlink.org.uk